Global air cargo capacity declines by 16% in the last two weeks: Seabury report
The Covid-19 pandemic is a health and humanitarian crisis, and it is also an economic shock. In its latest update, Accenture has shared the air cargo capacity changes based on actual flight movements due to the crisis. With the help of Seabury Consulting, now part of Accenture's travel industry practice, the company is able to provide insights and data on air, express and ocean freight demand and capacity on a global basis.
Global air cargo capacity declined 16 per cent in the last two weeks compared to last year
At the start of 2021, the Transpacific trade lane continues to show capacity growth; capacity for other key trade lanes shows double-digit declines. Latin America - North America air cargo capacity increased back to pre-Covid-19 levels early January.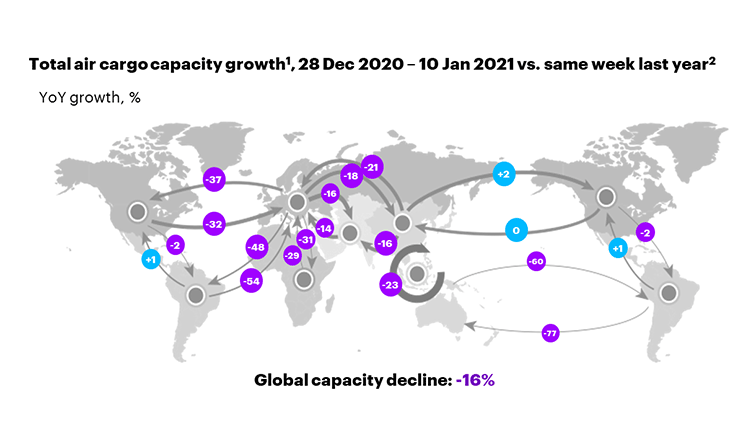 Note: Thickness of arrows is representative of May 2020 capacity in metric tonnes, direct flights only; all flows indicate region-to-region capacity; regions are indicated by color coding; 1) Total cargo capacity includes widebody passenger and all freighter flights; 2) 30 Dec 2019 – 12 Jan 2020, all dates measured in UTC.
Christmas and New Year's break a temporary dip in air cargo capacity recovery
With demand still strong, the end-of-year traditional capacity drop in 2020 was less pronounced than it was at the end of 2019, with airline/express freighters operating ~30 per cent more capacity than last year.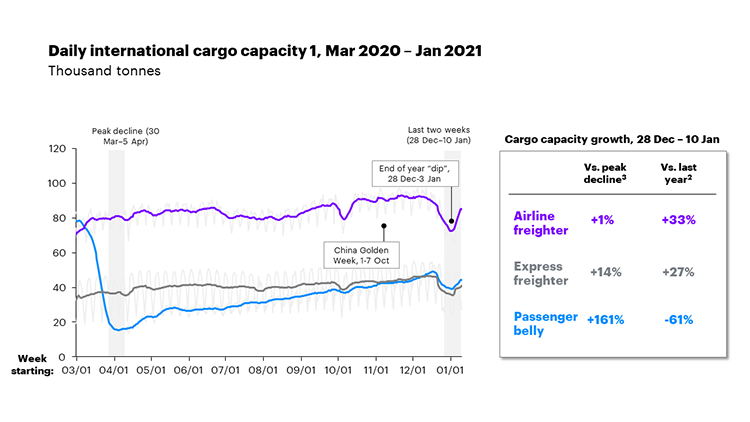 Note: Direct capacity only; All freighters and widebody passenger aircraft only, Date measured in UTC time; 1) Corrected for day-of-week fluctuations, smoothened for clarification; 2) Comparing 28 Dec 2020 – 10 Jan 2021 to 30 Dec 2019 - 12 Jan 2020; 3) Comparing the daily average for 28 Dec – 10 Jan 2021 vs. 30 Mar – 5 Apr 2020;
Source: Seabury Consulting, Part of Accenture Capacity Tracking database, Seabury Consulting, Part of Accenture analysis (January 2021)