Gauteng MEC for Roads & Transport inaugurates ACA 2017
<p style="text-align: justify;">Feb 22, 2017: Gauteng Executive Council for Roads & Transport Dr. Ismail Vadi was the guest of honor and immediately after the opening, he visited the Saudia Cargo stand which was of a thematic design "Fly Perishables", which drew the attention of the minister and the other delegates Dr. Xhakaza Ekurhuleni, MMC – […]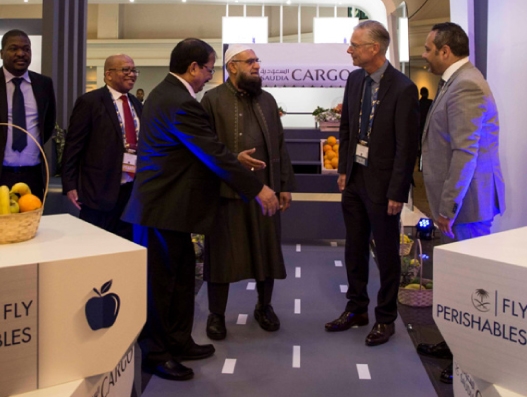 Feb 22, 2017: Gauteng Executive Council for Roads & Transport Dr. Ismail Vadi was the guest of honor and immediately after the opening, he visited the Saudia Cargo stand which was of a thematic design "Fly Perishables", which drew the attention of the minister and the other delegates Dr. Xhakaza Ekurhuleni, MMC – Finance & Economic Development, Tleli Makhetha, General Manager South African Airways Cargo & RK Patra, Group Editor-in-chief, STAT Media.

The Minister met with Rainer Muller, Saudia Cargo VP Commercial and Saudia Cargo delegation, Adel Sallam, Saudia Cargo Global Marketing Manager, Ken Mbogo Saudia Cargo Regional Director Africa, where he conveyed his thanks to the Saudia Cargo's efforts and business with South Africa.

Saudia Cargo ranks among the world's leading specialist airfreight carriers. An independent company since 2008. Recipient of two much-coveted industry awards in 2016, Air Cargo China Award for Air Cargo industry achievement and the Air Cargo India Award for the fastest growing international cargo airline received to acknowledge the company recent performance.

With the current logistics and infrastructure, Saudia Cargo's mission complements the Saudi government's Vision 2030 programme, visitors from across 29 African countries and 32 countries from other continents to explore business prospects.