Game changers for air cargo
A lot has changed in the last decade within the air cargo industry. Ushering in a new era, digitalisation and big data are creating the foundation for new business ideas and models. Beyond digitalisation, new assets such as unmanned aerial vehicles, newer, lighter and connected ULDs and smart facilities are changing the game for the air cargo industry.
Surya Kannoth
When the electronic air waybill was first introduced, it was considered to be a game changer for the air cargo industry - this was at that time when the industry still resorted to archaic methods of paper documentation. Fast forward to 2018, a lot has changed - air cargo is now entering a new era.
Digital transformation is happening everywhere: retail, travel & tourism, automotive, healthcare, education, etc. The logistics and air cargo industry are and will also be transformed, modernised and disrupted by digital technologies. These newer forms of technologies are expected to revolutionise the entire ecosystem, reveals Celine Hourcade, IATA's head-digital transformation.
"Electronic messaging, smart data sharing platform, blockchain technologies will simplify and change the flow of information between the stakeholders. Internet of things, connected devices, augmented reality, artificial intelligence will help to make the physical flow of goods more efficient, safer and easier. (Big) data collected from all sources will contribute to safety programs, optimisation projects, more predictability, better transparency, etc. Virtual reality will support better training, etc," Hourcade believes.
"Integrators and new players like Amazon and sea freight are already making much more use of the offered possibilities and are therefore often able to offer a better product. The "traditional" air cargo industry has to hurry in order to be able to compete with them. Digital transformation is not about changing individual processes, but revolutionising the interface between the different players. Digital solutions provide us the opportunity to offer more efficient and more reliable processes. Processes get more transparent: Every party always knows where a good is and through new booking platforms even rates are no black box anymore," opines Felix Kreutel, SVP-Cargo, Fraport.
IATA's director general Alexandre de Juniac has time and again stressed upon the industry's need to embrace speed and innovation to meet the challenges and address customers' expectations. This is why IATA is not only developing global industry standards but is also fostering longer-term innovation for the benefit of the IATA member airlines and the air cargo industry as a whole. "For the air cargo industry, this is done through StB Cargo program's innovation framework, combining white papers, innovation awards, innovation working groups and events," shared Henk Mulder, IATA's head digital cargo. Topics on IATA's radar include blockchain and smart contracts, internet of things applied to air cargo, automation in the warehouse, drones for tomorrow's air cargo, among others.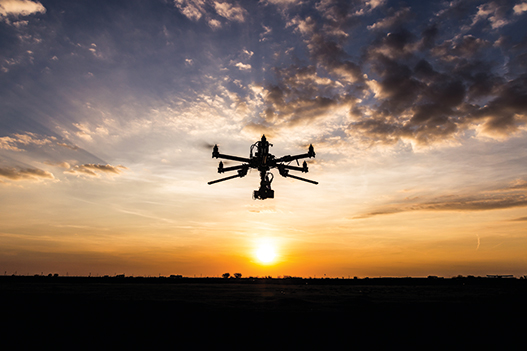 Furthermore, IATA with its members has identified the need to accelerate the adoption of data sharing technologies at an industry scale and is launching the ONE Record initiative. This aims to develop standards for data sharing by defining data semantic dictionaries that allow all parties in the logistics and transport chain to exchange data with common understanding of the meaning of that data. A second component in the ONE Record initiative is to agree on standards for data connectivity. This concerns the development of standards for APIs for systems.
Here are some other game changers that have already made their mark in the industry.
Online communities and marketplace
Last year, Freightos, the logistics technology developer, launched what it describes as the world's "first online marketplace for international freight". Freightos Marketplace offers users instant comparison of freight services and prices from multiple logistics providers, thus enabling users to establish "the optimal and cheapest method" for moving their shipments. When Freightos' vice president - marketing, Eytan Buchman was quizzed on what prompted them to build this portal that will add speed and efficiency to global logistics, the answer was simple.  "We believe that global trade should be frictionless. For a generation that grew up shopping on Amazon and streaming videos on Netflix, the freight experience must be flawless. This extends from on-demand pricing and transparency in provider selection, to great customer support, online visibility into shipment status, proactive exception management, and an experience that mimics that of a more streamlined courier shipping process. We basically automated a global network of logistics providers over the last five years. Leveraging that network, we now provide on-demand international freight services to thousands of customers globally," said Buchman.
Frankfurt Airport's "[email protected]" cargo community system, launched in 2015, is one of the most comprehensive IT systems in the world. The data platform allows users to exchange relevant shipment data between companies. Freight forwarders, cargo handlers, and customs are also connected to the system. This causes simplified interfaces and improved processes.
"Thanks to [email protected] and its applications, we boast one of the most extensive cargo community systems at any single airport. We are also in the process of establishing a digital visitor registration system in order to make the CargoCities access process more customer-friendly. Our newest solution for our customers is a portal that will make it possible to complete the entire DGR-declaration process electronically - a world's first. What makes the new system unique, is the fact that it connects for the first time all the players in the process chain - starting from the shippers. Thus, shippers' DGR data is transmitted directly to all the others, resulting in shipments being executed faster and with more efficiency and transparency," said Kreutel.
Unmanned aerial vehicles
Unmanned Aerial Vehicles (UAVs) or drones will officially soon take a big slice of the air cargo chunk in the skies with a variety of applications including the delivery of goods and disaster recovery efforts. Africa is already leading the way in terms of drone usage. African nations like Rwanda, Tanzania, South Africa, Malawi and Lesotho are already using drones to deliver medicine and other healthcare related deliveries to usually inaccessible rural communities.
Drones are also becoming a popular option for e-commerce players such as Amazon, Walmart and Alibaba. In fact, they are already being used by postal operators in France, Switzerland, Spain, Singapore, Australia, Ukraine and Germany.
In 2016, DHL Supply Chain opened a facility in Singapore featuring 130 robotic shuttles to pick and store products, while Shanghai terminal operator PACTL has been experimenting with robotic handling of air cargo shipments and driverless trucks.
Smart ULDs
With the rapid growth of ecommerce, customers demand information of their product down to the minute. This has fuelled the demand for smart ULDs. Major players such as Jettainer, Unilode and ACL Airshop have already ventured into the smart ULDs space. These "smart" containers not only offer to speed up maintenance and control procedures, but also increase the level of transparency of the ULD's journey, thus making it easier to determine the onus of responsibility for any damage that occurs in transit.
Blockchain technology
"Blockchains are exactly an example for changing the interaction between business partners. It offers the chance to improve security, transparency and reduce interaction cost. If every partner always knows where a good is, how it has been handled, by whom, etc., we suddenly have a totally different way of cooperating with each other. Like this, blockchains help to improve common trust between the companies and in the end improve product quality," said Fraport's Kreutel.
A number of airlines and their IT partners are developing use cases for blockchain in air freight. Some of them focus on creating reliable tracking and audit systems of the origin of goods and the status of these goods as they are proceeding through the logistics and transport chains, such as knowing who has handled the goods, the conditions they are being exposed to (temperature etc.). Other initiatives focus on trade and transport finance and aim to use blockchain to manage the financial transactions from shipper to consignee via the logistics and transport providers with the involvement of banks and freight insurance. These use smart contracts to automate the financial transactions and payments. Customs are looking at using blockchain to track origin and ownership of goods and automating revenue collection through smart contracts. "At present, nearly all of these developments concern proofs-of-concept and pilot tests. IATA is keeping a close eye on these and participates as an observer in these private initiatives. IATA is also looking into the role of blockchain in transport settlement processes," revealed Mulder.
"Blockchain is an important technological milestone in order to make "trust" also technically replicable," believes Boris Heuske, VP-Digitisation, Lufthansa Cargo. Lufthansa Group has recently invested in blockchain technology company Winding Tree, which will help the airline group introduce blockchain applications to its own digital products.
Roadblocks ahead
While the industry is slowly and steadily embracing new technologies to improve its processes, the unwillingness of single players to co-operate may stick out like a sore thumb. Also, while automisation and new technology-related investments are being talked about, the current environment is all about rates and margins, hence everyone is just looking for ways to reduce costs. Many innovations make it necessary that processes are aligned, so the industry needs to to work together and exchange data. New technologies are of no use if they are not commonly adopted.