Gabon: Bolloré and Olam join forces to develop and operate Owendo's multipurpose terminal
October 24, 2017: Bolloré Transport & Logistics, through their respected affiliates, STCG and GSEZ Ports, and the Olam Group decided with encouragement from the State to join forces to develop and operate Owendo's multipurpose terminal. The terminal is meant to receive container vessels, general cargo and bulk. STCG, which is already the concession holder of […]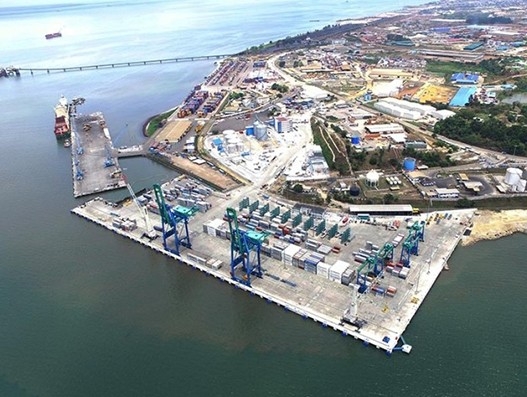 October 24, 2017: Bolloré Transport & Logistics, through their respected affiliates, STCG and GSEZ Ports, and the Olam Group decided with encouragement from the State to join forces to develop and operate Owendo's multipurpose terminal. The terminal is meant to receive container vessels, general cargo and bulk.
STCG, which is already the concession holder of the existing container terminal, works in container operations in the new port, and GSEZ Ports handles general cargo, solid and liquid bulk.
A USD 300M investment in the new port will increase the capacity of Owendo's multipurpose terminal, as well as meet the needs of the Gabonese economy for upcoming years.
The wharf length, the draught, and the equipment (two ship to shore gantry cranes and four container gantry cranes) bring the Owendo container terminal up to international port standards. It provides a competitive service to shipowners, importers, and exporters. Vessels reaching 6,000 TEUs are also handled in the productivity conditions required for ships of this size.
In addition, both partners are committed to following a competitive pricing policy aiming to reduce port transit costs on household foods and promote industrial and semi-industrial flows that are essential to the growth of the Gabonese economy.
Furthermore, the Olam and Bolloré groups intend to reinforce their cooperation on the continent, especially in West Africa's agricultural commodity market.
Ali Bongo Ondimba, president of the Gabonese Republic attended the inauguration of Owendo's new multipurpose terminal (New Owendo International Port) on October 14. Under the State authority, Bolloré Transport & Logistics and Olam have joined forces to develop and operate the terminal.
This investment is a part of the State of Gabon's emergence plan to develop the infrastructures in the Libreville region. In order to speed up its implementation, preference was given to the private sector through public-private partnerships.
The Olam Group, already present in the agriculture sector with its palm oil plantations, participated in the industrial, logistical, and port infrastructures. The development of the N'Kok special economic zone and the mineral port of Owendo thus revitalised the Gabonese industry and the exportation of Gabon's raw materials.