FROM MAGAZINE: Trade tensions to propel cargo charter business
The cargo charter market is constantly evolving with an ever-changing geographical demand, economic instability, fleet, and competition. The escalating trade war between the US and China and Brexit generate more prospects for cargo charters to explore newer markets. From now on, the 76,000 people of Addu Atoll in the southern Maldives do not have to […]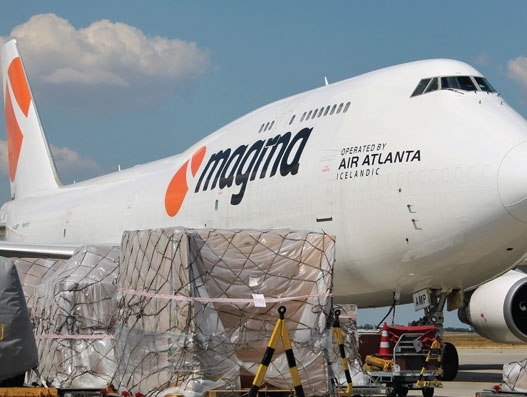 The cargo charter market is constantly evolving with an ever-changing geographical demand, economic instability, fleet, and competition. The escalating trade war between the US and China and Brexit generate more prospects for cargo charters to explore newer markets.
From now on, the 76,000 people of Addu Atoll in the southern Maldives do not have to fly 560 kilometres to Male for an MRI scanning. Chapman Freeborn Airchartering and Maximus Air have facilitated the region with its first MRI machine and 166 components to Hithadhoo Regional Hospital, using an AN-124 charter from Dubai's Al Maktoum International Airport. Due to the limited cargo-handling capabilities at Gan International Airport, Chapman's project managers flew aboard the six-hour flight to oversee safe unloading and handling of the cargo.
Be it carrying a life-saving drug, medical equipment, humanitarian cargo, dangerous goods, livestock, heavily-sized cargoes or shifting operations to air during port strikes - cargo charter business is about responding to unpredictable events around the world with no room for error.
The hovering trade tensions across the globe have opened up umpteen business opportunities for the air cargo industry. As the Brexit negotiations head towards an endgame, there is turmoil all around. To prevent the event of snarl-ups on the border following Brexit, the UK department for transport has issued a tender worth £300 million inviting operators to transport trucks, trailers, vans or heavy goods vehicles loaded with critical goods via aircraft, rail or ship. This comes in light of the concerns of the UK leaving the EU without a deal in place. On the freighter front, those aircraft that can only accommodate a van or truck will be likely to win the tender. "Suppliers securing a place on the framework agreement will have the opportunity to take part in 'call-off' minicompetitions for freight capacity contracts. The first of these is expected to be in place as part of government's contingency planning for a 'No Deal' European Union (EU) exit on October 31," the tender states.
The charter market has been constantly evolving with an ever-changing geographical demand, fleets, economic instability, and competition. Commenting on seizing opportunities during economic instability, Pierre van der Stichele, group cargo operations director, Chapman Freeborn Airchartering, observes, "One of the biggest challenges we face is capacity, particularly during peak season or when the demand is high. We are seeing that again this year in Europe, with the contingency planning underway for Brexit. As a charter provider, it is important for us to be
able to step in and help when our customers have sudden supply chain issues."

CharterSync platform for booking charters
Stichele continues that it is hard to predict the demand for cargo charters as the air cargo market is changing all the time. "In the last couple of years, we have seen a significant increase in e-commerce related charter business which is a market that did not exist previously. As a business we are very agile and well-suited to the changing demands of the market," he says.
With more than 5,000 contracts annually, Chapman over a decade has diversified its business by increasing stake in Magma Aviation to a majority shareholding to support the company's long-term growth plans. Magma currently manages a fleet of four B747-400F aircraft, contracted on an exclusive basis from airline partners. As a charter broker Chapman uses the full range of aircraft types such as B747-400F, IL-76, AN-124, etc. At the smaller end of the spectrum, Metro 23s are also used for small time-critical shipments.
Supporting Stichele comments on changing economic conditions, Eric Erbacher, director charter services, Cargolux, observes, "The US routes are under good demand and it appears that China may also see some uptake for the last quarter of this year. Currently, we are seeing a challenging period earmarked by overcapacities, trade tensions on certain key lanes and an unclear Brexit situation. That will impact and differentiate the business volume compared with our two consecutive record years. The interesting aspect of charter operations is that business can spike unexpectedly based on a specific project, or shift from ocean-to-air, etc."
The latest development in the trade war between China and US is that some supply chains have been pushed out of China into Southeast Asia. The prolonged trade fight is reordering the global supply chain and Vietnam could stand to be a winner for investors as American companies are planning to move their manufacturing bases outside China. Therefore, few manufacturers had already moved to revamp their logistics networks and one such instance is of Chinese forwarder Apex Logistics, which has a strong trade lane between the US and China. The company is investing in increasing its capacity out of Taiwan, Thailand, and Vietnam, but has maintained capacity out of China, with its regular charters out of Wuhan into Columbus, Ohio. The new route began in August, operated by Asiana Cargo with a B747-400F. The forwarder is also planning a new charter out of Vietnam by September.
Signs of the trade war between both the powerful nations waning seem bleak, going by a recent tweet by US president Donald Trump, which mentions, "increased tariffs already in place on $250 billion of imports to 30 percent from 25 percent starting October 1, 2019." The escalation comes after China imposed retaliatory tariffs on $75 billion of US imports.

Chapman Freeborn and Maximus Air carrying an MRI machine and 166 components to Addu Atoll, southern Maldives on an AN-124
Digital Age
In the past few years, there is a solid demand for charter services reflecting a situation where demand is outstripping capacity. Thus, it becomes essential to increase efficiency and effectiveness through automation. Mentioning on integrating technology in the charter business, Erbacher states, "Charter has become an important flexible option for the freight forwarding industry to meet any demand which cannot be offered by scheduled services. Charter services will have the pleasure to undergo the same digital migration process as any other part of the transportation industry."
Even though charter is considered during ad hoc situations, coordinating and arranging requires manual intervention, which involves errors. The industry has been so used to the traditional methods of procuring aircraft, that it is obvious that the modern day supply chain requires technology. Traditional methods are prone to human error, and ultimately do not allow the forwarder to have all available options at their fingertips. To address this issue, CharterSync, a London-based start-up for time-critical air charter bookings, has developed an intelligent platform for freight forwarders, generating charter options in fewer than three minutes from request to quote for its customers. The platform launched by founders Ed Gillett and Simon Watson during Air Cargo Europe, Munich in June 2019, has completed its first week of trading with 16 time-critical shipments by July end.
Gillett states, "Industry knowledge and experience is paramount in the air cargo charter industry. This is one of the main reasons we have gained credibility so quickly due to our previous experience as charter brokers, airline operation managers, and commercial airline pilots. This visibility throughout the supply chain has enabled us to relate to each and every stakeholder involved in the charter process. Moreover, it is this experience that has enabled us to develop a very intelligent platform that is so much more than just a cargo tracking app. Our technology will not only be able to detect the live location of aircraft but also can analyse and calculate in a few minutes the best air charter options available for a given forwarder." The company sees a fully digitalised sales and customer service experience becoming the industry standard in the future.
With an ever-increasing demand for cargo charters, innovative and new solutions are being developed to make the processes quicker and more transparent than ever before. Companies like Panalpina (now DSV Panalpina), Chapman, Chartersync, among others, are constantly thinking ahead of the future, and to be agile to seize new opportunities. A stable IT backbone will be the heart of this business, and new capabilities will help customers to adapt as per the changing needs.
This feature was originally published in STAT Trade Times' September 2019 issue.