FROM MAGAZINE: Taking a shot at logistics for precision medicine
As precision medicine is likely to become more accessible and affordable, the pharma supply chain needs to catch up with ways to provide excellent logistical support to maintain product integrity and get past unique challenges. Before Google made every patient with an internet connection an expert in a diagnosing diseases, we relied heavily on the […]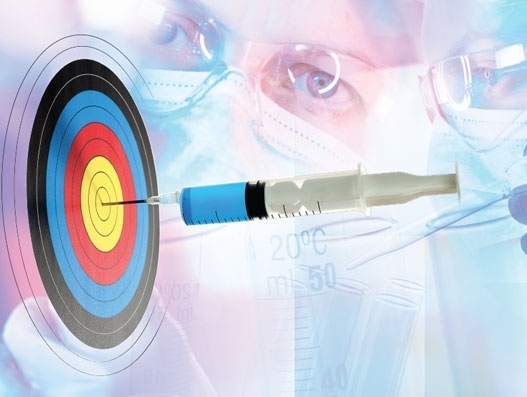 As precision medicine is likely to become more accessible and affordable, the pharma supply chain needs to catch up with ways to provide excellent logistical support to maintain product integrity and get past unique challenges.
Before Google made every patient with an internet connection an expert in a diagnosing diseases, we relied heavily on the doctor's traditional approach of running tests, studying symptoms and finally revealing all that was not right with the said person.
Fast forward to 2019 when the need for precision medicine has moved beyond just a buzz and has been gaining more prominence than it has in the past decade.
Precision medicine factors gender, weight and DNA so that treatments can be tailor-made to suit the exact needs of the user. Moving from traditional treatments to personalised treatment means healthcare experts are able to pinpoint a patient's genomic profile and suggest the right therapy.
Gene therapy, autologous cell therapies in particular, is changing the way patients are being treated. In autologous cell therapy the immune system cells are extracted from a patient, cultured externally and then reintroduced into the patient.
The process trains the patient's own immune system to attack tumours, and this could change the way certain cancers are treated. As these pharmaceutical products are tailored for a single patient, the delicate nature of clinical trials calls for completely new approaches to logistics – from the medical facility to the lab and back to facility, and finally administered it to the patient. While a greater understanding of genomics and genetics is enabling doctors to provide better disease prevention, more accurate diagnosis and prescriptions, more effective treatments, there are some drawbacks. The immediate one being the impracticality of shipping large quantities to set locations and also the big question of regulation to preserve integrity of the drug.
Tracking technology
Historically, only shipments of vaccines and blood samples needed temperature controlled and cold chain transport and storage, but that has changed over the years. Active cooling systems like containers with a refrigeration system, passive cooling systems like frozen carbon dioxide and packaging or containers fitted with thermally insulating materials or blankets are among the options available for logistical support to pharmaceuticals.
Sensors and smart tracking devices attached to shipping containers offer a record of external conditions that may have likely affected the integrity of the product it carries. Tracking devices with GPS record precise location, temperature excursions, bumps or shocks that the shipment may be subjected to during transit. The data generated by these devices can help track trends and patterns for future decision-making.
"The trends we are seeing are not so much about building new products, so to speak, but better ways of working. Is there an innovative way that we can go to market with a wider, flexible type of lease market model, different terms and conditions would be more specific to how the pharma distribution objectives are changing. Does that fit with the freight forwarders own business model? What's the impact on the airlines?" said Stephen Maietta, head of market development, Envirotainer during the Air Cargo Africa in February 2019. Envirotainer's primary focus is healthcare and life science products in the 2 to 8° celsius range.
For airlines, the challenges of transportation are not limited either. "For pharmaceuticals, [there is a] more customised medication designed specifically for the individual patient. This poses a challenge in the air cargo industry for 1) charging a higher premium for what will typically be a product with a high value/ low weight ratio; 2) the adoption of more standardisation for general perishables products (such as the CEIV Fresh programme launched by IATA earlier this year); and 3) with the growing global demand for perishable products, I am seeing more interest by third party companies (not just airlines, ground handling companies, freight forwarders) for investing in cold chain facility storage," said Emir Pineda, manager Aviation Trade & Logistics, Miami International Airport (Miami-Dade Aviation Department).
The 2019 Biopharma ColdChain Logistics Survey by Pelican Biopharma predicts that by 2022, 30 of the 50 top global biopharma products will require cold chain handling. As the focus shifts towards specialties, biotech products, or personalised medicine, the demand for quality is on the rise and subsequently the need for complex logistics handling.
According to IATA, by 2022, world sales of cold-chain drugs and of biologics will likely top $416 billion, in a global biopharma market exceeding $1.43 trillion.
In July 2019, DHL Global Forwarding and American Airlines Cargo released a joint report titled 'Patients, Processes and Partnerships: The Path to Personalized Medicine in Latin America'. The report discusses the challenges, complexities and offers solutions in healthcare in Latin America. However, the report findings could be extended to any world region, and the opportunities and challenges would remain fairly constant.
"With personalised medicine, companies will need to deliver solutions directly to people rather than to institutions, which will change how we view — and transport — medical treatments. This shift will present a huge challenge to the already complex logistics involved in delivering pharmaceutical solutions, many of which have very strict — and varied — temperature and timing requirements to remain effective. We believe the success of personalised medicine will rely on how well the logistics industry responds to the operational issues involved," said Patricia Cole, managing director, Same Day & LifeConEx, DHL Global Forwarding, in a July statement.
As more sensitive products are in demand, not just by distributors but by individuals, the need for quality poses logistics complexity and expanded risks. The universal access to the internet gives individuals the power for self-medication, taking more personal decisions minus the health experts like doctors. Medical products now have a wider distribution range and move through more geographical zones, posing unique temperature-induced challenges. Monitoring conditions and providing visibility during transport can become additional pain points for the pharma supply chain.
Another important factor to consider is the temperature profiles that can be different for the same trial, often ranging from -196°, -80°, -20°, 2-8°, to 15-25° celsius. The supply chain solution has to accommodate this challenge to eliminate temperature excursions that can severely tamper with the drug. Pre-planning down to the last step becomes essential as many of the personalised medicines under development currently have shortened timelines of 6 to 48 hours.
"While excursions cannot be completely eliminated yet, a lot is being done to mitigate them with the use of equipment, optimisation of operational procedures, and the use of technology. Thermal covers, active refrigerated containers, and improving the operational processes of moving perishables through the cold supply chain are all being used to a greater degree than in the past. So too, is the use of data loggers and block chain technology in order to detect, correct, and improve upon the performance of the supply chain," informed Pineda.
Need for standardised regulation
In 2013, the European Commission published revised guidelines on good distribution practice (GDP), a code of standards that ensure that the quality and integrity of medicine is maintained throughout the supply chain.
Commenting on the regulatory changes driving packaging innovation in the pharma industry, Steve Brabbs, global technology leader, DuPont Safety & Construction, said at Air Cargo Africa 2019, "We saw a big change in the pharma industry around five years ago when Europe introduced the GDP regulations and applied it to cold chain and controlled room temperature products. That was a great opportunity as it boosted a lot of new applications, and the use of temperature controlled systems, particularly the kind of pallet blankets that we manufacture for the shipments. We see the same trends in other places. The US is moving in the same direction, with the structure of regulation slightly different, but the same intent behind it. Gradually that's being rolled out elsewhere in the world. So as a new country or territory improves its regulatory framework in that direction, it opens up more opportunities in this industry." DuPont Safety & Construction manufactures Tyvek for medical packaging, which is recognised as a standard of excellence for sterile device packaging.

dnata coolchain facility at Changi Airport
Lack of standardisation in regulation and existence of a community system that syncs individual systems in the market can wreak havoc in the pharma supply chain. International Air Transport Association (IATA) has worked to mitigate those risks with its robust Center of Excellence for Independent Validators in Pharmaceutical Logistics (CEIV Pharma) programme.
CEIV Pharma helps the entire air cargo supply chain to achieve excellence in pharma handling. The need for building a community to mitigate risks and transport pharma products effectively is seen among certified stakeholders.
"The value of establishing a CEIV-certified community is to meet the stringent standards set by the IATA CEIV Pharma certification at each node of the supply chain, thereby ensuring the integrity of shipment throughout the supply chain in Singapore. To date, Singapore has the largest number of CEIV-Pharma certified companies in Asia Pacific, and we are in the midst of expanding our community," said Lim Ching Kiat, Changi Airport Group's managing director for air hub development.
In October 2017, Changi Airport launched the Pharma@Changi initiative. "Comprising 10 CEIV-certified companies that span across each node of the air cargo supply chain, Pharma@Changi advocates the sharing of best practices for transport, storage and handling of pharmaceutical air cargo, as well as assessing new and emerging pharmaceutical logistics trends and technologies," said Lim.
Changi Airport was the co-lead for 'Digi 1.0: Certification of Pharmaceuticals Air Trade Lanes through Digitisation', Pharma. Aero's digitisation project. The project hoped to prove that data such as temperature and location from different IT systems can be collated and displayed on a single dashboard to enhance visibility and traceability throughout the supply chain.
"The project members have already developed a cloud-based prototype platform known as Global Pharma Tracker (GPT) to consolidate various data on a near real-time basis from multiple supply chain players. Users of the platform can attain enhanced visibility of pharma shipments and receive timely alerts to prevent temperature excursions. A white paper has been published for the first phase of the digitisation project. In the next phase of the project, Changi Airport Group is excited to be the co-lead alongside with Brussels Airport, and together with project members such as DHL Global Forwarding, Pfizer and Singapore Airlines, we are building a prototype using real data for selected trade lanes such as BrusselsSingapore-Sydney," informed Lim.
This year, GVK-led Mumbai International Airport Limited (MIAL) became the first airport in India and third in Asia to receive the CEIV Pharma certification. The airport is set to launch India's largest temperature-controlled solution for the transport of pharmaceuticals on the tarmac region this year, to be built by Cargo Service Centre (CSC).
The pharma excellence centre will include a fully temperature controlled independent facility with a storage capacity of 300 tonnes of pharma at any given time and a throughput of 600 tonnes per day. It will have the capacity to handle a throughput of 18,000 tonnes per month, with six freezer chambers of 2 to 8° celsius and one of -5° celsius. CSC runs pharma zones for export consignments at Mumbai, Delhi and Ahmedabad.
Envirotainer's Maeitta said, "Very recently Mumbai turned a page in its attitude in embracing cold chain, which has been a phenomenal move for the market, both inbound and outbound. I can't explain why the awareness was missing. I think it's just a matter of resources, something new is always needs a bit of a change in the management attitude."
The culture of adoption of and adherence to IATA's CEIV certification is greatly encouraged. "We have been successful in developing a cluster of six CEIV certified companies. We were the first airport community in the US to be recognised by IATA as a pharma hub airport, and we are still the largest in the US," said Pineda. Miami Airport, along with Brussels Airport, started the Pharma.Aero initiative that offers cross-industry collaboration between stakeholders in the pharmaceuticals air supply chain.
Miami Airport registered a volume of 13.768 million kilos of pharma in 2017 and 16.617 million kilos in 2018 – an increase in volume of 20 percent. Pineda attributed the growth to the development of the CEIV Pharma community.
Employing data analytics and AI
The 'Patients, Processes and Partnerships: The Path to Personalized Medicine in Latin America' report offered solutions to help advance the potential of personalised medicine. Data Analytics for cold chain intelligence, including artificial intelligence, self-learning systems, data mining and pattern recognition solutions that can learn from a constant stream of information was among the top solution, in addition to innovations like semi-autonomous and electric vehicles.
"The use of AI (artificial intelligence) and data is being addressed through blockchain technology. Today there are companies working on developing technology capable of tracking individual pharma or perishable shipments. This will require a tremendous increase in data usage which can only be accomplished through the implementation of 5G network. As an airport our role once again is to facilitate this effort which is being led by the private sector. At MIA, we are looking at partnering with tech companies looking to establish pilot programs to establish proof of concept tech and programs," said Pineda, without revealing details.
The other two solutions include treatment-based logistics and distribution programmes, and increased collaboration between forwarders and carriers.
In June this year, Envirotainer launched a new data service, called the Insight Report. The service records crucial shipment data and delivers it within 48 hours post completion of the shipment. This facilitates the most common request from stakeholders for better visibility. Insight Report presents data on ambient temperature, inside temperature, door openings and battery level. Insight Report is available for the Envirotainer RKN e1 and RAP e2 containers – active, self-regulating containers with compressor cooling and electrical heating.
Envirotainer also introduced One Portal, an online ordering platform that gives customers full access to an entire suite of data sharing capabilities. It also rolled out AI-leen, a first generation AI host that answers customer queries.
Next is coming
As the cost factor progressively falls to make personalised medicine more accessible and affordable to larger populations over a period of time, the pharma industry is preempting how to tackle the blitzkrieg, with high-dose boosters of technology and innovation.
"As an industry, we must invest in new technology and next-gen solutions, including intelligent IT networks, big data analytics and AI, but also in our people and processes to ensure we can deliver what our customers need more effectively, efficiently and precisely," said Roger Samways, vice president, sales, American Airlines Cargo in a statement issued when the report was released in July 2019.
He added, "By working hand in hand with medical professionals, corporations and governments, logistics and supply chain professionals can begin to solve the personalised medicine puzzle that is coming."
This feature was originally published in STAT Trade Times' September 2019 issue.