FROM MAGAZINE - P2F conversions: Matching capacity to cargo demand
Recent market trends notwithstanding, over the next 20 years, air cargo traffic is expected to more than double while the world freighter fleet is likely to grow by more than 75 percent riding on the back of strong demand from the ecommerce sector. From converting older aircraft to placing new orders, the global market for […]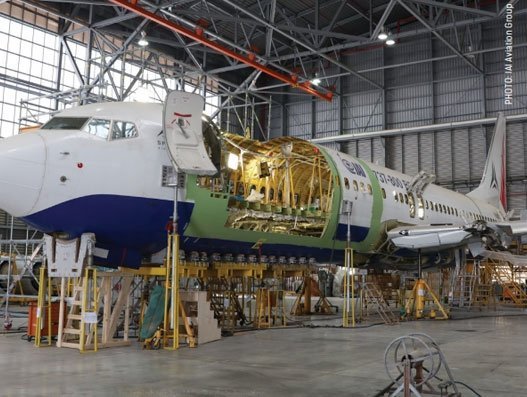 Recent market trends notwithstanding, over the next 20 years, air cargo traffic is expected to more than double while the world freighter fleet is likely to grow by more than 75 percent riding on the back of strong demand from the ecommerce sector. From converting older aircraft to placing new orders, the global market for air cargo is looking at fleet expansions to address this demand. With market conditions priming the pump for conversions, suppliers are positioning themselves for the uptick.
Until last April, air cargo analysts were fairly positive with their industry forecasts on the back of consumer confidence and demand. However, by mid-year, trade tensions between China and the US took a toll on sentiment leading to a change in stance. Annual growth in global airfreight volumes remained in negative territory through the first six months of 2019, with only positive growth coming from markets in Africa and Latin America.
However, when peak season demand for cargo improves later this year, freighters are expected to carry most of the payload. "A slowing cargo growth rate, in and to itself, is not necessarily a precursor to a slowing freighter aircraft market but just one many potential markers. We are seeing demand for freighter aircraft soften but it remains active. Geo-political and distant signs of a recession are, in my opinion, driving airlines to proceed with caution when making fleet decisions," reasons Robert Convey, SVP-sales and marketing, Aeronautical Engineers Inc (AEI).
The air cargo market has proven resilient in both good and challenging economic times. Between 1980 and 2018, air cargo traffic growth (RTKs) has averaged 5.3 percent per year, notwithstanding multiple economic and industry downturns. This growth is based on the economic fundamentals that support air cargo, such as a growing global economy, a growing consumer base, and the diversification of manufacturing locations and shifting supply chain flows. Even with the recent air cargo market growth pullback, Boeing projects air cargo traffic growth of 4.2 percent per year over the next 20 years.
Air cargo represents less than one percent of global trade by tonnage, yet air cargo transports more than 35 percent of global trade by value. This disparity reflects air cargo's unique position in transporting high-value goods that often require a high level of speed, reliability, and security. "As e-commerce and express cargo continue to grow (as they have over the past decade), we can expect freighter aircraft to transport a larger percentage of global trade. Over 50 percent of air cargo traffic has been - and will continue to be - carried on dedicated freighters. Demand for air cargo will continue to experience growth over the long-term, thus continuing the need for dedicated freighters. Boeing forecasts a need for 2,820 new and converted freighters during the next 20 years," predicts Alvey Pratt, director, Boeing Converted Freighters and Complex Modifications, Boeing Global Services.
In agreement, Eyal Katz, marketing director, IAI Aviation Group says, "We have learned that a slowdown in market growth is only one of the factors that influence the freighter aircraft market. The growth rate slowdown trend might be felt, but as it seems today only on the longer term; fleet expansion decisions are affected from additional, more immediate, parameters. The additional parameters that have a more prominent effect the market include the average age of the existing fleet (which influence the decision to replace the existing units), the availability of feedstock units, the financial status of the operators and more."
A lot happening in the P2F conversion space
The market for passenger to freighter (P2F) conversion has been brimming with action in 2018. More than 80 mainline jet passenger aircraft underwent conversion to freighters last year taking the total value of the 2018 conversion market to nearly $1 billion, observed UK aviation technical consultancy IBA Group.
Companies converted 87 passenger jets in 2018, as against 75 in 2017 and 70 in 2016, according to IBA Group. Three widely used Boeing airliners accounted for almost all 2018 freighter conversions, including twenty-five 737-400s, twenty-three 757-200s, and twenty-seven 767-300ERs, reported IBA Group. Airbus airliners accounted for most of the rest, including the first two A330-200s (from Egyptair's fleet and for its own use, to replace A300-600Fs) and the first three A330-300s to undergo freighter conversion.
Boeing and Airbus forecast robust freighter fleet additions for both growth and replacement in the next 20 years. Boeing forecasts, in their Current Market Outlook 2018-2037, that the freighter market will require 2,650 additional freighters (1,670 conversions and 980 new) with Airbus predicting in their Global Market Forecast 2018-2037 that an additional 2,386 freighters (1,560 conversions and 826 new) will be needed.
"Our customers have navigated the feedstock market quite effectively. For our newest freighter, the 737-800 Boeing Converted Freighter (BCF), production slots are sold out for the next two years. As carriers update their fleets and continue growing to meet market demand, operators will find more affordable feedstock," informs Boeing's Pratt.
IBA Group estimates that the P2F market for Boeing and Airbus narrowbodies will grow from 611 aircraft in active service today to 879 in 2024. While the number of in-service Boeing 737-300Fs will decline a little and 737-400F numbers will increase only very slightly, numbers of A320PFs, A321PFs, 737-700Fs, and 757-200PFs will grow significantly, it added. The 737-800F will demonstrate the most significant growth, as numbers in service increase from 14 today to 131 in 2024, estimated IBA.
The mid-capacity widebody P2F market will also grow, with the numbers of freighter-converted A330-200P2Fs, A330-300P2Fs, and 767-300ERFs growing the most, said the consultancy. Already dominating the mid-capacity widebody P2F market segment, the 767-300ERF will remain the dominant type in 2024. IBA estimated that the number of those models in service will grow from 251 today to 310 five years from now.
Current feedstock dynamics
Surveying the industry from Boeing 737-sized aircraft upto the large widebodies, there are multiple variables at play. Among the narrowbodies, 737-400 feedstock is all but exhausted. The earliest 737-800s are just becoming viable as P2F conversions for some operators but the ongoing MAX crisis is likely to affect availability values.
"The lack of feedstock is having a dramatic effect on both Boeing and Airbus programs. At the heart of the problem is the Max8 grounding which has caused airlines to hold onto their current aircraft. This retention of aircraft by airlines has impacted everyone downstream from lessors to part out companies to freight operators and conversion houses," said AEI's Convey.
Giving a sense on the demand for freighter conversions under the purview of growth and replacement, Convey added that in the narrowbody sector, growth demand remains strong for classic freighters with a focus on 737-400s. "The issue at hand is that 400 feedstock is running out and the 800 remains too expensive or is not available. Although replacement demand exists most of the narrowbody fleet was converted in the past 6 years and remains viable."
However, Boeing's Pratt has a different say. According to him, Boeing's customers have navigated the feedstock market quite effectively. "For our newest freighter, the 737-800 Boeing Converted Freighter (BCF), production slots are sold out for the next two years. As carriers update their fleets and continue growing to meet market demand, operators will find more affordable feedstock."
Recently, SpiceXpress, India's low cost carrier SpiceJet's cargo division, took delivery of its first 737-800 Boeing Converted Freighter (BCF). India's Directorate General of Civil Aviation (DGCA) validated the 737-800BCF's certification, clearing the way for the freighter to serve a rapidly-growing region and busy international trade hub.
"We are expanding the markets we currently serve, particularly in the Middle East, Hong Kong and Bangladesh and the 737-800BCF's reliability and versatility is helping enable our strategic direction," said Ajay Singh, chairman and managing director, SpiceJet in a press statement.
The standard-body freighter, which is the first 737-800BCF to be operated in South Asia, is on lease from NGF Alpha, a division of Spectre Cargo Solutions. "It's exciting to bring the 737-800 Freighter to India, a market we see growing in the coming years," said Jordan Jaffe, Spectre Air Capital CEO. "We have already invested over a quarter billion dollars into our 737NG program, and are thrilled to put our continuing commitment to work serving great operators like SpiceJet. They join a growing family of customers utilizing our diverse product range of freighters."
Built on the popular and reliable Next-Generation 737 passenger airplane, the 737-800BCF offers operators lower operating cost per payload tonne than older standard-body freighters. It is currently operating on four continents (Africa, Asia, Europe, and North America). The 737-800BCF carries up to 52,800 pounds (23.9 metric tonnes) of payload, opening new markets to operators with its long-range capability and high reliability.
IAI's Katz, however, seems unperturbed by the current feedstock crisis. Giving an update, he states, "So far, our commercial activity has not been affected from the current feedstock status, as we are investing more efforts in assisting our customers to locate eligible units for conversion. Our conversion activity has grown over the last five years, and our operation floor is secured for the next 24 months. The feedstock status has mostly operational implications; in the past, it was easier to acquire a series of aircraft (sistership) and by that to achieve quicker redelivery time, as the customization phase of the conversion is easier when dealing with sistership aircraft. We are aware of the feedstock situation and the future roadmap is taking under consideration the need to continue and to develop new programs in order to support market needs."
Maindeck of B737-800
Meanwhile, conversions specialist EFW's vice president sales and marketing, Wolfgang Schmid said, "We are actually expecting a more comfortable situation in availability of feedstock which was a big concern so far." EFW leads the P2F conversion programme – which also includes the A330-200/300 – on behalf of ST Engineering and Airbus. The company recently secured a letter-of-intent commitment from lessor BBAM for an Airbus A321 freighter. The narrowbody will be inducted for conversion into a 14-pallet cargo configuration in mid-2020 and is scheduled for redelivery "in end 2020", stated EFW's majority shareholder, the Singaporean group ST Engineering.
Speaking of supply, in conjunction with the expanded Amazon agreement, Air Transport Services Group announced back in December of 2018 that it had reached an agreement with American Airlines (AAL) to acquire and convert 20 passenger 767s - a deal that represents about 10 percent of the 767 passenger fleet still in service. Air Transport Services Group also announced a subsequent agreement to acquire four additional planes with first quarter results. ATSG and Precision are working together on a passenger-to-freighter conversion program for Airbus A321-200 aircraft. ATSG, which operates B767Fs for Amazon Air, currently expects to begin freighter modification of six of the twenty 767-300s during 2019, up to nine during 2020, and no fewer than five in 2021.
Winning strategies that will fit tomorrow's air cargo markets
According to AEI's Convey, the future of narrowbody freighters will be limited to four aircraft models with two of them capturing the majority of the business. "On the Boeing side, you have the 737-700 and 737-800 and on the Airbus side you have the A320 and A321. The 737-700 and A320 will see limited success and be converted in small numbers. The A321 will, when feedstock prices come down, see a high number of conversions and primarily be a 757 replacement. The 737-800 will dominate the narrowbody sector and see 500+ conversions over time," he said.
Boeing's Pratt vouches for next generation freighters that offer lower fuel consumption, less maintenance, improved economics, and higher dispatch reliability. "Our 737-800 Boeing Converted Freighter (BCF) is one example, with its 2,000 nmi range, right-size payload capability of 23.9 tonnes, and industry-leading reliability. The 737-800BCF continues to be the market leader. Boeing also has the broad scope and infrastructure, deep customer knowledge and more than a century of expertise to ensure that we perform unparalleled engineering and modification work for our customers."
This feature was originally published in STAT Trade Times' October 2019 issue.