FROM MAGAZINE - Flirting with cargo: Drones ready to deliver
Drones are the new frontier in the digital revolution. Drone deliveries are creating a new customer experience in the logistics sector that opens up even more opportunities for sustainable growth and greater economic contribution. The technology is flexible enough in its implementation, to be scaled up or down to fit the required application. Are you […]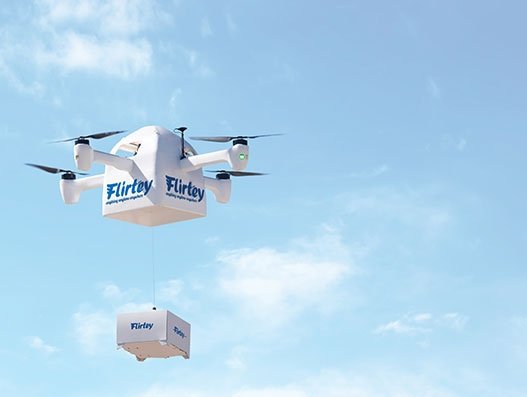 Drones are the new frontier in the digital revolution. Drone deliveries are creating a new customer experience in the logistics sector that opens up even more opportunities for sustainable growth and greater economic contribution. The technology is flexible enough in its implementation, to be scaled up or down to fit the required application.
Are you craving for a Domino's pizza to reach your doorstep within ten minutes or eager to watch incredible gliding shots of Niagara Falls? Unmanned aerial vehicles (UAVs) are the quick fix to turn it into reality. In 1917, Charles F Kettering of Dayton, Ohio couldn't have imagined that he will sculpt the idea of drones for cargo business in the coming years. His invention of the giant mosquito-looking contraption called - Kettering Aerial Torpedo for the US Army, nicknamed as 'Bug' due to its appearance, had a speed of 120 miles per hour with a payload capacity of 180 pounds. Developed during World War I, Bug was powered by a four-cylinder, 40-horsepower engine built by Henry Ford. Before the armistice, the Dayton-Wright Airplane Co. built fewer than 50 Bugs but it never saw combat. Finally in the 1920s, due to the scarcity of funds, the US army halted further development of Bug.
As per Research and Markets report, the global autonomous last-mile delivery market accounted for $9.98 billion in 2018 and is expected to reach $45.27 billion by 2027, growing at a compound annual growth rate (CAGR) of 18.3 percent during the forecast period.
For years, Amazon has been building an army of sophisticated flying robots and is ready to deliver packages in a few months. At Amazon's re:MARS (Machine Learning, Automation, Robotics and Space) conference held in Las Vegas in June, Jeff Wilke, Amazon's Worldwide Consumer CEO unveiled the company's latest Prime Air drone design. The hybrid-designed drones can easily shift between two modes - from vertical to airplane mode, and back to vertical for take-off and landing.
"E-commerce is the physical manifestation of the digital transformation of retail. Coupled with an increasing appetite for on-demand services in everything from mobility, hospitality, food delivery - this means e-commerce will be the single most important driver for commercial drones," Svilen Rangelov, co-founder & CEO of Bulgaria-based Dronamics states.
Dronamics' Black Swan plans to begin commercial deliveries in 2020 for e-commerce, SMEs, pharma, perishables, spare parts and more after it has conducted extensive technical tests of a variety of prototypes.
Supporting Rangelov's statement, Pang Mei Yee, vice president, head of innovation Asia Pacific, DHL Customer Solutions & Innovation, observes, "E-commerce has dramatically increased B2C shipment volumes, which brings increased challenges for managing the costs and efficiencies of last-mile delivery. In certain niche sectors, drone deliveries can be relevant in addressing the increased demand for same-day deliveries, as it can reduce delivery times and increase the frequency of a business' cut-off time for deliveries."
DHL Ehang Falcon
In May this year, DHL Express entered into a strategic partnership with an autonomous aerial vehicle company EHang to tackle the last-mile delivery challenges in the urban areas of China. DHL is the first international express company to provide such a service in China. EHang Falcon drone can cover a distance of approximately eight kilometres between the customer premises and the DHL service centre in Liaobu, in the city of Dongguan, Guangdong Province. The drone lands atop intelligent cabinets that are specifically developed for the fully autonomous loading and offloading of the shipment.
Another Asian country - India has partnered with the US firm Zipline, a life-saving delivery drone, to begin operations in early 2020 for establishing 24X7 service to deliver life-saving and critical medicines to each of its 120 million citizens over the coming years in the state of Maharashtra. The initiative will be supported by Serum Institute of India (SII), a manufacturer of immunobiological drugs and vaccines in India.
Africa is no behind when it comes to the drone revolution. Kenya-based Astral Aerial Solutions' Kush Gadhia, business development director, comments, "In Africa, e-commerce has been a major driver of air cargo transportation. Drone technology will leverage the already created e-commerce eco-system, where the technology will be implemented into an already existing and tested market. This sector has given drone technology a head-start in Africa and will play a key role in enabling the uptake of the technology."
At the recent Cool Chain Association (CCA)'s Pharma and Biosciences conference, Patrique Zaman, founder of Avy, a developer of long-range VTOL UAVs, said, "We are working really hard to make sure this new air ecosystem happens, and we have been focusing on tech, regulatory issues, and also use cases, but what we found really hard is to get in touch with the rest of the value chain."
In 2015, Reno, Nevada-based drone company Flirtey partnered with NASA to perform the first drone delivery on the US soil. Based on extensive research, Flirtey identified that automated external defibrillators (AED) delivery was the application that would have the biggest benefit on society, and thus Flirtey Eagle was born. Matthew Sweeny, founder and CEO, Flirtey, explains, "Eagle can safely deliver defibrillators, as well as we have built our drones for our customer across industries including food, logistics, on-demand delivery, and medical."
Terra Drone Corporation, an end-to-end solution provider in the UAV space for industrial solutions is also interested in entering into the e-commerce world. "We have also started a part of the logistics service operation of drone that can be a fully autonomous flight with 'Drone in a box' solution utilising Terra UTM (unmanned traffic management), which has been developed in-house. By optimising these logistics operations, demand for further e-commerce will increase," notes Yosuke Kaneko, head of UTM Group, Terra Drone.
With the anticipated plans in different regions for urban air mobility using unmanned aerial system (UAS) and last- to medium-mile drone cargo air delivery, air travel is no longer perceived as a journey from airport A to airport B but rather a door-to-door integrated service. Within this context, IATA is working on a concept for the future of air traffic management (ATM) in view of automation, artificial intelligence (AI), UAS and concepts like system wide information management (SWIM). Ruby Sayyed, head ATM advocacy, the International Air Transport Association(IATA), says, "Such future vision will include the integration of new and emerging users into the airspace in a safe, efficient, and cost-effective manner, and look at the needed transformation in ATM and infrastructure. IATA is also expanding its work to progress in the development of standards and regulations at a pace that can keep up with the expanded use of UAS for air transport. A closer and more consistent collaboration with the UAS industry is needed to collect data and learn from the on-going operations and trials. IATA's planned engagements with the UAS industry and innovators include the UAS Think Tank and the Drones Innovation Weekend."
On the other hand, when drone can shape your needs into reality it can even endanger the economy. On September 14, when some unknown perpetrators launched a complex attack on Saudi Arabian oil facilities using drones and cruise missiles, the country's oil exports were cut off by half, a big deal considering the country supplies 10 percent of all oil worldwide.
IATA's Information Bulletin on key considerations for protecting manned aviation from drones highlights the methodology for using and implementing anti-UAS measures. These measures may include some countermeasures aimed to neutralise, or limit, potential risks posed by uncooperative UASs, and they can be both beneficial and harmful to aircraft and ATM operations. Therefore, anti-UAS measures should only be implemented following an appropriate safety assessment taking into account potential impacts to all aviation stakeholders. "Further to the Information Bulletin, IATA is working with Airports Council International (ACI) and other key industry partners to develop recommendations and best practices for managing airport disruptions caused by uncooperative drones. It is expected to kick off after the ICAO's 40th Assembly which will end on October 2," Sayyed states.
As regulations and laws concerning UAVs can vary significantly not only between countries but even at the district level, working with local authorities and government throughout the entire process is a critical factor. Astral Aerial has been actively participating in events organised by the regulatory authority to educate, sensitise as well as advocate safe UAV use in the country. Astral has also set up remotely piloted aircraft systems (RPAS) Training Academy Kenya, which is the first drone training institution in the East African Region.
Rangelov cites, "Our drone has a standard fixed-wing configuration with a standard tail, a certified aviation engine with a known fuel type, and we don't fly within cities, and naturally serve underserved lanes, so we have perhaps the lowest risk profile of all other systems in development. Regulators acknowledge this and we believe they can also see that we take safety and reliability very seriously, and are not innovating for innovation's sake, but are trying to create a very affordable and practical low-risk solution to a big social problem."
In the case of EHang, the Chinese government recognised the initiative from technological innovation and thus led to efficient cooperation with all the relevant departments. Yee says, "EHang's state-of-the-art command and control centre closely monitors the drone throughout its entire flight path to ensure the safety of each flight. There are also built-in safety features such as auto-allocation of take-off and landing points, auto-avoidance of route conflicts, and auto-assessment and warnings in case of an emergency."
Within weeks of Wilke's announcement on the retail Goliath gearing up to dominate the ecommerce market, Uber and UPS applied for air carrier certificates from the US Federal Aviation Administration (FAA) to launch commercial drone operations. While in April, Wing Aviation from Alphabet, the parent company of Google has become the first US company to receive FAA approval for commercial delivery.
The safe and flexible integration of initial U-space services in a real environment (SAFIR) consortium demonstrated the safety and economic viability of integrated drone traffic in a challenging environment. This is hugely important for the development of the drone services market in Europe. The only way drone traffic will be allowed on a large scale, beyond visual line of sight ((BVLOS), will be if both air risks and ground risks are addressed. SAFIR consists of 13 public and private organisations such as Amazon Prime Air, Aveillant, C-Astral (Terra Drone Group company), DronePort, Elia, Explicit, Helicus, Port of Antwerp, Proximus, SABCA, Skeyes, Tekever, and Unifly, with each organisation bringing its expertise to the table.
Observing on the similar lines, Kaneko, states, "SAFIR covers all aspects of a globalised UTM system, from the first contact with the operator and supervisor to the billing and fleet management. Before the flight takes place, UTM guides the operator through the steps to submit the flight request in a correct and simplified way according to the local specifications. During the flight, real-time communication ensures collisions are avoided at all times and all whereabouts and adherence to regulations are upheld constantly. After the flight, logbook, reporting, history track records and billing features facilitate the administrative workflow and safety-culture related procedures."
Flirtey and the city of Reno were selected into the US Department of Transportation's highly competitive UAS integration pilot programme (IPP), for fast-track regulatory approval. As a result, Eagle took to skies in the first week of September this year and is on track to start routine delivery demonstrations to homes in Nevada by Q4 2019, and will begin to scale commercial operations in 2020.
In the future, Ehang expects to explore more scenarios from DHL hubs to service centres, from service centers to a depot, from service centres to central business districts, and many other possibilities. Yee cites, "We are also working closely with EHang to create a second generation of drones in the near future that will further improve capacity and range in drone-operated express delivery. We expect the technology will evolve to improve cost, payload, and distance to attract further use cases for our business."
Astral Aerial, which signed a memorandum of understanding (MoU) with Yamaha Motors for Fazer R G2 drone is very keen on implementing it for last-mile deliveries as well as for other applications in Kenya. The drone is a multi-role unmanned helicopter that can carry out crop spraying, industrial inspections and delivery over a distance of 90 kilometres. "We plan to implement it not only for last-mile deliveries of e-commerce goods, but also delivery of critical equipment and medical supplies in remote and hard to reach locations" says Gadhia.
Dronamics' Black Swan
Astral's plans to launch Flyox drone, with a maximum take-off weight of 4,000 kilogrammes will enable Africa to tackle last-mile delivery challenges, which faces major infrastructural issues. Thus, it will open up the each region's economy to larger potential markets through e-commerce.
Commenting on the droneports, Rangelov mentions, "Even multi-rotors/VTOL drones need droneports. If you're interested in continuous operations you have to safeguard the infrastructure and processes on the ground, and you will want to install the appropriate equipment to make your operations easier. In our case, the droneport is just that - it's not the landing strip. We can land on unpaved runways, so even a grass field of 400 metres length would suffice. Our droneport is the equipment we install on this field in order to turn it into an active runway. It's customised to receive our type of drones and can also be retrofitted at a very low cost on existing airstrips. If you want to serve small communities, you can't be spending millions on droneports, so everything has to be very low-cost, and that's really the heart of our innovation."
Drones can help increase efficiency, lower costs and play an important role in solving the last-mile delivery challenges and overcoming complex road and traffic congestion. Drone deliveries will create a new customer experience in the logistics sector that opens up even more opportunities for sustainable growth and greater economic contribution.
Focusing on sustainability initiatives to help achieve shipment zero, Amazon is making all shipments net zero carbon with 50 percent by 2030. At the same time, EHang Falcon can overcome the complex road conditions and traffic congestion common to urban areas. It can reduce one-way delivery time from 40 minutes to 8 minutes and can save costs of up to 80 percent per delivery, with reduced energy consumption and carbon footprint compared with road transportation.
The suitability of a drone for a specific application plays a larger role in determining its application in cargo deliveries. Fixed-wing drones are suitable for long range deliveries to areas with enough space for landing. The length of the landing strip varies for different drones. While multirotor drones are suitable for deliveries to regions with challenging terrain, for example, mountain regions or highly congested areas. What is ideally sought in a cargo drone is its ability to carry voluminous cargo, high payload capacity, long-range capability, and ability to carry out last-mile deliveries in areas that are inaccessible.
The Flirtey Eagle is a multi-rotor UAV, which enables to deliver its contents by lowering a tether from a hover at a height above trees and power lines, while the drone is suspended in air, ensuring safe and precise delivery.
EHang Falcon with eight propellers on four arms is designed with multiple redundant systems for a full backup and smart and secure flight control modules. Its high-performance features include vertical take-off and landing, high accuracy GPS and visual identification, smart flight path planning, fully-automated flight, and real-time network connection and scheduling. The intelligent cabinets seamlessly connect with automated processes including sorting, scanning, and storage of express mail, and features high-tech functions such as facial recognition and ID scanning.
Amazon unveiled the latest version of its Prime Air delivery drone at Amazon's re:MARS conference in Las Vegas in June this year
On the contrary on multi-rotor, Rangelov, mentions, "When it comes to cargo, there haven't been any successful commercial applications for multi-rotor drones, despite that the consumer market is dominated almost exclusively by multi-rotors. The trouble with multi-rotors and VTOLs commercially is that they consume significantly more energy per unit of cargo going a unit of distance compared to fixed-wing configurations, and so their cost per order is many a time above the one that could be accepted by the market. The only exception could be really niche cases like supplying frontline personnel, off-shore oil and gas platforms, etc., or medical supplies in high-labour-cost countries. After all, there's a lot more cargo being flown by airplanes than by helicopters. It's simple physics."
Data mining
Depending on the type and amount of data you choose to track and the size and complexity of the system and its flight plan, there is almost no limit to the amount of data you can choose to collect. So how and what to analyse is very much dependent on the aircraft and concept of operations with the obvious top priority of ensuring safety.
In addition, to unveiling Eagle, the company also launched Flirtey Portal, a sophisticated take-off and landing platform enabling scalable store-to-door operations, along with Flirtey's autonomous software platform that enables drones to deliver safely to American homes with one Flirtey operator overseeing ten Flirtey delivery drones.
Terra Drone in November 2018 succeeded in a demo for stadium security by utilising a smart drone developed in-house that can detect people. Further, it would like to develop it in the fields of logistics, security and disaster prevention. Kaneko explains, "UTM has been put into practical use on the premise of deregulation of non-visible flight and demonstration tests using BVLOS have already been conducted in developed countries such as the United States. While we are conducting demonstration tests in developed countries, we are proceeding with demonstration tests and have started operation in emerging countries such as Africa, South America, and Russia."
Drones are the new frontier in the digital revolution. The technology is flexible enough in its implementation, to be scaled up or down to fit the required application. In terms of the future, we can anticipate a world in which drones deliver large cargo; and smaller e-commerce parcel deliveries.
IATA has worked closely with the International Civil Aviation Organization (ICAO) to develop the Concept of Operations (CONOPS) for international RPAS. In addition, IATA is working with key partners and the unmanned vehicles industry to drive the safe and efficient integration of UAS into airspace. Sayyed says, "Part of our work includes involvement in ICAO's technical groups and panels, such as the remotely piloted aircraft systems panel (RPASP), the scope of which is focused on flight rules (IFR) operation in controlled airspace. In addition, under the auspices of the unmanned aircraft system advisory group (UAS-AG), IATA, industry stakeholders, and civil aviation authorities (CAAs) worked with ICAO to develop a toolkit to guide UAS safe operation and governance. At the moment, work is on-going to create another toolkit to guide UAS operations for humanitarian aid purposes."
The anticipated benefits of a drone are huge economic growth, reduced costs of delivery by air, faster delivery turnover times, and reduced downtime for companies that require critical equipment supply and the unparalleled convenience that comes with faster deliveries right at your doorstep.
This feature was originally published in STAT Trade Times' October 2019 issue.