FROM MAGAZINE: Ecommerce will continue to be a source of air freight volumes, says Lars Winkelbauer
One of the key all-cargo carriers in the world, Polar Air Cargo has expanded from an initial flight from New York to Shannon, Ireland, to a scheduled route network serving the world's major economic regions. In November 2001, Polar was acquired by Atlas Air Worldwide Holdings (AAWW). In June 2007, Polar closed on a strategic […]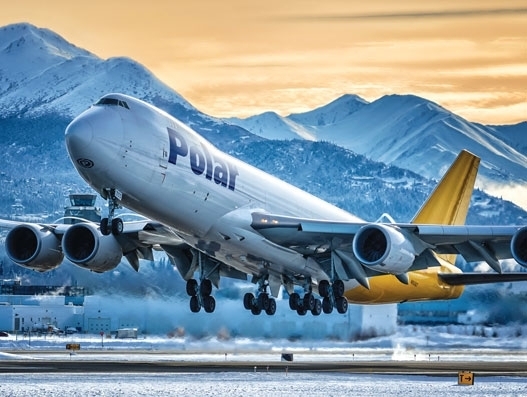 One of the key all-cargo carriers in the world, Polar Air Cargo has expanded from an initial flight from New York to Shannon, Ireland, to a scheduled route network serving the world's major economic regions. In November 2001, Polar was acquired by Atlas Air Worldwide Holdings (AAWW). In June 2007, Polar closed on a strategic transaction with DHL Express that gives DHL a 49 percent equity interest. AAWW holds the remaining 51 percent. Polar's commitment and ability to serve the general shipping public is bolstered by its strategic relationship with DHL Express which makes DHL an anchor customer. Lars Winkelbauer, Executive Vice President and Chief Operating Officer, Polar Air Cargo Worldwide, assumed the current role in July 2018. Based in Purchase, New York, Winkelbauer has responsibility for all aspects of aviation operations, strategy, and service performance in the worldwide Polar network. Winkelbauer served as Vice President Aviation Express for DHL Asia Pacific from 2014 to 2018. Winkelbauer speaks to Reji John. Edited excerpts
It's been one year since you took charge of Polar Air Cargo, could you pick some of the key highlights of growth for Polar Air in the last one year?
The Polar Air Cargo business continues to grow its reputation as a trusted and innovative air cargo partner to a roster of world-class customers. We have made great strides in building the foundation of our business – both for today and tomorrow. Our business this year was strengthened by strategic infrastructure and technology investments, as well as quality improvements. And importantly, we are keeping our eyes on the years ahead with a focus on future proofing our business.
As a team, we are focused on delivering a quality service, driving innovation, and staying close to our customers. We want to be the first call our customers make when business opportunities and challenges arise, and an invaluable partner in their overall supply chain.
As a leader, I've also taken great pride in watching the growth and development of the Polar team over the last year. My team knows that I'm passionate in my belief that it is always about the people. This is a team that aims high and sets new standards – consistently. The team remains focused on controlling what we can. We've worked hard to build a unique identity for Polar that is defined by a winning culture and strong sense of purpose.
What's your observation about the current status of the global air cargo industry in general?
The global air cargo industry has softened this year. We are in a period of y-o-y decline, but that's against the backdrop of an exceptional 2018. Trade tensions are having an impact on the business outlook and confidence as they have dampened the mood in the short term, while adding uncertainty. Yet ecommerce, which is a large source of growth for our industry, is continuing to expand. Driven by more ecommerce markets coming online and customers demanding more product variety and even faster delivery times, ecommerce volumes require more and more air freight. Therefore, in the long run, we believe that this will continue to be a source of air freight volumes for our industry in years to come.
The more short-term outlook remains less certain. That said, our customers expect a normal peak this year, but perhaps not as robust as the previous two years.
Do you see a decline in cargo volume on transpacific routes, specifically, because of the current tariff issues?
Trade tensions certainly weigh on the overall air cargo market, which has driven uncertainty and speculation on what the future holds for global trade in the future. These concerns are not isolated to transpacific routes but are widespread across most global trade lanes, including intraAsia. These risks are likely to remain until the differences are resolved and relations between the various partners normalise.
Have you been forced to readjust or rationalise your capacity on transpacific on account of the current tariff disputes between China and the US?
Managing capacity proactively is key for all freighter operators, with the goal of ensuring that customer service is not compromised. As our customers are continuing to demand and use our services on all routes, we have seen only slight capacity adjustments other than the traditional seasonal ones.
In the current tariff disputes do you observe any specific trend favouring cargo movement by air? Or a spike in demand on account of stockpiling tendencies?
What continues to move by air are highvalue, time-sensitive-to-market goods, including express and ecommerce shipments, perishables and pharmaceuticals.
Against the backdrop of current geopolitical issues do you see changes in manufacturing trends and are there new trade lanes being developed that favour air freight industry?
Businesses are created to satisfy a certain demand, and if there is one thing that is certain, it is that businesses will find a solution to overcome a problem – in this case the challenges posed by the current geopolitical environment. As such, companies have been proactive and have moved production, and in some cases entire factories, to less affected regions of the world, for example Southeast Asia. These are the same goods previously manufactured in China, which are now manufactured and exported from other countries, which grows demand for air freight on new trade lanes.
What are your expectations from the express and ecommerce sectors as Polar Air Cargo's joint venture partner is DHL Express?
We continue to believe that the growth of ecommerce will continue, as customers demand access to more products from around the globe and increasingly faster delivery times. To serve this expansion, companies are continuing to invest not only in aircraft, but also in their ground fleet, infrastructure such as facilities, and equipment and technology.
Could you give us a sense of the performance of Polar Air Cargo for 2019 so far and how optimistic are you about the rest of the year?
Given current market conditions, I'm pleased with our level of performance, particularly in comparison with our competitors. Our level of customer activity remains strong, which is reflected in our load factors. As we look ahead, the whole of the air cargo industry will be impacted on some level by the current geopolitical environment (trade tensions, Brexit, etc.), which introduce a fair amount of uncertainty. With more than half of 2019 already behind us, our customers generally share our outlook for a more normal peak season compared with the robust peaks the industry experienced in 2017 and 2018.
How important are digital transformation and digital strategy at Polar Air Cargo?
Digital transformation is the cost of doing business in today's fast-moving world. It is no longer a way to stay ahead – but rather an imperative to not fall behind.
There is an ease of doing business with Polar that our customers have come to appreciate – and expect. Our digital strategy is driven by the need for doing things smarter, more efficiently and faster. Given the dynamic nature, this strategy is in a constant state of evolution and fluidity to ensure we are leveraging the latest technological advancements.
At the core of our strategy is our mission to deliver an outstanding customer experience – whether this is through our website, through eBooking, or through customer service. We are particularly proud of our eBooking tool, which has been well received and adopted by our customers.
Of primary focus is how we are capturing data from all of our touch points, and leveraging data to improve efficiency, provide visibility, identify and eliminate operational pain points and boost overall service levels.
We are also pioneering new ground in how we leverage technology with our trucking network. We have invested in leading-edge tools to minimise congestion on truck docks, thereby reducing loading/ un-loading times and idle wait times for truck operators, allowing them to get back on the road as fast as possible, thereby shortening transit times and consequently becoming more "green".
What do you think of digital platforms and digital market places for air freight and will you be open to make your capacity available on these platforms for customers to discover dynamic pricing?
The air cargo industry is still trailing when it comes to online market places for cargo capacity availability, when compared to the travel industry, for example. Why wouldn't we, in the cargo industry, have platforms making contract or ad hoc capacity available - similar to what passenger airlines had for making seats available for years?
There is still resistance to one comprehensive industry standard that would allow all systems, legacy and new alike, to talk to each other and allow visibility of capacity.
Is developing products for cargo categories a priority at Polar Air Cargo? If yes, what are some of the important product development and innovations rolled out in Polar Air Cargo?
In our industry, diversification of products and services plays a key role in addition to customer experience. For example, our perishable business has been steadily growing, fueled by Asian customers increasing appetite for fresh produce from the Americas. Additionally, customers have requested Polar to transport more time and temperature sensitive pharmaceuticals. Given the sensitive nature of both products, Polar Air Cargo is about to embark on obtaining IATA's Centre of Excellence for Independent Validators (CEIV) certification for Fresh and Pharma. This will further demonstrate our ability to manage high-value, temperature-sensitive shipments and to operate to the highest quality standards in the industry. This will ensure that these sensitive, valuable and short shelf-life products are cared for meticulously by all stakeholders during transit to reach the destination unspoiled.
Today Polar Air Cargo has a 10-station network around the world; any chance of increasing this network in the immediate future?
Polar, through its dedicated intercontinental and regional network, serves 20 airports and 8 major air hubs around the globe. Working closely together with our partners and customers, we are always exploring opportunities to provide them with the most diverse network to meet their current and future demands for high quality air freight services.
Our fleet is made up entirely of Boeing aircraft and has a mix of 747-400F, 747-8F and 767s. The company is always evaluating whether our fleet size and types are sufficient to provide the most cost effective and reliable service for our customers.
Who are the key clients that you fly for apart from the DHL Express, that is a JV partner?
We have a very diverse and expanding roster of customers that includes all major integrators, freight forwarders, and charter brokers like UPS, DGF, DSV, DB Schenker, CEVA, Panalpina, NEC, KWE, and many others. Having a diversified customer base is key. Most of our customers have been with us for years, and we appreciate their loyalty and support.
This interview was originally published in STAT Trade Times' September 2019 issue.