FROM MAGAZINE: Asia's advancing role in air cargo
Asia is the hope and trigger of world trade growth. Home to maximum top air cargo airports, the continent is building on its airport capacity and logistics capability. It is well on its way to add more hub airports. It recorded historic growth in air cargo triggered mainly by its growing economies, infrastructure and appetite […]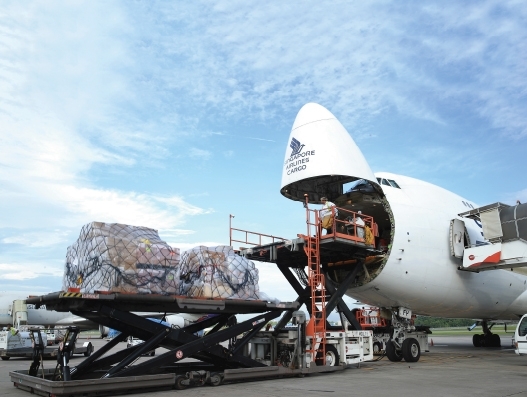 Asia is the hope and trigger of world trade growth. Home to maximum top air cargo airports, the continent is building on its airport capacity and logistics capability. It is well on its way to add more hub airports. It recorded historic growth in air cargo triggered mainly by its growing economies, infrastructure and appetite for imported goods.
Nahida Jafferi
Asia is now the manufacturing hub of the world. Hence, the volumes from Asia, will definitely increase as the world trade grows. Most of the top 20 cargo airports are located in Asia. The stakeholders in the air cargo supply chain are preparing for e-commerce and pharma trade with continuous enhancements for better productivity and cost savings. Asia is becoming the largest market for pharma and e-commerce that continues to be lifted by air while other commodities witness a modal shift due to high air freight rates.
Andrew Herdman, Director General, Association of Asia Pacific Airlines (AAPA), said, "International air cargo demand remained robust during March 2018, achieving 5.9 percent growth, building further on last year's very strong cargo performance."
The largest cargo carrier in the Asian region, Cathay Pacific, saw total cargo traffic for March increase by 4.9 percent year on year.
However, there has been a slow pick up in air cargo volumes after Chinese New year which led to weak air cargo traffic growth for Asian carriers in March, as per reports.
The protectionist agenda of key world economies is a cause of worry to the world trade and logistics industry. The tit-for-tat protectionist trade policies imposed by the US and China on each other has not resulted in a significant impact on the air cargo industry as they look to balance the supply and demand equation with alternate options.
As per PwC's Global Economy Watch of 2017, the United States, emerging Asia and the Eurozone, which comprised 60 percent of world GDP in 2017, are expected to contribute almost 70 percent of economic growth in 2018 in Purchasing Power Parity (PPP) terms.
Demand-supply trend in Asia
Satish Lakkaraju, Chief Commercial Officer, Agility India, said, "At the end of 2017, we saw a sudden and steep surge in rates for air cargo. This created a panic situation in the market. We have seen that a lot of air shippers have now started to move some part of their cargo through ocean. This has softened the demand for air cargo to a certain extent. However, this is just a stop-gap arrangement by shippers to reduce their logistics spend as air will still continue to remain their preferred mode of transport."
Lakkaraju also emphasised that a lot of capacities are getting directed to China whenever there is spike in demand, which creates a bottleneck for other Asian markets because it's easier for operators to shift an aircraft capacity from say, India to China than from Europe. "This is why we in India suddenly see a sudden drop in capacity whenever demand in China rises. I don't see this situation improving in the short term as operators are just not adding sufficient capacities as compared to the demand," he stated.
Air cargo demand is mainly going to be driven via the passenger bellies. Indian domestic airlines fly with a 60 percent belly cargo underload and it is looking to enhance regional connectivity. International traffic from India is mainly driven by foreign carriers like Emirates SkyCargo, Lufthansa, Cathay Pacific, among others.
Cathay has taken delivery of 24, A350-900s and it will be soon adding the A350-1000s to its capacity. And in two years down the line, the 777-9X will join its fleet. Mark Sutch, Regional General Manager – South Asia, Middle East & Africa, Cathay Pacific, cited, "The interesting thing to know about all these aircraft is their ability to carry cargo. To give you an example: we have carried over 40 tonnes of cargo on a 777 passenger flight with a full load of passengers. So, really for us moving forward that's the growth in terms of capacity."
The Hong Kong based carrier is launching passenger flights to Copenhagen in May and Washington in September which provide great opportunities for cargo. "We are being approached by major shippers to protect space for their exports in partnership with carriers and agents. This is an indication that they have concerns about capacity when getting their products to market," said Sutch
The challenge to carriers operating out of China and Hong Kong, is that they have to strike a balance between capacity and demand and keep a sustainable operation.
In response to the strong air freight demand from Asia on the transpacific route, DHL Global Forwarding deployed a second dedicated Boeing 747-400 freighter to operate a network which includes the United States, South Korea, China and Germany.
The demand for second freighter comes soon after DHL Global Forwarding's first around-the-world freights service launch in September 2017, which caters to the increasing exports of the Norwegian seafood industry and generating capacities along the route from Brussels to Oslo, Seoul, Shanghai, Cincinnati and back to Brussels.
"Demand is currently exceeding supply mainly due to the large economies performing strongly. On major trade lanes, volumes are high, but capacities are low, a trend that will continue. To increase our operational efficiency and to offer our customers the best possible solution, we thus decided to create further capacities we have direct control over," explains Tim Scharwath, CEO DHL Global Forwarding.
The US-China tariff battle's impact

The trade war between world's top exporting and importing countries, US and China, has been getting more acrimonious. China has unveiled tariffs worth $30 billion, as a response to US tariff on steel and aluminium imports from China. To counter this, US has announced plans to further levy tariffs on about $50 billion worth of Chinese goods.
Commenting on the tariff war between the top economies of the world, Sutch, said, "It won't be good, but I think we would get by. A calm political and economic situation is the best thing for our business. But we have got a very balanced network. We move a lot of cargo from North to South East Asia and a lot to Europe."
So far the additional tariff imposed by the US on Chinese goods are not imported by the US in substantial volumes. Lakkaraju tactfully sums-up the impact as where there is demand there is supply. "If companies in the US are not able to meet the demand from China because the products suddenly becomes costly, then some of that demand will be met through alternate options like India and other South Asian countries. Hence, we may see some dip in volumes on trans-pacific route and slight increase on South Asia – USA route," Lakkaraju said.
Offset market volatility

Reto Hunziker, Group Cargo Director, Chapman Freeborn, suggested that there has to be enough slack built into the system to successfully capitalise on surges in demand. "It's more than just having enough aircraft capacity; there needs to be sufficient slots available for cargo flights, adequate ground handling, and good infrastructure and road networks for onward transit. Without this there's always the potential for bottlenecks."
The key strategy to deal with market volatility is to plan your movements well in advance. Agility has volume contracts with all the major carriers and this minimizes the impact of the sudden decrease in cargo space in the market.
Lakkaraju said, "We work out a cargo plan for our customers and sign back to back space agreements with the carriers based on the plan, which offsets the volatility to a certain extent." He also cited that whenever China sees a spike in demand there will be a surge in air freight rates as carriers would not add substantial capacities in the short term. "This is going to be the new normal; we are prepared to deal with it now. The shift to ocean freight by some air shippers has eased the air freight rates a bit," he said.
In 2017, a mix of high demand and high load factors have pushed up yields. Sutch said, "Forwarders have been struggling to increase rates with shippers. As capacity constraints and booming demand have become the norm throughout the year, shippers have accepted that paying a higher rate is reflective of the current market situation."
Trade lanes' potential
As for Cathay, intra-Asia with China and South East Asian countries in particular, have grown substantially in the last few years. "The Cathay Pacific network along with Cathay Dragon network predominantly caters to majority of this trade, working with all the major freight forwarders," remarked Sutch.
When the intra-Asia trade suddenly boomed, it caught a lot of the industry players off-guard because they were busy focusing on Americas and Europe trade lanes."Fortunately, Agility has always been focusing on the emerging markets and we are reaping the benefits of our efforts be it in Asia or Africa," said Lakkaraju. He further added, "Asia will continue to grow as a manufacturing hub for electronics, white goods, telecommunication equipment, etc. Interestingly, Asian companies have now started acquiring a lot of European manufacturers of complex engineering equipment and the manufacturing base for these equipment has begun to move from Europe to Asia."
Some of the trade lanes with huge potential lack direct air connectivity. Let's take the example of India – Indonesia trade lane; till about a year back, there was no direct flight between these two countries. "We knew the trade lane had potential, however lack of direct connection hampered the growth of this lane. We have seen a surge in business enquiries after the direct route was established. Same is the case of many other lanes," informed Lakkaraju.
He also acknowledged that on some trade lanes it is virtually not possible to have direct route due to limitation of aircrafts. "But with the introduction of the newer long range aircrafts in the recent times, I don't see why we can't have some of the obvious direct connections," cited Lakkaraju.
Numbers speak volumes

As the world economy is in good shape leading to trade growth continuing this year, the air cargo industry remains highly optimistic. In the first two months of 2018, Cathay witnessed a 10.3 percent and 9.5 percent increase in tonnage and revenues respectively, over the same period in 2017. "Our cargo performance continued to be strong with both tonnage and yield achieving positive growth over last year. The positive growth in gross cargo yield was also partly contributed by favourable exchange rates," said Sutch.
Cathay's hub, Hong Kong international airport, is the biggest cargo hub in the world. Hong Kong, with its cargo handling capabilities, customs regime and efficiency of the whole logistics chain, remains best placed to keep its number one status as the global hub for air cargo.
Hunziker said, "The Asian charter market was very positive last year, in terms of our core cargo charter activities, as well as the subsidiary businesses like Chapman Freeborn OBC and Intradco Global, our specialist animal transport business. The peak season out of Asia was exceptionally busy. We saw a significant increase in e-commerce related charter business – particularly out of Asia to Europe – but also in other sectors such as project cargo, energy and automotive."
Air cargo capacity building
Lim Ching Kiat, Managing Director, Air Hub Development, Changi Airport, said, "In 2017, Changi Airport handled a total of 2.13 million tonnes of air cargo, making it the 7th largest air cargo hub by international air freight."
"To meet the future aviation and airfreight demand, Changi Airport will expand into an approximately 1,080 hectare site, east of Changi Airport, a site referred to as 'Changi East Airport Development'. Changi East Airport Development includes Terminal 5, Changi East Industrial Zone (CEIZ) and other aviation support, which is targeted to be operational by 2030. Together with the Changi Airfreight Centre that will be correspondingly reconfigured over time, both CAC and CEIZ would make up Changi's future air cargo handling capability. The total annual handling capacity will increase from the current 3 million tonnes per annum to 5.4 million tonnes per annum," informed Kiat.
"Changi Airport is also working closely with our seaport PSA and other stakeholders to offer seamless connectivity for intermodal operations. Changi Airport continues to see growth across all flows for the first quarter of 2018, with transshipment growing nearly 1.7 percent. Exports posed the strongest growth of 6.5percent," stated Kiat.
Pharma and e-commerce service initiatives
Majority of e-commerce cargo is transported via mail, followed by express and general forwarding. Changi's mail and express volumes have been growing over the years.
"In April 2017, SATS opened its e-commerce AirHub, a 6,000 sqm facility, which enhances Changi's e-commerce mail sorting capability and has reduced the processing time by 50 percent. By deploying state-of-the-art technology, SATS has multiplied mailbag processing capacity by more than three times and streamlined the mail sortation process to deliver quicker turnaround for international e-commerce mail," said Kiat.
Talking about challenges faced by Changi, Kiat said that Singapore continues to face a tight manpower situation and rising labour cost. "To overcome these challenges, our partners have leveraged on automation and technology in their new facilities (e.g. DHL's fully-automated South Asia Hub and SATS e-commerce Airhub) which allow them to achieve productivity gains," he said.
As e-commerce, perishables and pharmaceuticals become more time-sensitive and require dedicated handling, Changi is looking to further develop its handling capabilities. "To increase operational efficiency and data visibility, we will also seek to continue to collaborate with our stakeholders to utilise technology and data," mentioned Kiat.
Changi Airport's hub carrier, Singapore International Airlines (SIA), achieved 84.5 percent for on-time performance during the peak period of 2017. SIA spokesperson, in an email statement, said, "SIA Cargo will continue to pursue air cargo opportunities actively across the network and seek air charter opportunities. The key trade lanes include China and Hong Kong to the US, Europe and the Southwest Pacific Regions."
In 2017, SIA obtained the IATA CEIV Pharma certification and it now focuses on cross-industry collaborative projects by Pharma.Aero and Pharma@Changi to improve and standardise its capabilities with the use of technology. "On the pharmaceutical front, SIA Cargo recognises that quality is a key requirement across the industry, and will continue to ensure that pharmaceutical shipments are continually accorded the highest standards in handling," said the spokesperson.
Cathay is analysing its network to make better use of its expertise in pharma to tap into that. Sutch remarked, "Traditionally the pharma markets have been out of Europe, Australia and North America. What we have seen in the last few years is the growth in the pharma business in India. We have got the IATA CIEV certification in Hong Kong. HKG is well positioned to serve India through our network. We have got great access to North America, and more importantly the growing Asian market."
In addition, Cathay is witnessing continuous growth in e-commerce volumes, which is helping to reduce the directional imbalances. "With volumes growing in and out of China, it is underpinning the double-digit growth of intra-Asia lanes for Cathay Pacific's cargo business. We have a wide network and high frequencies from major markets in Asia, which is imperative to facilitate the booming demand from the e-commerce sector," revealed Sutch.
E-Commerce drives air cargo volumes
The percentage of e-commerce shipments via air in India has slumped from 70 percent in 2014 to 40 percent now. At XpressBees Logistics, an e-commerce logistics company in India, 35 percent of courier shipments are routed through air and remaining is surface transport. It aims to be the largest cross-border e-commerce player with the recent investment from Alibaba that owns Lazada online marketplace and Cainiao Logistics, an Alibaba logistics affiliate. XpressBees is the only delivery partner for Xiaomi in India, a Chinese electronics company that is offering one-day and four hour delivery to its customers.
When asked about the expectations from air cargo industry, Amitava Saha, CEO, XpressBees Logistics, shared, "We expect the air cargo industry to invest in technology where the cargo space visibility is much higher. It is not always the space that is a constraint. Despite the space availability, the technology issues do not allow to schedule things appropriately. A lot of things can be controlled around offloading by being more predictable. Once you offload you cannot make it to the next flight since rerouting takes time. Sometimes, it is routed in a sub-optimal manner."
Recommending ways for better air cargo infrastructure for e-commerce in India, Ramesh Mamidala, CEO, Celebi Delhi Cargo Terminal Management, stated, "Airlines, airports and Cargo Terminal Operators (CTOs) that process courier cargo need to fully integrate themselves with the e-commerce logistics companies' IT system for seamless and real time status update of shipments. Several airports still lack this capability, thus losing out to surface transport which seems to have an edge in providing real time accurate shipment status update information."
He cited the example of Celebi's new domestic terminal, which is dedicated for Indigo in Delhi, where it has deployed the best technology for shipment handling and information processing. "In first of its kind, we have deployed inline volume scanning machines that are completely integrated with the x-rays and the terminal management IT system. As a result, we saw a reduction of up to 50 percent in processing cycle times and connection windows," informed Mamidala.
As for Mumbai International Airport (MIAL), the contribution of e-commerce has been substantial for growth in the domestic cargo and courier segments. Manoj Singh, Senior Vice President Cargo, GVK-MIAL, said, "Domestic cargo has registered a growth of 12 percent and courier imports registered growth of 60 percent in the FY18 over the previous year. To fully tap into the growing e-commerce market potential, MIAL has commissioned India's largest Domestic and state-of-the-art common user Terminal in 2016 with annual handling capacity of 250,000 tonnes considering facilitation of a dedicated distribution-cum-sorting center for the e-commerce business, in the vicinity of the airport, in the near future."
GVK-MIAL handled 906,319 MT of cargo in FY18, highest in the airport's history, with 16 percent growth vis-à-vis previous year. International imports has registered robust 26 percent growth with favourable regulatory policy developments such as abolition of octroi, implementation of GST, deferred duty payments and 24×7 operations. Growth has been driven especially by cargo commodities such as pharmaceuticals, perishables, engineering goods, e-commerce and transshipments.
Pharmaceutical cargo has emerged as major commodity segment at many airports compensating the decline in other commodities that have witnessed modal shift. "With rapid growth in cold chain handling at Mumbai airport, led by pharmaceutical and perishable movements, MIAL has initiated the construction of Export Pharmaceutical Terminal Expansion and new Export Perishable Terminal for agro commodities thereby creating an overall temperature control capacity of 500,000 tonnes in exports," informed Singh.
Talking about future projects, Singh informed, "Electronic cargo security declaration and handheld automation for acceptance, delivery and storage of export-import consignments under CSIA e-freight programme, Customs Authorized Economic Operator certification, development of pharma trade lanes with global CEIV certified airport partners, an innovative airside pharma transport solution, seamless pharma temperature controlled supply chain between manufacturing and consumption points, digitization of complete pharma supply chain and enhancing the capabilities of pharma handling workforce by IATA accredited Pharma training programmes, are on cards as our future targets."
Considering the pace of cargo growth at the airport supported by pharma, e-commerce and transshipments, MIAL anticipates CSIA to hit the list of top 30 global airports in few years in terms of annual cargo volume.
While commenting on transshipment hub dream of India, Singh opined that it would be more beneficial in terms of connecting the upcoming airports to the well-established major gateway airports to facilitate a strong hub and spoke model in order to promote air transshipments. "The harmonisation and simplification of regulatory framework for transshipment clearances and implementation of Authorised Economic Operator programme will provide a fillip to this business model. The upcoming international airport at Navi Mumbai being geographically positioned, with close proximity to the seaport has enough potential to be transformed into a transshipment/cargo hub with robust multimodal and regional connectivity," estimated Singh.
Adoption of innovation and technology along with substantial infrastructure investments are coming at the right time in the Indian airports sector.
Key stakeholders of the air freight industry have seen an increasing demand for air freight capacities on Asian routes. All major industries have contributed to this growth in demand. Specifically, China's electronics, electric motors, electrical and mechanical appliances as well as medical equipment companies are bolstering demand. The Middle Kingdom's main export destinations are South Korea and Germany which are served by the new charter as well. But due to well-performing global trade volumes are also increasing from the US and Europe. ?