FROM MAGAZINE: Aerospace Logistics: Building for big growth
People have an insatiable desire to travel and demand for air travel is on the rise. This is creating massive demand for new planes. This calls for new ideas in supply chain improvements and specialized logistics services to keep the aerospace industry flying high. REJI JOHN finds how aerospace logistics is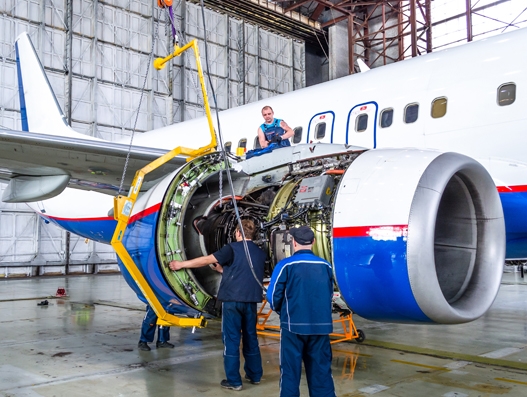 People have an insatiable desire to travel and demand for air travel is on the rise. This is creating massive demand for new planes. This calls for new ideas in supply chain improvements and specialized logistics services to keep the aerospace industry flying high. REJI JOHN finds how aerospace logistics is set for big growth going forward.
The world has an insatiable appetite for air travel, which is creating massive demand for new planes. According to the International Air Transport Association (IATA) the full-year global passenger traffic results for 2016 showed demand increase by 6.3 percent compared to 2015. This strong performance was well ahead of the ten-year average annual growth rate of 5.5 percent.
Connectivity increased with the establishment of more than 700 new routes. And a $44 fall in average return fares helped to make air travel even more accessible. Demand for air travel is still expanding, said Alexandre de Juniac, IATA's Director General and CEO.
According to the recent Airbus' Global Market Forecast for 2016-2035 air traffic will grow at 4.5 percent annually, requiring some 33,000 new passenger and dedicated freighter aircraft at a value of $5.2 trillion over the next 20 years. For the first time Airbus has released results from its "Global Services Forecast" which shows a Maintenance Repair & Overhaul (MRO) business totalling $1.8 trillion and the need for in excess of a 500,000 new pilots over the next 20 years.
With so much demand in the market for planes there is a pressure on the aerospace industry to produce planes more quickly, efficiently, and profitably. Aircraft manufacturers are challenged to make lighter aircraft with lower fuel consumption, using materials sourced from a geographically diverse supplier base. Technical challenges are also delaying some production timetables, causing a ripple effect through a carefully planned schedule of costly incoming parts timed to keep inventories low.
A related demand is to keep the planes flying — servicing and managing replacement parts across an increasingly global footprint. Those pressures are elevating supply chain management to an unprecedented status within aerospace organizations, which have historically emphasized research and development, and manufacturing. They're also prompting aerospace companies to hire third-party logistics (3PL) providers to manage inbound materials movement, production, maintenance, repair, and overhaul operations.
Therefore, supply chain management is the key to commercial aerospace growth and logistics plays an important role in making this industry sustainable. It is observed that the aerospace supply chain is a few years behind the automotive and high-tech industries. Therefore, 3PLs are innovating to offer agile solutions to customers.
Both new and current model production lines require improved processes for the inbound flow of parts. Aerospace companies are striving to streamline movement, and continuously synchronize the manufacturing process. Like automotive companies, aerospace companies have moved some sub-assembly activities to low-cost countries. They've extended their supply chains to 3PLs to support the manufacturing process, and handle staging, kitting, and other tasks. One improvement involves determining how to move the parts. While most aircraft components are parcel-size, some can scale up to an engine or wing, which requires specialized handling, racks, and conveyances. Given tight production timeframes, and the nature of the business, aerospace companies make heavy use of air freight to move components, taking advantage of its value, lead times, and contract terms. But they also use some ground, rail, and steamship transportation, which requires careful coordination, particularly as points of origin grow more diverse.
David Roegge, Marketing Director for High Tech Segment at UPS, writes that this may well be a golden age for plane-makers and their suppliers; however they need strong logistics partners to meet the stunning demand. As aircraft manufacturers boost production rates, they increasingly rely on complex global supply chains. Now, more than ever, aerospace companies require assistance in the critical steps of the product lifecycle from pre-production through aftermarket service, where optimised parts placement, inventory and visibility are critical to ensuring the right part is always available in the right place. Nowadays, parts come from dozens of countries. Greater distances increase lead times and challenge supply chain managers to meet narrow delivery windows, says Roegge.
All of this elevates the role of logistics providers as manufacturers look for ways to improve efficiency and cut costs. The right supply chain partners can, in fact, drive repeat sales for aerospace companies by helping manufacturers maintain proper order fill rates, improve inventory accuracy and offer convenient reverse logistics services.
At an even deeper level, logistics partners empower aerospace companies to expand into lucrative emerging markets. One way they do this is by helping exporters navigate the complicated customs processes involved in transporting aerospace products across international borders, says Roegge.
While customs compliance can be difficult for all manufacturers, it is especially challenging for aerospace companies, which sell dual-use products for commercial or military purposes. Fines soar into the millions for non-compliance. Companies also face potential revocation of export privileges and damage to their brands and reputations.
Those other tasks include providing visibility to the order and part level, determining total delivered cost, and synchronizing the flow of material from suppliers using tools such as warehouse, event, and transportation management systems. As manufacturing supply chains become more disciplined, inbound materials movement is becoming less urgent and more synchronized, with supply chain managers monitoring flow and communicating with suppliers to address exceptions.
In addition to moving parts cost effectively, aerospace supply chain managers must meet increasingly tight delivery time windows. In the past, meeting delivery schedules was easy because companies held one month's supply of buffer stock close to the plant, said Erik Goedhart, Senior Vice President, Global Head of Aerospace and Industrials, Kuehne + Nagel. Today, however, the increased production tempo results in less stock held at the plant or with vendors. Aerospace companies are more frequently requesting that their 3PLs manage vendor relationships and inbound logistics, Goedhart added.
In fact for Kuehne + Nagel's business vertical specialized end-to end solutions for industries such as aerospace has been performing extremely well. For 2016, the global logistics service provider increased its net turnover by 5.7 percent from this vertical.
CargoLogicAir (CLA), a UK based cargo airline associated with Air Bridge Cargo, has been building up its aerospace vertical with special focus on aircraft on ground (AOG) and maintenance requirements. Aerospace market is priority focus for us in 2017. The UK is one of the world's centres of excellence for the aerospace industry and is either home or a regional base for some of the industry's biggest companies. Last year we performed a number of flights carrying aero engines for both AOG and maintenance requirements and we are confident our ability to provide solutions for off-size cargoes will make CLA a strong partner for aerospace companies here, said Dmitry Grishin, CEO, CLA. It operates scheduled cargo services as well as charter service from its base at London Stansted Airport on routes between the UK, Europe, Asia, Africa and North America.
Chapman Freeborn and Volga-Dnepr Airlines were involved in offering logistics support for Solar Impulse 2's historic round-the-world trip. The Solar Impulse 2 project chose Chapman Freeborn and Volga-Dnepr to provide comprehensive logistical assistance with the provision of both cargo & passenger chartered aircraft to transport spare parts, a mobile hangar and the technical team to support the record-breaking round-the-world trip.
In addition to providing the Solar Impulse team with highly-responsive support aircraft including a Volga-Dnepr Airlines' IL-76TD-90VD and an ATR-72 for the mission, Chapman Freeborn's Wings 24 in-house flight support team helped to manage the project's operations, ranging from flight permits and customs clearances to ground handling and immigration arrangements for the transport airplanes.
AeroVision International (Muskegon, Michigan) recently announced that it will open a new forward stocking location to service customers in Europe, the Middle East and Africa in collaboration with B&H Worldwide, a leading aerospace logistics provider.
Our newly initiated warehouse will be adjacent to London's Heathrow Airport (LHR), allowing customers outside of North America greatly improved access to AeroVision's inventory of regional aircraft parts, said Pete Gibson, AeroVision's Vice President of Aircraft Services. "Utilizing the 24/7/365 support of B&H Worldwide will cut lead times for normal shipments and greatly reduce the response time for EMEA customer's AOG situations."
Rick Cramblet, Executive Vice President of AeroVision said, "The relationship with B&H Worldwide, utilizing their LHR warehouse location, is the first step in building out a global support network for our customers. Additional forward stocking locations will be added as quickly as possible, enabling our customers to reduce their investment in inventory while increasing their dispatch reliability."
Established in 1988 in the UK, B&H Worldwide is a market leader in the highly specialist aerospace parts industry. Over the last quarter of a century it has expanded globally and today operates from ten strategically located aerospace hubs around the world and has a customer base which includes airlines, spare part stockists, MROs and repair vendors.