Fraport reports record growth in air cargo and passenger traffic in February
March 13, 2018: The air cargo throughput at the Frankfurt Airport (FRA) grew by 3.2 percent to 166,959 metric tonnes during February. Similarly, passenger traffic increased by 8.5 percent year-on-year, to 4.4 million. Cumulatively, the passenger traffic between January and February rose by eight percent, which was attributed mainly to intra-European routes, which generated 13.2 […]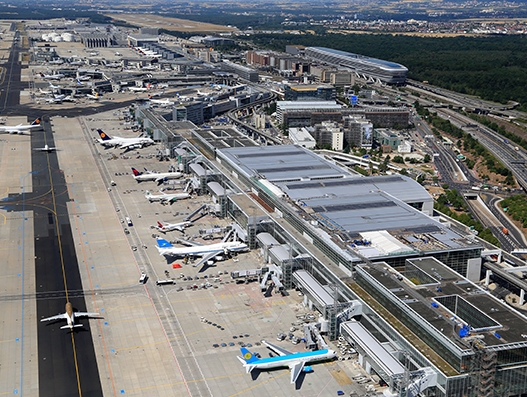 March 13, 2018: The air cargo throughput at the Frankfurt Airport (FRA) grew by 3.2 percent to 166,959 metric tonnes during February.
Similarly, passenger traffic increased by 8.5 percent year-on-year, to 4.4 million.
Cumulatively, the passenger traffic between January and February rose by eight percent, which was attributed mainly to intra-European routes, which generated 13.2 percent growth.
Aircraft movements also climbed by 7.6 percent to 35,193 takeoffs and landings. European traffic was up 10.5 percent, which was the main growth driver in this category.
Accumulated maximum takeoff weights (MTOWs) advanced by 5.5 percent to about 2.2 million metric tonnes.
Overall, Fraport's international airport portfolio recorded traffic growth in February. Slovenia's Ljubljana Airport (LJU) received 99,213 passengers, registering a double-digit gain of 10.2 percent.
Two Brazilian airports of Fortaleza (FOR), and Porto Alegre (POA) received a combined total of about 1.1 million passengers, representing growth of 6.1 percent.
The 14 Greek regional airports saw traffic slide by 8.8 percent to a combined total of 517,438 passengers. The primary contributing factor was reduced flight operations at the high-traffic Thessaloniki Airport (SKG), due to runway construction works. As a result, SKG's passenger traffic dropped by 13.7 percent during the period.
Peru's capital city gateway at Lima Airport (LIM) reported about 1.7 million passengers, with a growth of 9.6 percent in February.
Fraport Twin Star's airports at Varna (VAR) and Burgas (BOJ) on the Bulgarian Black Sea coast cumulatively advanced by 62.2 percent to a total of 61,027 passengers.
On the Turkish Riviera, Antalya Airport (AYT) achieved a 15.5 percent jump in traffic to 694,177 passengers. Traffic at the Hanover Airport (HAJ) in northern Germany grew by 11.1 percent to 317,579 passengers.
During February, Russia's St. Petersburg Airport (LED) registered 953,908 passengers, up 6.3 percent, and China's Xi'an Airport (XIY) received about 3.5 million passengers, up 8.9 percent.