Flynas orders 60 Airbus A320neo family aircraft
<p id="yui_3_16_0_ym19_1_1485150491923_11658" class="yiv9937159213MsoNormal" style="text-align: justify;">Jan 23, 2017: Saudi Arabia's Flynas has signed an agreement with Airbus for 60 A320neo family aircraft.</p> <p id="yui_3_16_0_ym19_1_1485150491923_11659" class="yiv9937159213MsoNormal" style="text-align: justify;">In addition to the 60 aircraft, <a title="Flynas" href="http://www.flynas.com/en/" target="_blank" rel="noopener noreferrer">Flynas</a> has converted 20 A320ceo from a previous order to A320neo bringing the airline's total firm order to 80 […]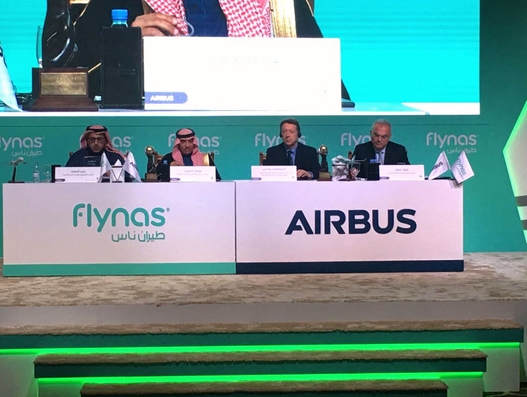 Jan 23, 2017: Saudi Arabia's Flynas has signed an agreement with Airbus for 60 A320neo family aircraft.
In addition to the 60 aircraft, Flynas has converted 20 A320ceo from a previous order to A320neo bringing the airline's total firm order to 80 A320neo. The deliveries are scheduled to take place during 2018-26.
Flynas, an all Airbus operator, currently has 26 A320ceo in service.
Ayed Al Jeaid, chairman, NAS Holding Group, said, "Flynas has come a long way to establish itself as a highly reputed airline in Saudi Arabia. With the introduction of the new aircraft technology, we are confident of our ability to provide best services to our customers. We also look forward to being the first airline in the Kingdom to be successfully listed on the Saudi Stock exchange, which will offer equity ownership to the public and be a part of a great journey."
Bander Al Mohanna, chief executive officer, NAS Holding Group, said, "We have operated exceptionally well with our existing Airbus A320 fleet, which has allowed us to maintain high performance standards in operations and passenger experience. We have an ambitious growth vision and the new A320neo order will further support our plans to be a leading low-cost carrier with the most advanced and efficient technology and will allow us to strengthen our offerings within and outside of Saudi Arabia."
In 2016, Flynas set a new record by carrying 6.3 million passengers contributing to a 14 percent year-on-year increase. The A320neo will provide Flynas unbeatable efficiency and comfort in both high-density domestic segments as well as thinner routes.
"The additional A320neo aircraft will continue to support Flynas' growth plans as a leading low-cost carrier in Saudi Arabia's fast-growing aviation sector," said John Leahy, chief operating officer - Customers, Airbus.
The A320neo Family is the world's best-selling single aisle aircraft with more than 5,000 orders from 90 customers since its launch in 2010. It incorporates latest technologies including new generation engines and Sharklet wing tip devices, which together deliver more than 15 percent in fuel savings from day one and 20 percent by 2020 with further cabin innovations. The A320neo also offers significant environmental performance with nearly 50 percent reduction in noise footprint compared to previous generation aircraft.