FROM MAGAZINE : The criticality of flying precious cargo
Logistics needs are becoming extremely product specific and they become even more exhaustive when it is about flying valuable and precious cargo. Speed, security and insurance are factors fundamental to the movement of high value air cargo shipments.
In December 2017, Cargolux, one of the largest scheduled all-cargo airlines in Europe, was contracted to fly one of the six world renowned Hibaku pianos, nicknamed atomic pianos, from Japan to Oslo for the annual Nobel Peace Prize Concert at Telenor Arena, just outside Oslo, to honour the 2017 Nobel Peace Prize laureate - ICAN or the International Campaign to Abolish Nuclear Weapons. The piano stood in a private residence just three kilometres from the blast site in Hiroshima and still emanates very low levels of radiation. Now owned by Yagawa Piano Studio, these pianos were collected and restored by Yagawa Mitsunori, an offspring of a Hiroshima survivor. While the piano has been featured in several peace concerts within Japan, it has only been moved outside Japan once before, in 2010. Cargolux termed it as a "huge responsibility and an honour to transport such a treasured object."
When it comes to transporting priceless works of art or carrying bank notes, gems and ultra premium luxury products around the globe, it is both a responsibility and an honour.
As per IATA, any cargo with a monetary value of $1,000 or more is declared as a valuable cargo.
These cargoes are categorised into three key segments like commodities (metals, palladium, platinum, artefacts, bank notes); high-end (watches, glasses, pens); and diamonds and jewellery.
As the consumers' appetite for premium and precious goods continues to grow, the need for secure shipments becomes even more imperative. The booming e-commerce has led to air freight becoming the de facto mode to transport goods rapidly and safely. However, when the value of goods begins to enter into a million-dollar category, the risk factor becomes even more complex.
The risk involved in loss, theft or damage of these goods raises exponentially. It takes an expert to ensure that the delivery of precious goods is carried out efficiently.
In this regard, Emirates SkyCargo ensures that the security parameters and handling procedures for all stations are constantly checked and audited. Even a minor negligence could dent the reputation of the carrier, agent and possibly also the customer. Julius Mooney, product development manager, Emirates SkyCargo says, "One of the procedures we have implemented to ensure an additional layer of security is where we require each station to confirm in the system that they are aware of all incoming valuable shipments. The information provided will include number of shipments, weight and the location where the consignment is loaded within the aircraft.
This is in place to ensure that stations and security personnel are on hand to ensure a safe collection from the aircraft to the vault or delivery to the consignee. We work very closely with our colleagues from Emirates Group Security and Transguard Group to ensure that proper security measures are in place."
Ensuring security to precious cargo, Cargolux's CV precious product was designed to ensure seamless transport of sensitive and valuable commodities such as artwork or high precision machinery. Such commodities require specific transport conditions, minimal motion and temperature fluctuations. Temperature-controlled equipment as well as shock and tilt-sensitive containers are often used to transport high-tech commodities. Their dedicated team of experts ensure proper handling throughout the transportation process and consider all loading and unloading requirements.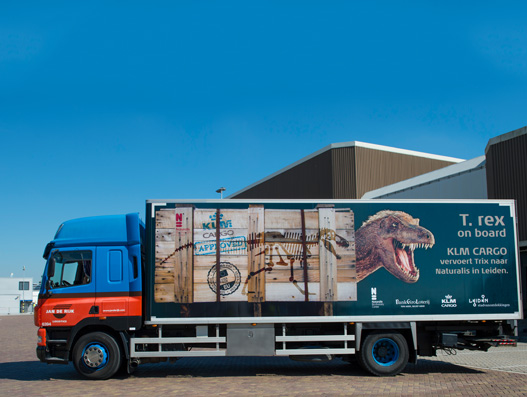 Air France KLM Martinair Cargo has undertaken the contract to carry T-Rex, the 66-million-year-old fossil, till mid-2019.
Selecting the right partner
In March this year a Nimbus Airlines Antonov AN-12 cargo aircraft dropped a significant portion of the $368 million worth of cargo on board — gold, platinum and diamonds — on the runway as it took-off from Yakutsk Airport in Russia. Investigations found that there were serious mistakes in fixing the cargo inside the aircraft. This allowed the cargo to move while taking off and finally damaged a cargo hatch causing it to detach from the aircraft and fall to the ground.  The damage was certainly huge and it points to the importance of cargo handling and the specialised freight forwarding capabilities.
It becomes significant to find suitable freight forwarding companies who can arrange the whole process for their shippers, from storing the goods to shipping them internationally. They negotiate with a range of carriers in order to achieve the most economical, reliable and fastest route, freeing shippers from the stress and hassle involved in import and export of such goods.
The shipper must ensure that the paperwork for transporting goods is completed to reduce the risk of the items being held in customs or the bank note releasing the funds. Having a pedigree of dealing with the elements of supply chain, freight forwarders can assist in the process of documentation for international exports and imports, customs, insurance, packaging, storing goods and inventory management.
Depending on where the goods are being sent and what classification of goods the shipper is exporting, there are few universal steps to be followed. The documents to be accompanied with the shipment include commercial and consular invoices, certificate of origin, bill of lading, export packaging list, inspection certificate, destination control statement and additional documents for select countries, if any.
Transportation of precious cargoes brings many challenges for airlines and logistics service providers compared to the other air cargo shipments. "One of the biggest challenges is to provide sufficient preparation and training to prevent any loss or damage to cargoes. There are some critical points that might lead to damage to cargoes throughout the supply chain. On the other hand, many factors such as geographical and cultural factors, business practices and current issues bear some risks that must be considered at arrival and departure of cargoes," said a Turkish Cargo spokesperson.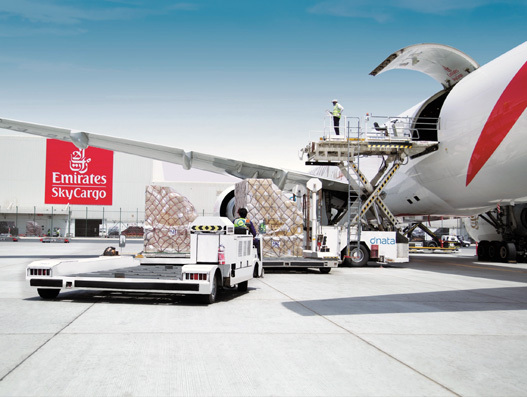 photo:  Emirates SkyCargo
Tech guard
Technology plays a crucial role in improving visibility and traceability, thereby helping businesses save money. Precious cargoes require some dedicated procedures and security measures to protect them against any unforeseeable incident at each phase of the transportation process.
Shipping agents and airlines should cooperate to ensure that optimum level of maintenance is provided at all costs for security of highly precious cargoes.
Christian Theis, product manager - CV precious, Cargolux opines, "Automated messages based on special handling codes are sent to the respective departments. The handling partners en route ensure special attention. Also, adequate handling is delivered to meet the agreed handling requirements. We operate the latest Boeing 747 freighter with precise temperature control zones ensuring an appropriate environment for temperature sensitive art shipments and high-tech commodities."
Meanwhile, Emirates depends on their operational system SkyChain which traces the shipment all the way from acceptance to delivery. Physical damage to the cargo is very unlikely as the cargo is stored in specially designed containers. Mooney adds, "We even have in place our Cargo Operations Control Centre, which is manned round-the-clock. This team is responsible for tracking all valuable shipments, pre-empting any potential issues, overseeing all global movements and executing what has been promised to our customers."
Turkish Cargo has initiated concepts to provide IT, technological infrastructure and high security storage area for precious cargo transportation to be carried out at mega hub, the new home of Turkish Cargo in Istanbul Airport. "The new facility will address the needs of the market and maximise customer satisfaction by ensuring that all special cargo processes, from acceptance to delivery, in private areas are carried out with the highest possible standards of quality. The mega hub will allow us to design better quality and more efficient processes in precious cargoes' handling and transport in the near future."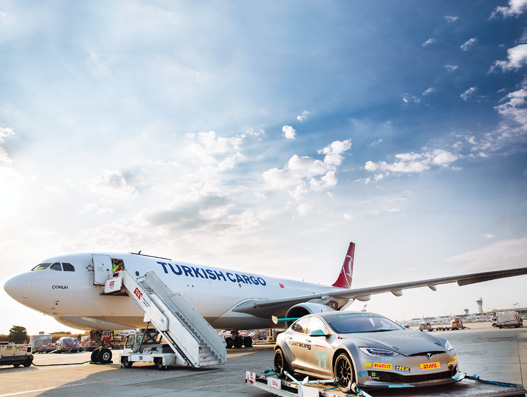 Tesla S P100DL racing vehicle transported from Barcelona to Istanbul during the Technofest event organised at Istanbul Airport.
photo:  Turkish Cargo
The precious casing
Valuable consignments are usually carried in dedicated steel door unit load devices (ULDs) with a tamper proof seal. Most consignments move in the belly hold of the passenger aircraft. However, Emirates SkyCargo has even handled part charters for large currency movements in the past.
The containers are made up of hard plastics or aluminium, etc. in a manner not to be visible from outside, and which have lockable and sealable lids. In case of ULD loading, metal-covered containers with special security controls are used.
Gold and similar shipments require use of proper ULDs for transportation, which means that packaging should be performed in a secure, cool and dry ULD to protect gold against humidity and other variables. Additionally, gold is not stored together with tarnished metals to prevent any contamination that would easily lead to corrosion and damage.
Upon assessing and checking security of ULDs duly, they are sealed properly to prevent any unauthorised access to the goods inside them.  Specifically-closed ULDs are then fixed at the storage room, allocated for highly precious cargoes in a high security warehouse, during the period of waiting before shipment or delivery. The airline officials or well-trained dedicated security officers accompany the transportation process.
Crowning glory
Turkish Cargo recently carried Tesla S P100DL racing vehicle from Barcelona to Istanbul during the Technofest event organised at Istanbul Airport.
Air France KLM Martinair Cargo has been contracted to carry Tyrannosaurus Rex or T-Rex or Trix, the 66-million-year-old fossil, from the very first day of her travel in 2016 until mid-2019.
Recently, American Airlines Cargo has partnered with freight forwarding specialists in four countries to transport priceless Spanish art from locations around the globe to San Antonio Museum of Art, Texas, US. Due to the value of the artwork, security officials were involved at every stage of the transportation. The airline representatives ensured that the paintings were never out of their sight.
Any shipment that is valuable, is going to come with a demanding customer base. The customer will always want these valuable shipments delivered to them safely and quickly. The transport of such goods is always going to be a balancing act between risk management and customer service.