Flower and Perishable Logistics Africa 2019 is back to Nairobi in October
May 15, 2019: Kenyan capital city Nairobi will once again host the popular Flower and Perishable Logistics Africa conferences this year on October 23 and 24. While Flower Logistics Africa (FLA) will roll out its fourth edition on October 23 at the city's Radisson Blu Hotel, Perishable Logistics Africa (PLA) will have its successful third […]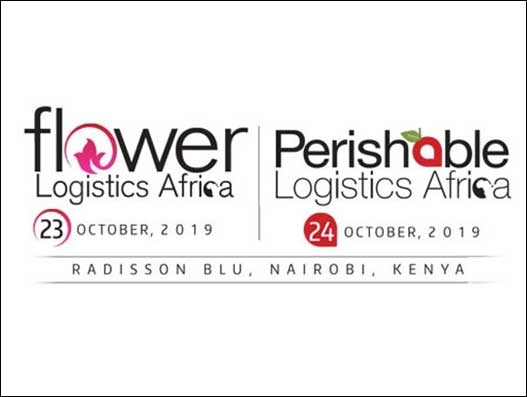 May 15, 2019: Kenyan capital city Nairobi will once again host the popular Flower and Perishable Logistics Africa conferences this year on October 23 and 24.
While Flower Logistics Africa (FLA) will roll out its fourth edition on October 23 at the city's Radisson Blu Hotel, Perishable Logistics Africa (PLA) will have its successful third edition on the next day at the same venue.
The conferences will act as a global networking platform for regional and international service providers involved in the cold chain, logistics and packaging solutions, shippers, producers, and transport providers to connect the gap between the supply chain and logistics business.
Since the launch of this event in 2016, Kenya Flower Council (KFC) and Kenya Plant Health Inspectorate Service (KEPHIS) have continued to offer industry support for these two events.
In the last edition of FLA, the deliberations concentrated on standardising cold chain across the logistics value chain and among all industry stakeholders ranging from airports, airlines, handlers, growers, customs, and packers. With industry insights and feedback gathered since the first edition of FLA in 2016 Royal FloraHolland spearheaded a pilot project to introduce standards in boxes used for flower transport. The phase 2 of the Ideal Flowerbox was introduced in FLA 2018 after several trials and through industry collaboration.
Peter Musola, Cargo Commercial manager, Kenya Airways cited: "The event has created a fresh opportunity for the industry. I'm very happy to see KEPHIS and KFC bringing in good content for the stakeholders. We will support the outcomes from the event and drive our industry partners to the next level."
The conference sessions will introduce fresh perspectives, new ideas, and inspiring speakers; providing a perfect platform to network with key stakeholders of flower and perishable logistics value chain.
The month of October will add more vigour to the stakeholders' discussion on the flower and perishable industry as African Continental Free Trade Area (AfCFTA), a single continental market for goods and services will come into force by July. Africa's 1.3 billion population, predominantly young population and expected doubling of traffic over the next two decades all provide opportunities and hope for the air cargo industry in Africa. With these trends, the Single African Air Transport Market (SAATM) will provide the enabling environment for African cargo airlines and the cargo value-chain thrive in Africa, as African cargo airlines can reach further into new markets and create new city-pairs.
Eric Gysen, Cargo Sales manager, Liege Airport noted: "We are able to learn from the local actors like farmers & growers, and address their problems and issues they are facing."
It is important to note that the conferences in October take place against the backdrop of the African Continental Free Trade Area (AfCFTA), a single continental market for goods and services that will come into force by July this year. Along with AfCFTA, the Single African Air Transport Market (SAATM) will also provide huge support to the African aviation industry in general and to African air cargo industry in particular.