FROM MAGAZINE: FLA-PLA 2019 call for embracing technology, sustainability, better infrastructure
Sustainability and need for collaboration dominated the narrative of the latest Flower & Perishable Logistics Africa conferences in Nairobi, Kenya. Attendees discussed the importance of infrastructure development, exploring new markets, and looking beyond the traditional avenues. Flower industry leaders from all over the world attended the fourth edition of Flower Logistics Africa 2019 held in […]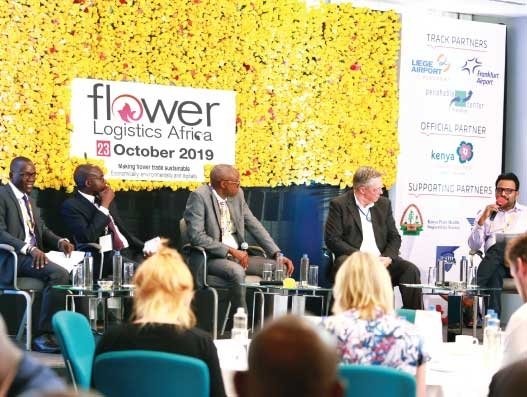 Sustainability and need for collaboration dominated the narrative of the latest Flower & Perishable Logistics Africa conferences in Nairobi, Kenya. Attendees discussed the importance of infrastructure development, exploring new markets, and looking beyond the traditional avenues.
Flower industry leaders from all over the world attended the fourth edition of Flower Logistics Africa 2019 held in Nairobi, Kenya on October 23. Deliberating on the overall theme 'Making Flower Trade Sustainable: Economically, Environmentally and Digitally', the conference brought together key stakeholders - growers, shippers, logistics services providers, airline and airports.
Logistics Update Africa editor Reji John delivers the welcome address
In keeping with the theme, the topics of discussion revolved around the impact of the African Continent Free Trade Agreement (AfCFTA) on the business, building cold chain capacity for African exports, need for visibility through digital transformation and exploring innovations in packaging.
Extending a welcome to the delegates, Jacob Bwana, commercial manager-cargo, Kenya Airports Authority (KAA) shed light on some of the challenges that KAA faces in terms of lack of quality infrastructure, lack of open skies in the continent, and transportation of good across borders for final deliveries.
While speaking on the impact of the implementation of AfCFTA on African flower trade, Clement Tulezi, CEO, Kenya Flower Council (KFC), mentioned that for a long time, Kenya has over-relied on the European market. "I believe that we can diversify into other markets and become competitive even if we have other people who are present in those markets. We believe in the quality of our products, and with better promotion and entry into those markets, we are able to make headway," he said. Tulezi expressed an optimism in the growth of the flower trade, overtaking tea as the biggest business in Kenya. He also stressed on the need for innovation in the business.
Ann Gikonyo, officer, Agriculture & Food Authority said that they were looking beyond traditional European markets for Kenyan flowers, to expand in countries like Japan and South Korea.
(L-R) Moderator Surya Kannoth, Jacob Bwana of KAA, Maarten Klijnstra of Siginon Aviation, Jack Luft of InspiraFarms, Isaac Macharia of KEPHIS and David Dass of Black Tulip Group talk about building cold chain capacity in Africa
During the panel discussion on providing visibility to the entire flower chain, Faith Ndanu, general manager, Fox International Logistics said, "Information is currently localised and sharing of data is somewhat intricate. However, through meaningful partnerships and leveraging of current tech innovations like blockchain/AI, we're bound to achieve more and become more visible in our efforts to attain progress."
Moderator Blessy Chettiar, Jeroen van der Hulst of FlowerWatch, Faith Ndanu of Fox International Logistics, Eric Gysen of Liege Airport and Sanjeev Gadhia of Astral Aviation discuss the need for providing visibility through digital transformation
While a dichotomy was seen in the level and area where technological support is needed, Sanjeev Gadhia, CEO & founder, Astral Aviation informed that his company was currently working on a digital platform that shows a digital footpring through blockchain/AI to indicate where flowers are grown in Kenya, where they're packed and shipped. "Sharing of this information will ultimately improve our logistics processes," insisted Gadhia.
Moderator Reji John, John Kowarsky of Cargolite, Thomas Skaper of PJ Dave Flowers Group, Robert Stelling of Royal FloraHolland Kenya, Parit Shah of Silpack and Ethan Chege Nyeretse of Nirp East Africa talk about packaging innovations in the flower transport industry
Perishables Logistics Africa 2019 moots harmonising standards, data sharing and better collaboration
Shifting focus from flowers, the third edition of Perishables Logistics Africa was held on the next day (October 24). The conference, which revolved around the theme 'Together for Better Logistics: Collaboration Key to Enhancing Africa's Perishable Export' witnessed active participation from the grower communities of fruits and vegetables across Kenya, apart from other key stakeholders in the perishables value chain.
(L-R) Moderator Blessy Chettiar, Peter Musola of Kenya Airways, Lucy Njeri Kuria of Saipei Foods, Elizabeth Thande of PJ Flowers and Okisegere Ojepat of Fresh Produce Consortium talk about sustainable practices for bringing down costs and increasing margins
While industry veterans pressed upon the need for infrastructure development, they also laid focus on building collaboration between African nations and harmonising standards as the continent looks to gain access to newer markets.
Attendees listen in rapt attention
Opening the event, KAA's Jacob Bwana spoke of how the implementation of data sharing could improve visibility throughout the supply chain. "We should embrace data sharing through e-commerce along the supply chain to enhance visibility. This will enable us provide both soft and hard infrastructure to facilitate the export trade of goods especially perishables at our airports," he said.
Speaking on the topic of sustainable practices for bringing down costs and increasing margins, Peter Musola, the cargo commercial manager at Kenya Airways noted that a lot of the perishable products being produced are homogenous, which leads to huge wastage. According to Musola, Kenya Airways is reducing the intra-Africa freight costs as a way of enabling the trading market within Africa. "Kenya is well positioned to achieve more, but we can take it a notch higher with more collaborations. As such, not only will we attain our long term goals but also become more sustainable," he added.
Speaking from a grower's perspective on reducing waste, Elizabeth Thande, managing director, PJ Dave Flowers said, "Listening to the buyer's needs and fulfilling them is critical since it prevents over-production thus helping significantly in waste management."
Moderator Reji John, Andrea Gruber of IATA, Max Conrady of Frankfurt Airport and Jeroen de Clerco of Swissport International deliberate on setting standards and building capacity for transport logistics of perishable goods
Impressing upon better collaboration, Okisegere Ojepat, CEO, Fresh Produce Consortium (FPC) said that a lot more needs to be done in terms of sharing of information and training. "All stakeholders need to realise that sustainability is critical and success can only be derived after everyone plays their role and collaborate more."
Moderator Surya Kannoth, Hosea Machuki of FPEAK, Muthomi Ernest of Avocado Society of Kenya and Eunice Waihenya of Kenya Vineyards talk about looking beyond the traditional, and identifying new markets
PLA also discussed about exploring new markets, and looking beyond the traditional avenues. According to the speakers, the two most critical aspects that can lead to success when exploring new markets are compliance from the Kenya Plant Health Inspectorate Service (KEPHIS) and extensive market research. "For farmers, it's imperative that they source their materials and seeds from reputable sources since it prevents spread of diseases and guarantees quality products for export," said Patrice Ngenga, the technical, standards and compliance officer at the Fresh Produce Exporters Association of Kenya (FPEAK).
As all sectors are embracing technology through various digital enablers such as Blockchain Technology, farmers and other stakeholders in the supply chain value are seeing the need to invest in the right technology in order to mitigate risks as well as make accurate projections regarding their products. "Kenya is headed in the right direction and with more workshops and deliberations like Perishables Logistics Africa and Flower Logistics Africa, we'll not only raise the level of quality of our products and services but also continuously learn from each other and foster meaningful relations," said Eric Gysen, cargo sales manager, Liege Airport.
Moderator Reji John, Robert Webuye of Nile Chilli Supplies, Millicent Rutere of Total Herbs and Eric Gysen of Liege Airport discuss on the topic of adopting digital enablers like IoT and blockchain technology
The session on quality and compliance laid focus on setting standards and building capacity for transport and logistics of perishable goods. Industry experts reinforced the importance of understanding best standards and working towards a common goal of standardisation while maintaining safety and quality of products and services. "We need to find a uniformity of standards that meet common objectives when it comes to perishable cargo regulations," said Andrea Gruber, head, special cargo, IATA.
The conferences, organised by Logistics Update Africa, a STAT Media Group publication, was sponsored by KAA, Holland Flower Alliance and Saudia Cargo among others. The events also garnered support from prominent industry players such as Liege Airport, Frankfurt Airport, Perishable Center Frankfurt and Cargolite. Industry associations such as KFC, KEPHIS, Kenya International Freight and Warehousing Association (KIFWA), and the International Air Transport Association (IATA), FPC, FPEAK, Avocado Society of Kenya, Total Herbs Association, Eastern and Southern African Dairy Association and Kenya Meat Commission also extended their support.
This feature was originally published in STAT Trade Times' November 2019 issue.