FL Technics Indonesia signs MoU with Indonesia's GMF AeroAsia
Jan 23, 2017: FL Technics, a global provider of one-stop-shop aircraft maintenance, repair and overhaul services, has announced that its subsidiary – FL Technics Indonesia – had signed a Memorandum of Understanding (MoU) with GMF AeroAsia, one of Asia Pacific's largest MRO companies. The memorandum entails cooperation in aircraft maintenance, spare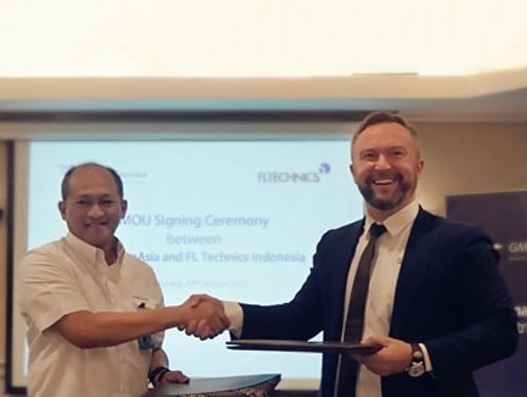 Jan 23, 2017: FL Technics, a global provider of one-stop-shop aircraft maintenance, repair and overhaul services, has announced that its subsidiary – FL Technics Indonesia – had signed a Memorandum of Understanding (MoU) with GMF AeroAsia, one of Asia Pacific's largest MRO companies. The memorandum entails cooperation in aircraft maintenance, spare parts supply and other areas.
Under the agreement, the companies will share best practices in MRO process management, customs clearance and new market development, as well as support each other with spare part supply, component repair, engineering and other services.
In addition, FL Technics Indonesia and GMF AeroAsia will support each other during peak seasons in order to ensure smooth and timely service of their customers. The new MoU comes after continuous cooperation between the companies in parts supply and engine maintenance.
By combining our efforts and resources, both our teams will be able to achieve even more ambitious goals. Moreover, our European experience and know-how together with GMF's competence in local markets will allow us to provide exceptional support to airlines in Indonesia and the rest of Asia Pacific, said Martynas Grigalavicius, CEO of FL Technics Indonesia.
FL Technics Indonesia operates a modern MRO centre located at Soekarno-Hatta International Airport, Jakarta, Indonesia. The 9,000 square metre facility accommodates up to 3 narrow-body aircraft and is certified to service Boeing 737 NG and CL, as well as Airbus A319/A320/A321.
Launched in 2016, FL Technics Indonesia already provides maintenance support to ten Indonesian and Thai carriers.