Finnair cargo facilities ready for distribution of Covid 19 vaccines
Finnair Cargo was the first airline in the world to receive the IATA Excellence for Pharmaceutical Logistics certification (CEIV Pharma) in 2015.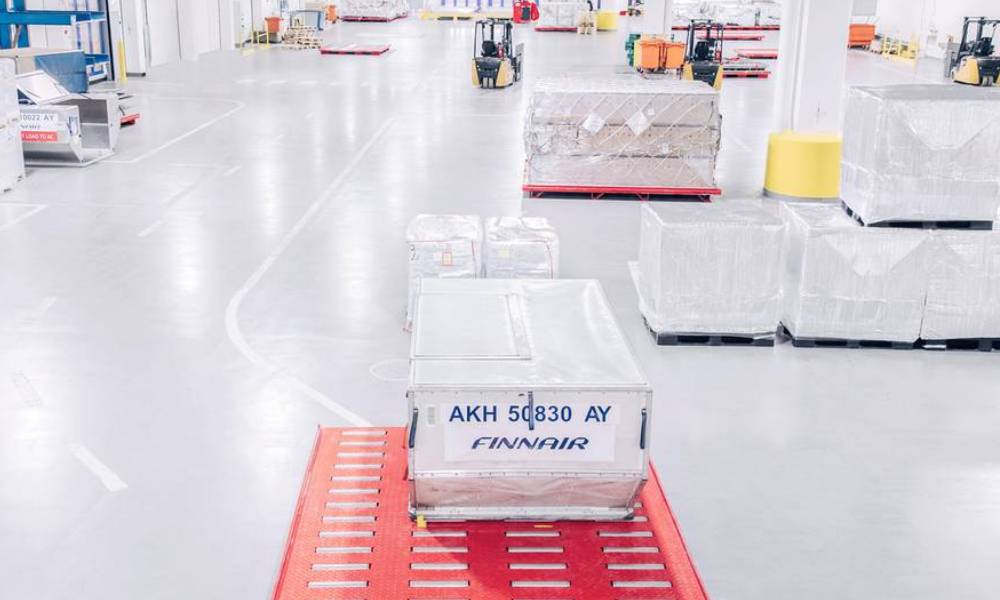 In 2018, Finnair Cargo constructed the most modern air cargo terminal in Europe, designed for excellence in transporting temperature-controlled products. As IATA stated, 'Safely delivering Covid-19 vaccines will be the mission of the century for the global air cargo industry'.
Finnair Cargo was the first airline in the world to receive the IATA Excellence for Pharmaceutical Logistics certification (CEIV Pharma) in 2015, and also their new cool terminal is certified with the CEIV GH certificate from 2019.
With the history of outstanding merits in pharmaceutical logistics and the most modern digital terminal capabilities, the airline is ready for the challenge with their world-class facilities and highly skilled staff.
Facilities and know-how
The 31,000 sq m terminal area has 3,000 sq m dedicated area for pharmaceuticals. Temperature is monitored 24/7 with advanced automatic systems to notify any deviations from the designed temperature ranges. They have temperature-controlled storage areas for all standard ranges - 2,600 sq m of controlled room temperature space (CRT), 207 sq m of refrigerated storage (COL) and 50 sq m of freezer space (FRO).
Pharmaceutical cargo is managed through a dedicated area with its own acceptance area. This allows them to maintain steady temperatures for pharmaceutical shipments and verify the incoming temperature. The ULD built-up can also be made with refrigerated storage temperatures.
With the 100 per cent shipment location monitoring together with the 100 per cent temperature monitoring and control, they can identify shipments that could be subject to a temperature excursion and act accordingly.
Personnel
The cargo build-up in Helsinki is done in a temperature-controlled area by pharma trained personnel. At Finnair, training is given for all employees who handle sensitive pharmaceutical shipments in the temperature-controlled area for the best-in-class security and quality.
Processes
The Helsinki Cool terminal tarmac process is one of the fastest and the most efficient in the world. It is common that temperature deviations occur during handling process, but with short and efficient tarmac transportation times of less than 30 minutes, they have said they can minimise its effects on shipments. The process is specifically designed for pharmaceutical shipments to prevent compromising product integrity.
Less than 30-minute tarmac time is one of the lowest in the industry, and it is enabled by their aircraft standing right outside our cool terminal's pharmaceutical facilities. They are also committed to seeking further reductions in tarmac times at their premises to secure the vaccine logistics at their end.
Partners and cooperation
The Covid-19 vaccine distribution challenge will cover a range of partners along the vaccine trail, and Finnair Cargo is cooperating with other stakeholders to lift the standards across the full journey. Their ground handling network contains 19 certified partners in key locations in Europe and Asia to create secure pharma lanes for vaccines outside their own modern terminal.
As the requirements of Covid-19 vaccines are yet unknown, we are preparing for alternative solutions. We have agreements with five major manufacturers of temperature-controlled containers, enhancing the flexibility in capabilities to carry vaccines, regardless of what the required solutions may be.
Fleet
The Finnair Cargo Airbus fleet is supporting temperature-controlled shipments with pilot controlled, adjustable settings. The A350 fleet contains 19 aircraft that can carry a significant amount of vaccines on one flight.
As the transporting requirements for Covid-19 vaccines are still unknown, it is difficult to estimate the volume demand for one flight. The amount of vaccines depends on, for example, these requirements in relation to product temperature, transportation temperature and size of the dose.
According to WHO vaccine management guidelines for existing vaccine transportation, one A350 aircraft can carry nearly two million measles vaccine shots or 15 million rotavirus doses.
The number of doses needed to carry on one flight is also linked with the organisations' capabilities to distribute the vaccine and the potential time frame of usage before expiry. Public and private sector health officials will need to make calculations on their abilities to distribute the vaccine to their people, and transportation must follow those estimations, especially given that vaccines cannot be stored for long periods of time.
Location and network
The main hub, Helsinki, being located in Northern Europe gives them the geographical advantage of shorter flight times between Europe and East Asia when compared to airlines flying closer to the equator. They offer direct flights to all major cities in Asia within our scheduled network or via tailored charter services.
The home market area in the Nordic and Baltic region covers the population of 27 million, connected to Asian megacities covering over three billion people. Thanks to their geographical location, wide network and operational excellence, we can offer the speed required to carry the vaccines.
Their cool terminal at Helsinki Airport lies in Southern Finland, where the temperatures are mild or cool around the year. Extreme conditions are rare in our location, which lowers the risk of nature impacting on the shipping conditions.
With their history of excellence and dedication for pharmaceutical logistics, Finnair Cargo is a flexible partner to design fast, safe and reliable air cargo transportation for Covid-19 vaccines in the Northern hemisphere. We are well prepared to deliver, when the world expects it the most.
(This piece was first published on cargo.finnair.com)