Finnair Cargo deploy IoT sensors to track air freight in real time
December 2, 2017: In a bid to bolster real time monitoring of its ever increasing air cargo volumes, Finnish air freight carrier Finnair Cargo has recently rolled out its Next-Gen 'Cargo Eye' monitoring tool in Europe. According to sources, the airline's new internet of things (IoT) product—Cargo Eye offers end-to-end visibility for all its air […]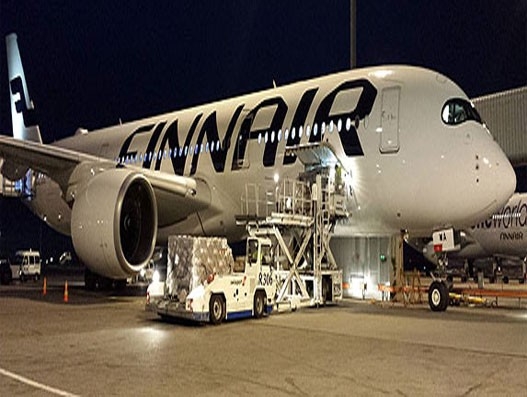 December 2, 2017: In a bid to bolster real time monitoring of its ever increasing air cargo volumes, Finnish air freight carrier Finnair Cargo has recently rolled out its Next-Gen 'Cargo Eye' monitoring tool in Europe.
According to sources, the airline's new internet of things (IoT) product—Cargo Eye offers end-to-end visibility for all its air cargo operations, besides facilitating transparency by providing real-time tracking information its customers.
The air cargo tracking tool has been developed using Qoco Systems and it's integrated with various systems feeding data, such as booking data, location, temperature and humidity of shipments, and ground transport vehicles location or temperatures of shipments.
The air cargo tracking tool 'Cargo Eye' is also expected to support Finnair's newly formed cargo control center in effectively monitoring and steering cargo flows in real time within its freight network. The newly automated cargo terminal commenced its operations for perishable shipments, including seafood in October.
Says Janne Tarvainen, managing director of Finnair Cargo, "We are pleased to introduce Cargo Eye at Slush. We also wish to invite various start-ups to join us in innovating and improving the productivity of Cargo Eye, and establish transparent E2E value chains for practical cargo network steering."
Meanwhile, Finnair Cargo offers air freight services between Asia, Europe and North America. It's the first European airline to fly the next-gen eco-smart Airbus A350 XWB, and first to get listed in the leadership index of the worldwide carbon disclosure project.