Final assembly of first All Nippon Airways A380 to kick off next month
March 20, 2018: The main sections of the first A380 of Japan's All Nippon Airways (ANA) recently arrived at the final assembly line of Airbus in Toulouse, France through a special convoy, with six subassemblies, comprising the nose, central and aft fuselage sections, tailplane, and two wings. According to Airbus, ANA Holdings had placed a […]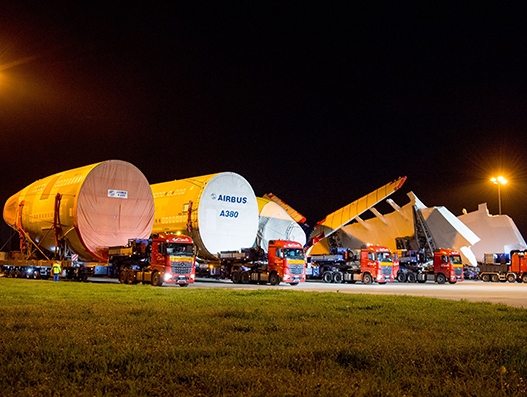 March 20, 2018: The main sections of the first A380 of Japan's All Nippon Airways (ANA) recently arrived at the final assembly line of Airbus in Toulouse, France through a special convoy, with six subassemblies, comprising the nose, central and aft fuselage sections, tailplane, and two wings.
According to Airbus, ANA Holdings had placed a firm order for three A380s in 2016. Subsequently, it became the first customer for the superjumbo in Japan.
The first delivery of Airbus 380 is scheduled in 2019, which will be initially operated on the Tokyo-Honolulu route.
ANA's A380s will feature a special 'Honu' Hawaiian green sea turtle livery, which symbolises good luck and prosperity.