Fighting conventional air cargo's new competitors
Until a few years ago, air cargo's only competition was sea freight. And its only worry was how to step up its game to deal with this modal shift. Fast-forward to today, the conventional air cargo industry's newest competitors, from Amazon to drones to Hyperloop, are here to disrupt its space. The onus now lies on the industry to adapt to new learnings and to move its resources wisely to its advantage.

Surya Kannoth

Towards the end of 2015, e-commerce giant Amazon secured a license from the US government to act as a freight forwarder for ocean container shipping. This approval came closely after it received a similar license from the Chinese commerce ministry. With these two licenses, the online retailer was in a position to buy space on container ships at wholesale rates thus connecting the world's biggest markets brushing aside all its competitors.
Soon after, Amazon inked a deal with Air Transport Services Group to lease 20 Boeing 767 aircraft in an effort to reduce its high shipping costs. Two months later, it announced its intentions to lease 20 more planes, this time from Atlas Air Worldwide Holdings. That deal also granted Amazon the option to purchase as much as 20 percent of the Purchase, New York-based company, and an additional 10 percent should Amazon increase its business with Atlas. With this new deal, freight forwarders and air cargo companies began to worry that they are the next vertical to be disrupted.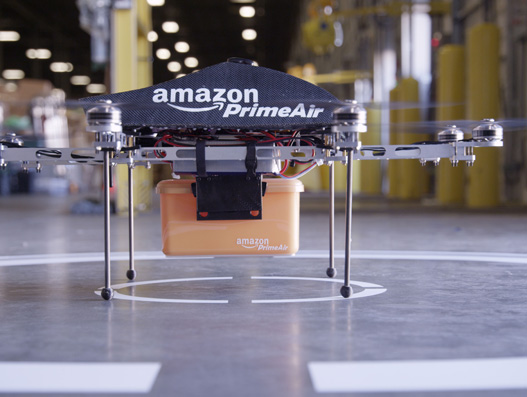 Expanding into transportation, from trucks to planes, is one of Amazon's most important endeavors as it strives to lure new customers with fast shipping while keeping costs under control. The world's largest online retailer is sending more packages, more often, and later in the day to serve its estimated 35 million to more than 50 million US members of Amazon Prime, a service that promises two-day shipping for $99 per year.
Meanwhile, the Asian counterpart to Amazon – Alibaba – has also been upping its game to dominate the logistics industry on a global scale. Its logistics arm Cainiao Smart Logistics Network that was formed just five years ago in 2013 is now breaking its own delivery-speed record for the 11.11 Global Shopping Festival, shaving nearly five hours from the time required to deliver the first 100 million packages in 2017. With the way things are shaping up, it may not be too long when Alibaba will be toeing Amazon's line in upping its game in the air freight sector.
As e-commerce fundamentally creates a paradigm shift for the air cargo industry, the sector is constantly evolving and changing as consumer expectations continue to increase. Therefore, industry veterans are of the belief that if the players within the air cargo supply chain do not evolve with the changing needs, then e-commerce giants like Amazon and Alibaba are going to have their cake and eat it too.
Recently, integrator Fedex spoke of how it is gearing up to combat the expansion of Amazon's ever-growing footprint, which continues to develop its own Amazon Air dedicated air network. David Cunningham, president and CEO of FedEx's express business, said during a presentation before the Wings Club in New York that FedEx's infrastructure gives it an advantage over Amazon.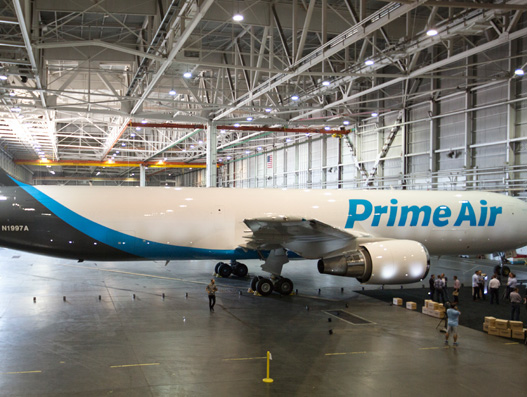 "The scale of FedEx — and UPS, for that matter — the hubs, the infrastructure we have built over 40 years, those things are not easily built," Cunningham said in response to a question on how FedEx would overcome competition from Amazon. Previously in his presentation, Cunningham laid out the scope of FedEx, which, for example, employs more than 425,000 worldwide.
Last year, FedEx placed a launch order with Textron for 50 Cessna SkyCourier 408 feeder freighters. A diversified freighter fleet and delivery network are what FedEx believes give it an edge over rising logistics players like Amazon.
FedEx officials have repeatedly stated they believe it would be difficult for Amazon to replicate the domestic and global networks, systems and practices that FedEx has built over nearly 45 years since the company's 1973 launch at Memphis International Airport.
Nearly five years down the road, the prospect of head-to-head competition looms larger than ever, but it remains to be seen how much Amazon is willing to invest in building out networks to compete with FedEx, UPS and USPS.
Hyperloop: A delivery revolution on the horizon
Another delivery revolution for cargo is on the horizon. Hyperloop's all-electric technology ­– still in its testing phase – uses a sealed capsule inside a vacuum tube, propelled by magnetic levitation.
The low pressure environment reduces drag, allowing high speeds to be achieved. Originally conceived by entrepreneur Elon Musk, the idea is being developed by a number of companies. So far Virgin Hyperloop One's test capsule has reached speeds of 387 kmph (240 mph), but the company predicts it will send cargo at a top speed of 1,000 kmph (621 mph).
In a blog post by Virgin Hyperloop One CEO Rob Lloyd mentioned that a four-day truck journey could be cut to 16 hours. While costs are estimated to run 50 percent higher than truck transit, Cargospeed believes it can be over five-times cheaper than air freight.
DP World Cargospeed, a collaboration between Virgin Hyperloop One and supply chain firm DP World, was announced earlier this year in Dubai. Utilising magnetic levitation technology, it hopes to move freight and people at over 600 mph reducing delivery times and cutting the cost of goods transportation.
The palletised cargo delivery system is made up of sleek, autonomous capsules that are propelled magnetically through a steel tube by linear electric motors, powered by renewables, while pumps remove the air for an energy efficient, fast drive.
DP World Cargospeed will use hyperloop technology to deliver freight at the speed of flight and closer to the cost of trucking. Traveling at top speeds of 1000 km/h DP World Cargospeed systems will transport high-priority, time-sensitive goods including fresh food, medical supplies, electronics, and more.
The Hyperloop One system is designed for both freight and passenger use. Virgin Hyperloop One is negotiating projects in the UAE, India and Saudi Arabia – all are vying for the first fully-functional line. A route between central Dubai and Abu Dhabi would cut the journey time from a 90-minute drive to 12 minutes.
"Two elements control freight transport: cost and speed. If you want something fast, be prepared to pay a high multiple. If you can wait several days, ship it via ground transportation, and it will be cheaper. We're looking to change that equation. With DP World Cargospeed powered by Virgin Hyperloop One, a four-day truck journey can be reduced to 16 hours and costs will plummet," mentioned Richard Branson in a blog post titled 'Breaking Barriers' in April 2018.
Branson goes on to explain how the DP World Cargospeed system has the potential to change freight transportation around the world. "Take India as an example. Today, 25 percent of cargo traveling through the Mumbai port has its origin or destination in Pune. A large portion of this cargo trundles along the crowded Mumbai-Pune Expressway which carries 110,000 vehicles daily. A Virgin Hyperloop One system in the region could reduce a two-to-three hour journey between the two cities by truck to just 25-minutes and combine the State's two largest economic centres into a thriving, competitive mega region."
Cargo airships and drones
Another important disruption to conventional air cargo is the active usage of drones and unmanned cargo airships across industries. How else would you manage to send 100 tonnes of food and medicine to those trapped in locations without access to roads, ports, airstrips or rail lines?
Cargo airships and drones are examples of emerging aviation technologies that have the potential to have a positive impact on airports via providing additional revenue through new/increased cargo volumes. As these modes have the ability to compete with other modes of road, sea and rail, as well as traditional air, it has the potential to be a cargo volume and economic multiplier for an airport through the attraction of new freight activities and associated business.
What's more, Amazon's airborne fulfillment centres (AFC) are now considering drones to make deliveries to purchasers. While Amazon's plans are still in the works for these flying warehouses, it is just one of the several forward-thinking concepts the company may pursue in using drones to close the "last mile" delivery gap. Even though there isn't a specific timeline for the AFCs, we are certainly expecting to see more movement with cargo airships and drones within the next few years.
It is almost inevitable that such unmanned ships and drones will come of age. But the market still needs to cross a number of hurdles, regulatory and otherwise, before they become a mainstream choice for carriers.