Fiege orders more smart glasses from Picavi
Sep 19, 2018: German-headquartered contract logistics firm Fiege, which already uses the Picavi solution, now picks more smart glasses from Picavi in order to optimise logistics processes at its several sites. As Picavi glasses have proved to be beneficial, the company has now ordered 40 more pairs of smart glasses for its site in Worms. […]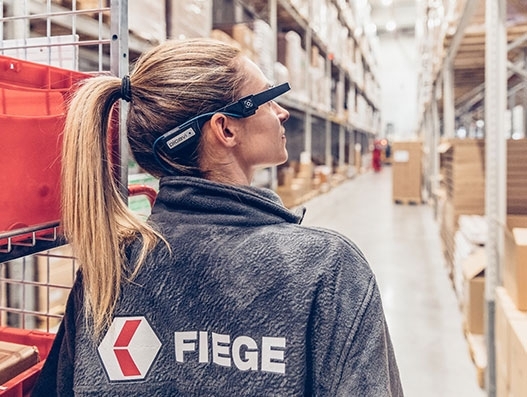 Sep 19, 2018: German-headquartered contract logistics firm Fiege, which already uses the Picavi solution, now picks more smart glasses from Picavi in order to optimise logistics processes at its several sites.
As Picavi glasses have proved to be beneficial, the company has now ordered 40 more pairs of smart glasses for its site in Worms.
In addition, the Fiege branch in Grobbeeren will now also be equipped with the smart glasses. Fiege has purchased more than a dozen from Picavi for its logistics center near Berlin.
Carsten Funke, Picavi's chief sales officer said: "The new order for the warehouse in Grobbeeren and the tripling of the number of glasses for the branch in Worms represent a huge step for our company.
"It is a clear signal that our product is working well in everyday life because it optimises logistics processes."
Fiege began to pick products such as power or garden tools with smart glasses for local customers in Worms almost a year and a half ago. Twenty pairs of Picavi smart glasses were recently in use there. "The efficiency gains achieved with the pick-by-vision solution have convinced us. For this reason, we are now equipping even more warehouse workers with smart glasses," stated Michael Suden, managing director of Fiege Industry Logistics in Worms commented on the purchase of 40 more glasses.
The hands-free approach for order picking is also used in the Fiege branch in Großbeeren. "By using smart glasses, we want to reduce picking times and error rates through the visual guidance of warehouse staff," said Martin Schacht, Branch manager at Fiege in Grobbeeren.
"After the good experiences, our colleagues in Worms had, we consider these goals to be realistic."
"Because of the turnkey solution that we can offer, the integration phases are short-lived and so our customers can replace their old systems quickly. The training period needed for the workers is also very short due to the clear and always comprehensible display," emphasised Johanna Bellenberg, director of Marketing and Communications at Picavi, who now has more than 50 successful pick-by-vision projects to her credit.