FedEx Express and Orbis's Flying Eye Hospital visits UK
<p dir="ltr" style="text-align: justify;"><span class="aBn" tabindex="0" data-term="goog_1219208018"><span class="aQJ">Mar 14,2017</span></span>: FedEx Express and international eye care charity Orbis announce the arrival of Orbis Flying Eye Hospital in the UK. Visiting Stansted Airport from March, 11 to 17, the third generation Flying Eye Hospital is the world's only mobile ophthalmic teaching hospital on board an aircraft donated […]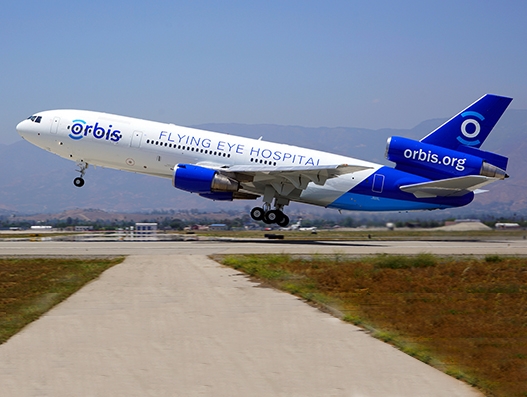 Mar 14,2017: FedEx Express and international eye care charity Orbis announce the arrival of Orbis Flying Eye Hospital in the UK. Visiting Stansted Airport from March, 11 to 17, the third generation Flying Eye Hospital is the world's only mobile ophthalmic teaching hospital on board an aircraft donated by FedEx in 2011. The aircraft has been custom designed to create an advanced medical training and technology facility to further the skills of eye care teams across Africa, Asia and Latin America.
FedEx team members support Orbis through a variety of volunteer roles, including piloting the Flying Eye Hospital, providing maintenance and ground support, serving as translators during medical programmes and helping organise Pull for Sight aeroplane events. FedEx also provides transportation services to Orbis, helping to ensure that sensitive medical supplies arrive at Orbis medical training programmes around the world.
David Canavan, senior vice president of Network & Hub Operations at FedEx Express Europe, said, "We are immensely proud of our enduring relationship with Orbis and are committed to continuing to provide our support and assistance. Working with them for more than three decades, Orbis is one of our longest running affiliations with a non-profit organisation, and in 2011 we donated an aircraft for the third generation Flying Eye Hospital to help fight and treat preventable blindness worldwide. We look forward to helping support Orbis and their outstanding work for many years to come."
Since 1982, Orbis has worked in 92 countries and in 2015, UK donors enabled 3.7 million medical and optical treatments to take place in addition to supporting 21,469 training sessions for medical professionals. With the continued support of FedEx, Orbis is involved in 40 long term projects around the world in countries including India, Bangladesh, Nepal, China, Vietnam, Ethiopia, South Africa, Ghana, Zambia, Cameroon, Peru, Indonesia and Mongolia.
Rebecca Cronin, CEO at Orbis UK, said, "For more than 30 years, FedEx has supported the work of Orbis through more than $22 million in donations and in kind shipping. They not only donated the aircraft that now houses our third generation Flying Eye Hospital, but it is flown by their volunteer pilots and maintained as part of their fleet. We are immensely grateful to them for this long term, strategic partnership. Because of FedEx, Orbis is able to reach even more people around the world suffering from unnecessary blindness."
For more than 30 years, Orbis and their team of more than 400 expert medical volunteers, from 30 countries, accomplishes this by training local medical teams both in their hospitals and on the Flying Eye Hospital, emphasising quality and safety standards for patient care.
These volunteer efforts are part of the FedEx wider commitment to improving communities through FedEx Cares, the company's global giving platform through which it will invest US $200 million in more than 200 global communities by 2020 to create opportunities and deliver positive change around the world. Local volunteers supplement and enrich these community investments.