FROM MAGAZINE : Farm-to-table Fixing the supply chain
The growing appetite for fresh food, the rise of online shopping, the demand for global cuisine and desire for superfoods are trends that are compelling the perishable and food industry to revisit their logistics and supply chain practices and change them to suit consumer demands using modern technology tools and global best practices. Perishables, the […]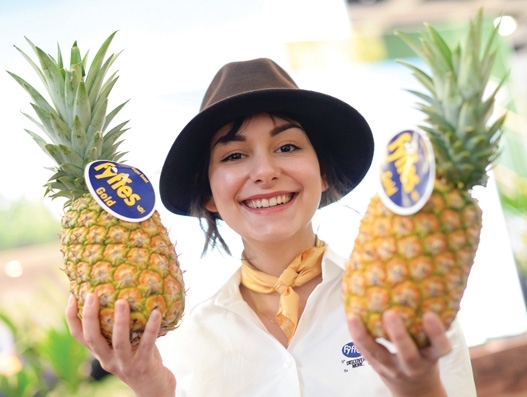 The growing appetite for fresh food, the rise of online shopping, the demand for global cuisine and desire for superfoods are trends that are compelling the perishable and food industry to revisit their logistics and supply chain practices and change them to suit consumer demands using modern technology tools and global best practices. Perishables, the biggest volume contributor to the air freight industry, is increasingly getting due importance with industry leaders calling for collaboration, data sharing and standardised processes to avoid loss and wastage.

Nahida Jafferi

If Formosa papaya, one of the largest papaya varieties, is making its way from Brazil to Europe, it has to dodge scenarios of temperature excursions and abrasions to maintain its integrity.
Perishables tend to lose their texture, flavour and nutritional value if they are exposed to fluctuating temperature. 45 percent of all food produced is thrown away, although transportation only contributes to part of this waste. Cool chain services that support perishable food distribution globally are estimated to be valued at nearly $250 billion. Food losses due to perishables shipping can be brought down to just two percent if the world had a properly functioning cool chain. While 40 percent of the world produce requires refrigeration via cold chains, 20 percent of the food loss is caused by an incomplete or fragmented cold chain.
Some causes of the damages are inappropriate infrastructure, technology discrepancies, multiple standards, fragmented cold chain, no synchronised information channel, lack of temperature monitoring, and lack of training. Through information exchange, transparency, capacity building, monitoring and better standards, safety and agility in food supply chain can be ensured.
Safer supply chain ensures healthier food. The fresh food consumption has gone up dramatically over the last couple of years. Fresh categories within the US are driving nearly 49 percent of all dollar growth in the consumer goods in stores, as per Nielsen's Total Consumer Report.
Superfoods are another trend. Avocado consumption went from two pounds to seven pounds per capita in seven years in the US, Europe and Australia. Moreover, average red fruit consumption tripled in the past eight years.
Even a small temperature fluctuation in the supply chain could affect the quality of food, its safety and shelf life. The Cool Chain Association (CCA) called for a standard in perishables akin to that of pharmaceuticals, as it is all about maintaining the right temperature.
One of three cold rooms of Panalpina's perishables facility at Amsterdam Airport Schiphol

Panalpina, a leading supply chain solutions provider, advises growers on the optimal time and temperature to be maintained before delivering perishable goods into their care. "We proactively engage with our customers before goods are even in transit. If the goods do not arrive at the right temperature, we instigate cooling by way of vacuum or forced air cooling. The goods are held in our cool stores at the correct temperature until the airline cutoff. We then insulate the pallets and, where requested, attach temperature loggers, for delivery to the airline," said Colin Wells, global head of perishables, Panalpina.
Wells asserted that airlines must set the hold of the aircraft to the correct product temperature to minimise temperature build-up during flight. This is obviously easier to achieve with freighter operators and not always possible with passenger aircraft where there is typically a mix of different products in the hold.
"Roughly 20 percent of perishables go to waste between harvest and delivery, to the point of sale. To minimise temperature excursions in transit and upon receipt at the destination, the product has to be placed in a temperature-controlled environment as quickly as possible, and the insulation removed to allow airflow," suggested Wells.
The air cargo industry is faced with a common challenge of being perceived as too expensive coupled with a sub-optimal food supply chain. Wells warned that if airlines and freight forwarders do not jointly manage the trade flows, there will only be lost volumes that might never come back to air freight.
"History has shown that when air freight rates become too expensive, shippers will look to switch to other modes of transport, primarily to ocean freight. Currently, there is an imbalance of cargo flows in and out of the primary growing regions, resulting in low south-bound yields. As a consequence, carriers cease service or increase rates, which in some cases removes the volumes altogether," informed Wells.
Wells urged the stakeholders, to work towards common goals and standards. It is important that the airline industry works closely with all the industry stakeholders.
Concurring this view, Stavros Evangelakakis, global product manager, pharma and perishable, Cargolux Airlines, and Chairman, Cool Chain Association ( CCA), said, "The Cool Chain Association insist to have a standard where the Master airway bill (MAWB) and the temperature label should share the same temperature range. The push for the standardised process in perishables is not as strong as it is for pharmaceuticals due to various reasons. Why wait to get instructions and not start implementing temperature control service when we know that it is perishable?"
Cargolux has started a pilot project with a forwarder and a shipper using MAWB and the IATA temperature label indicating the temperature range as it does for pharmaceuticals, and gather the data in the future.
On the potential of data sharing to reduce wastage and improve shelf life, Evangelakakis opined that data sharing is just one part of the puzzle. There is a need for collaboration and honesty amongst stakeholders, and decision makers within companies driving this.
"The main challenge is collaboration," resonated Bart Pouwels, head of cargo, Amsterdam Airport Schiphol. "For the air freight industry, it is difficult to accept that your neighbour knows a lot more than you do about your cargo, let alone access the same information at the same time. Slowly, we are getting there. Within the Holland Flower Alliance (HFA), we are able to do so, which proves that it is possible. But you must trust each other," he added.
Now, Schiphol is linking critical flower shipment data to air waybills at the source. As part of its Smart Cargo Mainport Program (SCMP), Schiphol Cargo aims to increase efficiencies at Schiphol through increased data sharing. SCMP includes initiatives like the HFA Data Sharing Working Group. "The portal will ensure that only authorised parties will have access to sensitive data, encouraging further collaboration, and in turn, increasing co-operation among stakeholders," said Pouwels.
AF-KLM saw seven percent growth in flower business this year

The Netherlands is the biggest importer of flowers and is doing particularly well. AF-KLM that has its home base at Amsterdam has seen a growth of seven percent in overall flower business this year. It is the highest growth amongst perishables recorded by AF-KLM this year. Flowers represent 23 percent of the perishables business of air freight industry and 28 percent for AF-KLM.
Eric Mauroux, director—verticals & global head of perishables, Air France KLM Martinair Cargo, said, "First of all, it is important to consider that for us the perishables business is a key business. It is 25 percent of the tonnage we move on the flight.
Fruits and vegetables or any kind of flowers are different from pharma as, unlike medicines, fruits and vegetables continue to metabolise and produce heat. That is a normal mechanism."
Mauroux further went on to say that the job of all the actors in the supply chain is not only producing continued or stable temperature but also to ensure that this temperature is maintained.
AF-KLM has partnered with FlowerWatch, a Dutch company which specializes in the flower supply chain business. "This company provides the certification and we are the first airline partner with FlowerWatch that has been certified by them for flower business," he said.
The performance of cool chain under FlowerWatch is based on temperature and time. "You could be exposing a perishable commodity at 10 degrees Celsius for two minutes or two hours. With FlowerWatch, we assess the cool chain with a concept called degree hours where the number of hours that required cool processed shipment is multiplied by the number of degrees that the shipment has been exposed to. We assess the total exposure of the shipment from the farm to shelf."
The trick here is to reduce the degree hours as much as possible. "By reducing the degree hours we can increase the shelf life of the flowers," added Mauroux. This concept is used in AF-KLM's flower markets, namely, Nairobi in Kenya, Quito in Ecuador, Bogota in Colombia.
"There are also moments where the shipments are exposed to the wrong temperature. We are working on the optimization of our processes to reduce the total time to process a perishable shipment from the moment it is accepted to the moment it is loaded onto the aircraft," said Mauroux.
The uptick in Swiss perishables
Switzerland is a large export centre for Swiss WorldCargo. Each market carries its own distinct focus. Ashwin Bhat, head of cargo, Swiss WorldCargo, said. "We are seeing strong, continued growth in the Far East, where we are benefiting from daily flights to several destinations including Tokyo, Singapore, Beijing, Shanghai, Hong Kong, Delhi and Mumbai."
Perishables represent an important part of the business volumes for all stakeholders. "We have actually experienced strong, double-digit growth of over 12 percent in perishables segment since the start of 2018, as compared to the same period last year," informed Bhat.
The challenge is that perishables in air cargo require distinct handling processes, often to ensure temperature-sensitivity or other requirements are met. "In order to best deal with a shipment, it is important that we adhere to a set of previously established quality handling processes, and ensure that the same quality standards are met from origin to destination," said Bhat.
India's perishables story
India is the largest producer of milk, ginger and okra, among others, and ranks second in the production of fruits and vegetables. As per The Associated Chambers of Commerce and Industry of India (ASSOCHAM), up to 40 to 50 percent of milk, fruits and vegetables go waste. The available cold storage facilities in India can store only 11 percent of the country's total produce.
"The uninterrupted cold chain is the primary aspect of a good quality product. It requires pre-cooling at the farm level. When it comes to farm infrastructure we are putting it ourselves. There are products like modified atmosphere bags which allow us to double or triple the shelf life of our products. Although, it is more popular with sea freight than air freight as it requires uninterrupted cold chain," said Kaushal Khakhar, CEO of Kay Bee Exports, an Indian fresh produce exporter.
However, Khakhar pointed out that no produce goes to waste as it is used for processing and other applications, but farmers do lose for a higher value.
"The Mumbai airport infrastructure is over-utilized that affects the proper handling of perishables as the product does not receive the right cooling at times. We also use Ahmadabad, Goa and Hyderabad as alternate airports due to less congestion and their proximity to our farms in Gujarat, Central Maharashtra and Southern Maharashtra," informed Khakhar.
He further added, "RA3 certification is a security audit done by European auditors to check the security protocol compliance at airports. Once Goa airport receives the certification a lot of capacity will be opened up for exporters to move out of Goa to Europe."
The UK, other European countries and South East Asia, are Kay Bee's main export markets.
Indian mangoes are now available in Korean supermarket chains. However, the feedback received from Korea on exports of mango quality was not positive. Khakhar commented, "The product requires a high visual appeal for the Korean market as it is very demanding. That is not easy with the Indian mango. We are able to achieve a good price. To make efforts in matching the expectations of the Korean markets we need significant volumes from them."
Kay Bee ships 90 percent of its exports through air freight. "We do about 1000 tonnes of mango exports in three months by air, worldwide. In the US market that opened up 10 years ago, we are seeing a 10 to 15 percent growth every year," said Khakhar.
With a fleet of over 50 vehicles that include 10 reefer trucks, Kay Bee does its logistics work internally as an IATA freight forwarder.
Talking about the use of technology, Khakhar said, "We install real-time temperature recorders at our factory to understand how the perishable product travels and make some suitable changes accordingly. But data can be downloaded only by those who have RFID receivers. There are terminals especially abroad that have RFID based receivers installed. Unfortunately, it is not completely adopted in India as yet."
The only air cargo terminal in India to implement advanced RFID system is AISATS at Kempegowda International Airport (KIA) in Bengaluru that has currently launched RFID for XPS shipments and will soon be extending this technology to other shipments such as perishables and general cargo. Mike Chew, CEO, AISATS, stated, "It helps in achieving reduced processing times, increased transparency and efficiency. The platform enables automatic real-time data collection of parameters such as the product's location, its temperature and its point of origin."
AISATS, India's first integrated on-airport perishable cargo handling centre at KIA can handle 40,000 tonnes of temperature-sensitive shipments per year. Chew informed, "Since the inception, AISATS COOLPORT has handled 37,151 tonnes of perishable cargo. Furthermore, in this financial year, AISATS has handled 11,378 tonnes of perishable cargo which includes 1,563 tonnes of pharmaceutical cargo showing a 52 percent increase as compared to last year. "
The air cargo industry in India is one of the fastest growing industries in the world owing to the increase in internet penetration, globalisation, the e-commerce boom and a rising demand for seasonal products throughout the year. Chew said, "AISATS has taken advantage of this increase in demand and has registered a year-on-year growth of 27 percent in perishables handling through the now well established AISATS COOLPORT."
Acquiring perishables network
Panalpina and Kuehne+Nagel (K+N) have been rapidly expanding its perishables network with acquisitions. By 2020, Panalpina aims to be the preferred global supplier of perishables logistics.
Since 2015, Panalpina has made seven strategic acquisitions of companies specialised in perishables handling. It started with Airflo in Kenya in November 2015. Six more acquisitions followed in 2017 and 2018: Air Connection in Kenya, Interfresh Airfreight Handling in the Netherlands, parts of the Cool Chain Group (CCG) in Germany, Adelantex and AD Handling in Belgium, Newport Cargo in Argentina and Skyservices in South Africa. "With all of these acquisitions, we have strengthened our global network and end-to-end offering for perishables," informed Wells.
On the other hand, K+N acquired an Ecuadorean perishables company, Panatlantic Logistics, a specialist in the air transport of flowers and fruits, this year. K+N and Panatlantic's combined volumes account for 32,000 tonnes of perishables air exports each year out of Ecuador. This deal shall strengthen its position in South America's key perishables exports market.
Data sharing tech is key
The food industry is adopting blockchain technology as data is considered as a value driver in ensuring the quality of perishables. Europe's largest retailer Carrefour has adopted blockchain ledger technology of IBM to track and trace chicken, eggs and tomatoes from farm to shelf, and will deploy the system across all of its fresh product lines by 2022.
Full implementation of blockchain-based supply chain systems requires the participation of stakeholders like the suppliers, carriers and logistics companies. For AF-KLM, blockchain is being evaluated as one of the ways of sharing data.
Mauroux said, "We have initialised active sensors on board its flights in such a way that customers can put or leave their own active sensors in order to record the temperature of these shipments. We are working on the RFID technology for pallet traceability between our facilities, in addition to Bluetooth technology for tracking the pallets within our warehouse."
Assured Freshness system of FreshSurety reports real-time location, freshness, and remaining shelf-life for individual produce cartons at each stage of the cold chain. Driscoll's berries and AmazonFresh were a part of the pilot project with FreshSurety, where sensors were attached to the pallets to tell the receiver which palette had riper perishables. This allows the retailers to properly allocate the perishables to different uses and minimise waste.
With the application of the Internet of Things (IoT), the temperature can be recorded and a warning is sent when temperatures have veered out from their normal ebb and flow.
Another technological advancement for creating efficiencies in the food supply chain is by Panalpina that is testing inventory optimization tool for perishables, D2ID (Demand-driven Inventory Dispositioning). "This proprietary tool uses big data and algorithms to map out harvests and order patterns. The aim is to reduce excess shipping and overstocking. Unique to Panalpina, D2ID will create huge efficiencies in the perishables sector, increase profitability, reduce wastage and as a result free up transport capacity," said Wells.
While the industry is taking proactive steps to reduce wastage, it is clear that without adopting technology for data sharing, it would be nearly impossible to save the volumes, improve shelf life and ensure better quality within the food supply chain.