Evonik and DHL Resilience360 signs contract to optimise supply chain
<p dir="ltr" style="text-align: justify;">Feb 23, 2017: A variety of causes like natural disaster, social political issues can disrupt supply chains and the flow of goods in a globalized world. The consequences can mean halted production, sales losses or damage to a company's image. In order to avoid such scenarios, Evonik and DHL have signed the […]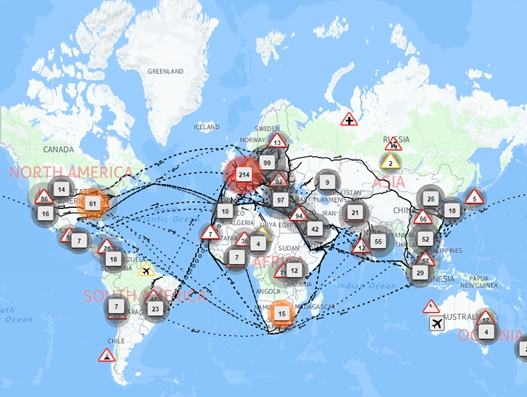 Feb 23, 2017: A variety of causes like natural disaster, social political issues can disrupt supply chains and the flow of goods in a globalized world. The consequences can mean halted production, sales losses or damage to a company's image. In order to avoid such scenarios, Evonik and DHL have signed the respective contract in the Marl Chemical Park. Evonik Technology & Infrastructure GmbH will work with the risk management solution DHL Resilience360 in the future.
The risk management solution Resilience360 provides real time analysis of problems that vessels, trains or trucks can encounter along their transport routes after setting out from Evonik locations around the world. On this basis, the software proposes countermeasures such as whether and how the supply chain's resources can be redistributed in order to minimize or completely avoid damage. For this purpose, the platform connects information regarding natural disasters and socio-political or other risks to Evonik's global production and distribution network. This is partly done by using heat maps, which visualize the locations where problems may occur on various routes. In this way, tracking potential dangers becomes much easier.
Tobias Larsson, head of Resilience360, DHL Customer Solutions & Innovation, said, "Particularly in industries such as the chemicals sector, in which delicate products are transported, the security of the environment, employees and goods plays an important role. We are delighted to help Evonik with this in the future while reducing the costs and risks along the supply chain by providing our data and expertise."
For Evonik, Resilience360 means a further digitalization of its numerous logistics activities. "In doing so, we are continuing to take account of our responsibility for safely transporting chemical goods," said, Robert Schmidkunz, head of logistics security, Evonik Technology & Infrastructure GmbH. "Through actively monitoring supply chains, Evonik is supporting the transport risk analyses that have already been introduced successfully. With this tool, we are also contributing to the digitalisation of our supply chain processes."
From the Marl Chemical Park alone, approximately four million tons of products start their journey throughout the world every year via vessel, train and truck.
Evonik will primarily use Resilience360 for evaluating potential dangers in road transport. The platform also serves as an early warning system to guarantee a rapid response to unscheduled disruptions and to ensure that appropriate measures are implemented.