Etihad Cargo's digitalisation drive completes one year; new initiatives on the anvil
Oct 9, 2019: Etihad Cargo, the cargo and logistics arm of Etihad Airways, has marked the first year of its ambitious digitalisation program, which went live with iCargo in October 2018, by reiterating its commitment to enhancing customer experiences with a pipeline of further programs and initiatives. Etihad Cargo implemented a full overhaul of its […]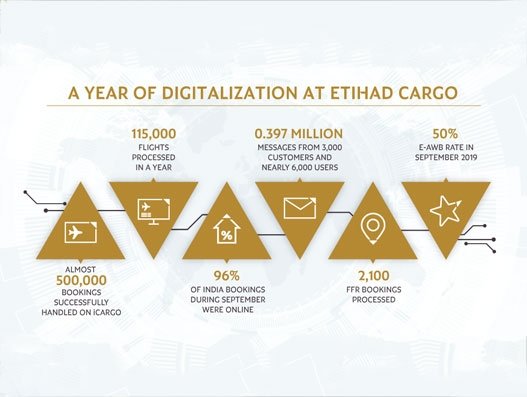 Oct 9, 2019: Etihad Cargo, the cargo and logistics arm of Etihad Airways, has marked the first year of its ambitious digitalisation program, which went live with iCargo in October 2018, by reiterating its commitment to enhancing customer experiences with a pipeline of further programs and initiatives.
Etihad Cargo implemented a full overhaul of its booking processes and platforms 12 months ago with the successful migration of its front-end systems to the market leading SPRINT – an IBS iCargo fully integrated technology platform that combined six legacy Etihad platforms into one.
Since its launch, the system has successfully handled almost half a million bookings, equating to 115,000 flights processed and 10 million messages from close to 3,000 customers and nearly 6,000 users. The busiest day since iCargo went live was 30 April, 2019, with 2,057 bookings created in 24 hours.
"iCargo marked a significant shift in the way Etihad Cargo operates; it was a momentous first step in our ongoing journey of improvement and adaptation to a new and exciting digitized world for air cargo," said Abdulla Mohamed Shadid, Etihad Aviation Group's managing director for cargo and logistics services. "We have continued to work on a number of parallel and linear initiates to further enhance customer experiences, for example simplifying the booking journey, or reducing the average time to make a booking. With 14 percent of the total bookings on our portal coming outside office hours this year, it represents a significant amount of business that would have gone to our competition".
Of the approximately half a million bookings processed in iCargo, Etihad Cargo's online booking portal at www.etihadcargo.com, which also went live last October, accounted for 20 percent of total bookings. The monthly booking rate grew from zero in October 2018 to 33.7 percent in September 2019, an unprecedented in the industry over the timeframe.
The region with the highest online booking penetration rate for Etihad Cargo is Asia, with India completing 96 percent of its September 2019 bookings through www.etihadcargo.com and Thailand close to the 90 percent mark. The Americas represents the second highest rate with the US recently crossing the 50 percent mark for online bookings. Etihad Cargo is working to boost the rates in Europe as several new initiatives come online in Q4.
To further its commitment to digitalization and offer multiple channels to its clients, Etihad Cargo's automated Freight Forwarder Messaging (FFR) booking function went live in April 2019, allowing instant bookings and confirmations from its global operations as well as key forwarder customers. A total of 2,100 bookings were made through FFR during the past five months, with September marking the highest percentage of FFR bookings at 2.9 percent.
Etihad Cargo has also successfully launched its enterprise data lake, which feeds key internal and market data to its interactive data visualization tool Microsoft PowerBI. The key tool provides access to on-demand information for smart commercial sales steering, volumes and yields trend monitoring, customer booking behaviors, global accounts and loyalty targets, as well as station KPI performances, and is complementing the ongoing rollout of customer resource management tool, Salesforce, across all Etihad Cargo stations.
Finally, to reaffirm its commitment to IATA's e-AWB initiative, which aims to encourage electronic airway bills as the default contract of carriage on enabled trade lanes, and an intermediate step towards a future eFreight solution, Etihad Cargo has engaged in detailed review and consultation with customers and handlers to establish e-AWB as its default option on all enabled trades lanes. In August, Etihad Cargo launched a dedicated to support SMEs in the process. This resulted in a significant increase in the carrier's e-AWB penetration rate, which rose from a 16-18 percent average in 2018 to cross the 50 percent mark in September - a figure expected to increase further in the fourth quarter.
"These changes have enabled greater internal and external efficiency. During a tough air cargo market environment for the entire industry in 2019, our loyal customers and partners' response to our digitalization efforts has been extremely positive. Our efforts have provided a small cushion to the wider effects of the market downturn; this is a clear demonstration of the market's hunger for digitalization.
"Our digitalisation roadmap is only in its infancy," Shadid added. "The foundations have been laid for a number of exciting projects in coming months, including our new, soon-to-launch and state-of-the-art Cargo Control Centre, a brand-new website and mobile app, dynamic pricing, and APIs to support several new booking channels. It's all part of our commitment to make Etihad Cargo a market leader in air cargo digitalization, something only a handful of carriers can boast today."