Etihad Cargo opts for DoKaSch's Opticooler solution
April 18, 2018: Leading Middle Eastern airline Etihad Cargo has opted for Opticooler of DoKaSch Temperature Solutions to transport its highly temperature-sensitive air cargo shipments. The two companies have entered into master agreement for the same. The master agreement will allow the carrier to expand its TempCheck cool chain service offering, as its customers will […]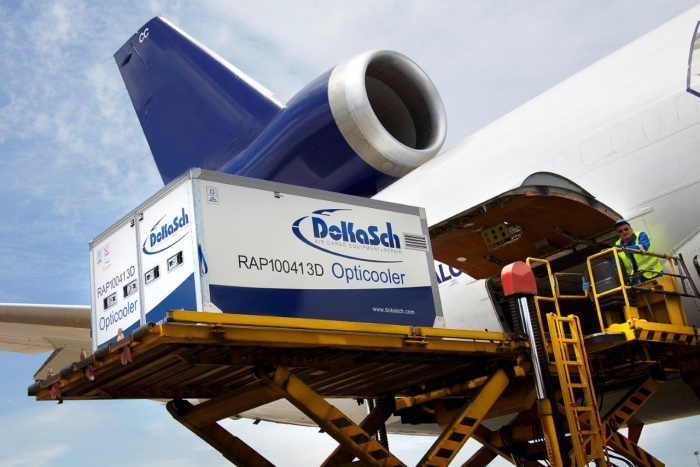 April 18, 2018: Leading Middle Eastern airline Etihad Cargo has opted for Opticooler of DoKaSch Temperature Solutions to transport its highly temperature-sensitive air cargo shipments. The two companies have entered into master agreement for the same.
The master agreement will allow the carrier to expand its TempCheck cool chain service offering, as its customers will be able to lease the Opticooler, also known as the flying warehouse, from Etihad Cargo.
The Opticooler, a German made, electric airconditioned container, can keep pharmaceuticals exactly within their temperature range, regardless of a tropical summer or arctic winter. Due to redundant components, the Opticooler has a very high fail-safety and is considered to be the most reliable among other products. Just like in a normal warehouse, a constant temperature can be maintained if the Opticooler is occasionally connected to the power grid.
"Our focus in 2018 is closer customer engagement and, by adding additional solutions for the most critical, time and temperature-sensitive shipments, we are moving in the right direction to cater to our customers' needs, hand in hand with DoKaSch Temperature Solutions," said Justin Carr, vice president Etihad Cargo.
Due to the master agreement with DoKaSch, Etihad Cargo is making sure that the pharmaceuticals it carries are handled and remain in the stringent condition and temperature range set by the manufacturers.
Apart from its cargo hub in Abu Dhabi, the agreement makes the Opticooler being available at Etihad Cargo´s whole network across more than 90 destinations in over 50 countries.
"We offer a specially designed product using the latest equipment, processes and SOPs to keep the cargo's integrity and make sure it arrives in the quickest possible time adhering to the highest compliance guidelines," Carr added.