Etihad Airways renews contract with Jettainer for ULD management
<p style="text-align: justify;">May 10, 2017: Abu Dhabi-headquartered Etihad Airways and Jettainer extended their cooperation for outsourced ULD management until 2021. It will continue to manage and maintain the container fleet of the United Arab Emirates' national airline for the next five years. It is planned to introduce intelligent containers – smart ULDs- also within this […]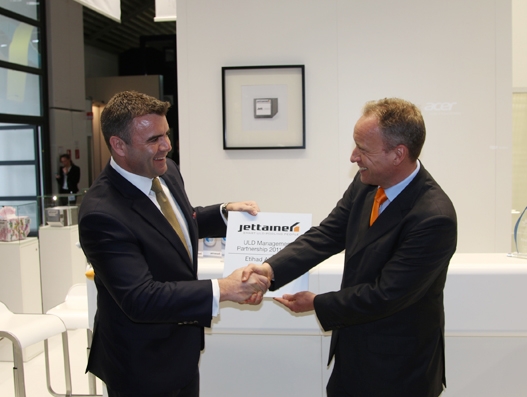 May 10, 2017: Abu Dhabi-headquartered Etihad Airways and Jettainer extended their cooperation for outsourced ULD management until 2021. It will continue to manage and maintain the container fleet of the United Arab Emirates' national airline for the next five years. It is planned to introduce intelligent containers - smart ULDs- also within this time frame. Smart ULDs can autonomously inform the containers' position, temperature or maintenance status.
David Kerr, senior vice president Etihad Airways, said: "Etihad Cargo is delighted to continue our relationship with Jettainer, which has proved to be a great partner over the past five years. The renewal of our agreement is a testament to our strong collaboration, and will ensure our customers continue to enjoy a consistent delivery of products and services."
"The cooperation with Etihad Cargo has turned Abu Dhabi into one of our most important hubs. The trust we've now been given is a confirmation of our work and an incentive to continue to convince through our best service in the future," said Carsten Hernig, managing director, Jettainer. Furthermore, Etihad Cargo, as an innovative and growing airline, is an ideal partner to go live with our smart ULDs."
Etihad Cargo will be Jettainer's first customer for the smart containers, which are fitted with GPS for constant traceability. The higher transparency leads to a variety of benefits for customers such as quality assurance.
Photo Caption: David Kerr, Senior Vice President Etihad Airways, Carsten Hernig, Managing Director Jettainer