Etihad Airways Paris flights to go all-Airbus A380
June 08, 2018: Abu-Dhabi based airline Etihad Airways will operate the Airbus A380 on its second daily service linking Abu Dhabi and Paris Charles de Gaulle, effective October 1 this year. This will transform the airline's operation between the UAE and French capitals into a year-round all-A380 service, joining London Heathrow as the second European […]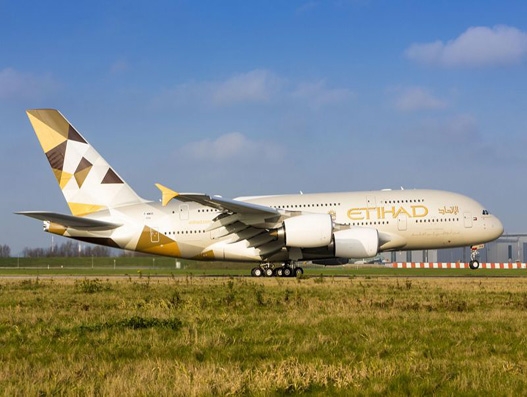 June 08, 2018: Abu-Dhabi based airline Etihad Airways will operate the Airbus A380 on its second daily service linking Abu Dhabi and Paris Charles de Gaulle, effective October 1 this year. This will transform the airline's operation between the UAE and French capitals into a year-round all-A380 service, joining London Heathrow as the second European destination serviced by Etihad's double-decker aircraft.
The airline has operated the A380 between Abu Dhabi and Paris on one of its two daily flights since July 1, 2017, with the service performing very strongly since its introduction.
The airline replaces the currently deployed Boeing 777-300ER on this route.
Peter Baumgartner, CEO, Etihad Airways said; "Paris has always been a very special destination on the Etihad network and the number of visitors from France to Abu Dhabi, and vice versa has continued to show significant growth. The route has never been more in demand.
"We have seized the opportunity to place our flagship Airbus A380 on our second daily flight, following the great reception the aircraft has received from our guests, and to ensure we offer product consistency on the route. This will also allow us to significantly increase the number of leisure and premium seats available, providing more options for those wanting to travel point-to-point between Abu Dhabi and Paris, two capitals now also united by Louvre museums, or to connect via our Abu Dhabi hub to points all over the Middle East, Asia and Australia."
Etihad Airways' A380s feature a total capacity of 496 seats - up to two in The Residence, nine in First Class, 70 in Business Class and 415 in the Economy Class cabin.
Etihad Airways has enjoyed a codeshare partnership with Air France since October 2012. Under the agreement, Etihad Airways places its 'EY' code on Air France's services from Paris Charles de Gaulle to nine European points. Air France places its 'AF' code to 11 Etihad destinations in Africa, the Indian Sub-Continent and Australia.