Etihad Airways introduces A380 along Abu Dhabi-Paris route
<p style="text-align: justify;">July 03, 2017: Etihad Airways has introduced an <a title="Airbus" href="http://www.airbus.com/" target="_blank">Airbus</a> A380 aircraft on one of its two daily services between Abu Dhabi and Paris Charles de Gaulle.</p> <p style="text-align: justify;">The new service has been introduced early to meet seasonal demand from 1 July to 28 October and 15 December to 15 […]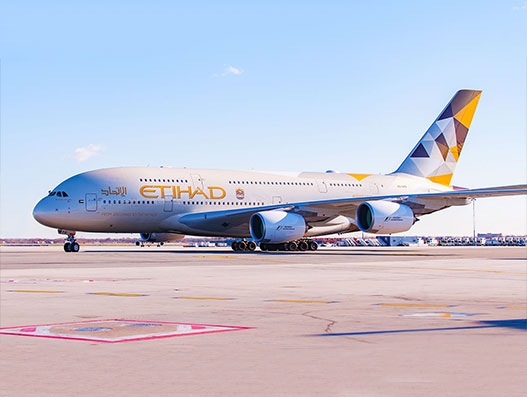 July 03, 2017: Etihad Airways has introduced an Airbus A380 aircraft on one of its two daily services between Abu Dhabi and Paris Charles de Gaulle.
The new service has been introduced early to meet seasonal demand from 1 July to 28 October and 15 December to 15 February 2018. The A380 will then operate a regular year-round service from 25 March 2018. The superjumbo replaces a three-class Boeing 777-300ER previously operating the airline's daily overnight service to the French capital.
Mohammad Al Bulooki, Etihad Airways Executive Vice President Commercial, said, "Paris is one of Etihad Airways' most sought-after destinations, popular with both leisure and business flyers alike. The global capital of style and gastronomy deserves us to fly our flagship product to town, offering world-leading and award-winning inflight hospitality experiences in the skies.
"The A380 has presented a unique opportunity to provide the signature services and innovations that only Etihad Airways has been able to create for this incredible aircraft. These include revolutionary cabins such as The Residence, and First Apartments – jewels in the crown of our First Class offering, which was recently recognised again with three coveted Skytrax World Airline Awards at the Paris Air Show.
"Paris is a city loved by all of us in the UAE. We have also seen an increase in the number of French visitors we are welcoming to Abu Dhabi - a hub of culture, commerce and tourism, which is home to French institutions such as the spectacular Louvre Museum and the Paris-Sorbonne University. Adding the flagship aircraft on this important route reaffirms Etihad Airways' and the UAE's commitment to the French market and celebrates the deep cultural and business ties which exist between our two countries."
The aircraft, which was piloted by a French Captain and an Emirati First Officer, was greeted with a customary water canon salute on arrival into Paris, where local media and special guests were invited to meet executives from the airline and to tour the aircraft's award-winning interiors.
Etihad Airways operates a dedicated Premium Lounge at Charles de Gaulle, significantly enhancing the ground experience for its guests travelling in The Residence, First Class, Business Class, and its top-tier loyalty members, with paid access available to guests in Economy Class.