Etihad Airways doubles A380 service to New York JFK
Jun 01, 2017: Etihad Airways has introduced its flagship Airbus A380 aircraft on its second daily service between Abu Dhabi, the UAE capital and New York JFK. All 14 weekly flights between the two cities are now operated by the double-decker aircraft.The superjumbo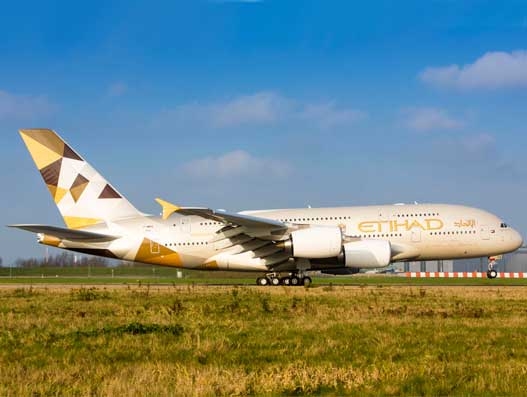 Jun 01, 2017: Etihad Airways has introduced its flagship Airbus A380 aircraft on its second daily service between Abu Dhabi, the UAE capital and New York JFK. All 14 weekly flights between the two cities are now operated by the double-decker aircraft.
The superjumbo has replaced a three-class Boeing 777-300ER previously operating one of the airline's twice-daily flights. The new deployment means New York will join London and Sydney as an all-A380 operation. Guests can now enjoy the consistency, convenience and comfort of a seamless A380 service in both directions.
Peter Baumgartner, chief executive officer, Etihad Airways, said, "The response we have received from our guests travelling between Abu Dhabi and New York since we first launched the A380 service two years ago has been phenomenal. We are delighted to further expand our world-leading product to all guests flying to and from the Big Apple.
By introducing the A380 on the second daily service, we can ensure that every flight delivers the acclaimed service and hospitality, innovative products and technology for which we have become known the world over."
Guests flying on all Etihad Airways flights from Abu Dhabi to the airline's six U.S. ports of entry – New York JFK Airport, Washington, D.C., Chicago, Dallas, Los Angeles and San Francisco – are processed through the U.S. Customs and Border Protection (CBP) Preclearance facility available at Abu Dhabi International Airport, which means they pass through all U.S. immigration and customs checks in Abu Dhabi and arrive at their U.S. destination as domestic passengers. The airline also operates a dedicated Premium Lounge within the CBP facility.