Etihad Airways' Boeing 787 Dreamliner to act as test lab for green initiatives
Nov 18, 2019: In a step towards sustainable growth of aviation, Boeing and Etihad Airways have announced that one of the latter's 787 Dreamliner airplanes will serve as a flying laboratory for testing procedures and initiatives that will promote environmental sustainability. The announcement was made during the at the ongoing 2019 Dubai Airshow. The 'Greenliner' […]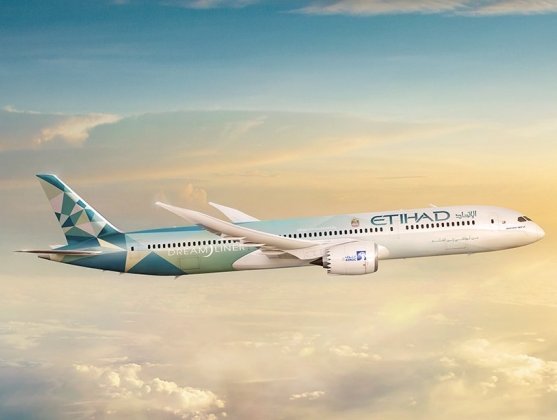 Nov 18, 2019: In a step towards sustainable growth of aviation, Boeing and Etihad Airways have announced that one of the latter's 787 Dreamliner airplanes will serve as a flying laboratory for testing procedures and initiatives that will promote environmental sustainability. The announcement was made during the at the ongoing 2019 Dubai Airshow.
The 'Greenliner' will be employed as a testing lab for initiatives that could further reduce fuel consumption and carbon emissions. Both the companies are members of a research consortium to encourage the development of sustainable aviation fuels in the region.
Say hello to our brand new 787 Greenliner!

In partnership with Boeing, this one-of-a-kind aircraft will be used to test technology, products, and initiatives designed to help reduce carbon emissions and build a future of sustainable air travel. pic.twitter.com/MCXgLgmAgw

— Etihad Airways (@EtihadAirways) November 18, 2019
"Innovation, productivity and sustainability are core values and objectives of Etihad Airways and of Abu Dhabi. The Boeing 787 Dreamliner is a key enabler of all three," said Tony Douglas, group chief executive of Etihad Aviation Group.
The specially-themed 787 will enter service early next year and operate regular flights in Etihad Airways' network, while periodically serving as a test bed for assessing environmental sustainability initiatives.
"The 787 Dreamliner and its track record of environmental performance makes it the perfect platform to advance our industry's commitment to sustainable growth. We look forward to continuing our collaboration with Etihad Airways to identify more opportunities to improve efficiency across commercial aviation," said Stan Deal, president and chief executive officer of Boeing Commercial Airplanes.
Further, the two companies are also exploring and discussing several areas where they can work together to improve operational efficiency.
Boeing and Etihad Airways also announced that Boeing will provide multiple services for the airline's Dreamliner fleet, including the Component Services Program, Landing Gear Exchange, and High-Value Components Exchange, programs that help an airline simplify asset and maintenance management, reduce spare parts costs while improving parts availability. The agreements also include a customized material parts package and three Quick Engine Change (QEC) kits that enable Etihad to quickly return an airplane to service if an engine needs to be repaired or replaced.
"Boeing's global supply chain footprint will allow ready access to parts, support and services, when and where it's needed. We are proud to partner with Etihad Airways to increase maintenance efficiency and maintain aircraft operability," said Ted Colbert, president and chief executive officer of Boeing Global Services.
From our 787-9 #Dreamliner order announcement to colorful liveries, strengthening partnerships and forming new ones, catch up on our announcements and highlights at @DubaiAirshow. pic.twitter.com/E9NLiW4jSW

— The Boeing Company (@Boeing) November 18, 2019