Ethiopian signs MLA with Envirotainer to connect pharma companies in Africa
March 8, 2018: Envirotainer, the leading cold chain solutions provider for the pharmaceutical supply chain, recently entered into a Global Master Lease Agreement (MLA) with Ethiopian Airlines. It's the first time that Envirotainer has partnered with an airline based in Africa. The partnership is expected to greatly enhance the connectivity for pharmaceutical companies and their […]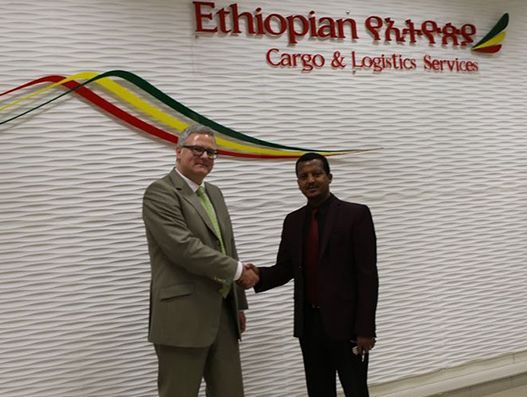 March 8, 2018: Envirotainer, the leading cold chain solutions provider for the pharmaceutical supply chain, recently entered into a Global Master Lease Agreement (MLA) with Ethiopian Airlines.
It's the first time that Envirotainer has partnered with an airline based in Africa. The partnership is expected to greatly enhance the connectivity for pharmaceutical companies and their customers in Africa.
Fitsum Abady, MD of Ethiopian Cargo & Logistics Services said: "We are quite pleased to be the first African airline to partner with Envirotainer. In this highly lucrative market, the application of active temperature-controlled containers play a vital role for the protection and safety of time and temperature-sensitive healthcare products, both onboard and on the ground, across the entire supply chain. The commercial partnership with Envirotainer will significantly support our aim to provide superior protection and seamless connectivity through our sales networks, stretched across five continents."
Bourji Mourad, head of global partner management of Envirotainer said: "The newly signed MLA with Ethiopian Airlines is a welcome, particularly since it's our first agreement with an Africa-based airline that has invested so much in buiding facilities and services for the safe handling of pharmaceutical and life sciences products."
Jorg Krings, global partner manager of Envirotainer said: "The on-ground training to handle our Envirotainer units went really well. It's a key to guarantee the correct process implementation."
Ethiopian Cargo & Logistics Services, is one of the seven business centers of the Ethiopian Airlines. It recently inaugurated a state-of-the-art cargo terminal-II, which offers a total tonnage capacity of around 1 million tonnes per annum. It's the largest in Africa. The new terminal is equipped with enhanced cold chain facility that will help in boosting the airlines' capacity for storage and handling of temperature-sensitive and life science products.
Moreover, after the completion of the second phase, it will add 600,000 tonnes annual uplift capacity. It will be Ethiopian's largest cargo terminals capability equivalent to terminals in Amsterdam Schiphol, Singapore Changi and Hong Kong.
It has recently invested to create massive cargo facilities along with the purchase of six modern B-777F fleet and two B-757Fs. It has also ordered for four B777Fs and two B737Fs, which is expected to develop adequate air cargo transporting capacity for the fast growing export and import demand in the African Continent.