Ethiopian Airlines starts services to Guinea, Conakry
<p style="text-align: justify;">Feb 04, 2017: Africa based Ethiopian Airlines has marked the commencement of its new services to Conakry, the capital of The Republic of Guinea, at a reception ceremony held on February 2, 2017, at Addis Ababa Bole Airport.</p> <p style="text-align: justify;">Mme. Sidibe Fatouma KABA, Guinea Ambassador to Ethiopia, remarked, "<a title="Ethiopian" href="https://www.ethiopianairlines.com/AA/EN" target="_blank" […]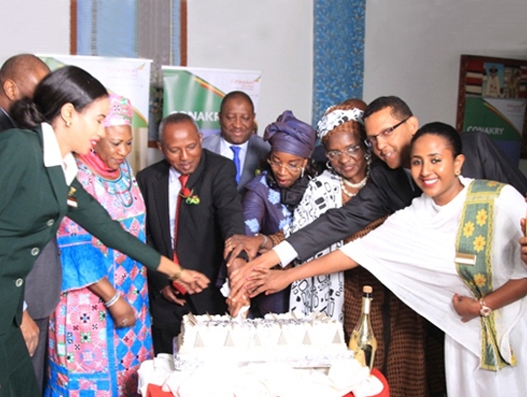 Feb 04, 2017: Africa based Ethiopian Airlines has marked the commencement of its new services to Conakry, the capital of The Republic of Guinea, at a reception ceremony held on February 2, 2017, at Addis Ababa Bole Airport.
Mme. Sidibe Fatouma KABA, Guinea Ambassador to Ethiopia, remarked, "Ethiopian is growing since its creation; and it is a pan-African company. We are very happy and proud that this project is realised which will strengthen trade, tourism and the bilateral ties between the two nations. The flight will also help Guinean business people to travel to major world trading cities across the Ethiopian Airlines network."
Mesfin Tasew, chief operating officer, Ethiopian Group, said, "This new service takes a very special place in Ethiopian network expansion endeavour, as it is the first of the seven new destinations that Ethiopian is going to launch in five months duration. Covering the largest network in Africa unrivalled by any other carrier, Ethiopian has been filling the gaps of air transportation in the continent. Moreover, as Africa's economy grows the need for air transport has increased significantly and availability of accessible and hassle-free air connectivity is of paramount importance. To this end, Ethiopian has been working extensively in serving the continent with better and technologically advanced aviation technologies and systems.
Ethiopian will be commencing new services to Oslo, Antananarivo, Singapore, Jakarta, Chengdu and Victoria Falls in the next six months.