Ethiopian Airlines joins hands with Boeing and NGO's to deliver humanitarian shipment
<p style="text-align: justify;">Jun 05, 2017: Addis Ababa based <a title="Ethiopian Airlines" href="https://www.ethiopianairlines.com/AA/EN" target="_blank">Ethiopian Airlines</a> has joined hands with <a title="Boeing" href="http://www.boeing.com/" target="_blank">Boeing</a> and three non-profit organisations (NGO's) to deliver 6.5 tonnes of humanitarian aids for St. Paul's Hospital and Bahir Dar University College of Medicine & Health Sciences while taking delivery of yet another B787 […]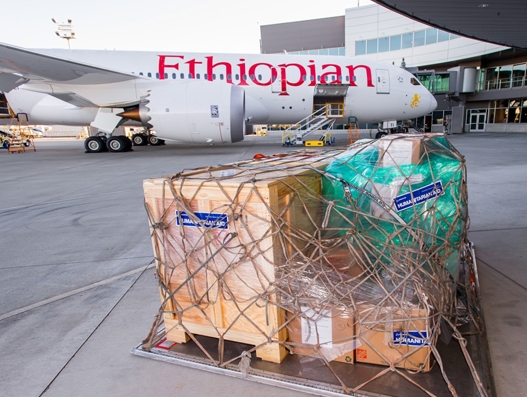 Jun 05, 2017: Addis Ababa based Ethiopian Airlines has joined hands with Boeing and three non-profit organisations (NGO's) to deliver 6.5 tonnes of humanitarian aids for St. Paul's Hospital and Bahir Dar University College of Medicine & Health Sciences while taking delivery of yet another B787 aircraft from Boeing.
Ethiopian and Boeing have synergised with Conscience International (CI), Horn of Africa Neonatal Development Services and Seattle Alliance Outreach (SAO) organisations for the deliveries.
Tewolde GebreMariam, Group CEO of Ethiopian Airlines, said, "For us, fulfilling our corporate social responsibilities is as important as our focus on pure business performance. This round of our humanitarian delivery is a continuation of our commendable collaboration with Boeing that has served asa source of vital service for our community and neighboring countries as well. Moreover, we are pleased to name our 18th B787 after Mother Teresa, who is always remembered as an icon of philanthropy. As a responsible corporate citizen, Ethiopian will continue to contribute on the socio-economic development of the country by relentlessly delivering on its corporate social responsibilities. "
"On the other hand, pursuant to our fleet modernisation plan and to further meet the ever growing demand of our customers, we are in bold move of modernising and expanding our fleet, networks and facilities."
Currently, Ethiopian has 18 B787 in operation, deployed on its long haul passenger routes, and will receive the 19th by the end of this month, ferrying medical equipment and supplies for St. Paul's Hospital.