Ethiopian Airlines in delivery of surgical microscopes to treat Ethiopian children
Jan 18, 2019: Humanitarian aid group Airlink partnered with Ethiopian Airlines, Boeing, and New York-based Afya Foundation to transport specialty microscopes to treat hundreds of patients awaiting ear surgery in Adama, Ethiopia. Airlink coordinated transportation of two decommissioned surgical microscopes weighing a combined 500 pounds. The equipment, donated by the Greater Philadelphia branch of Healing […]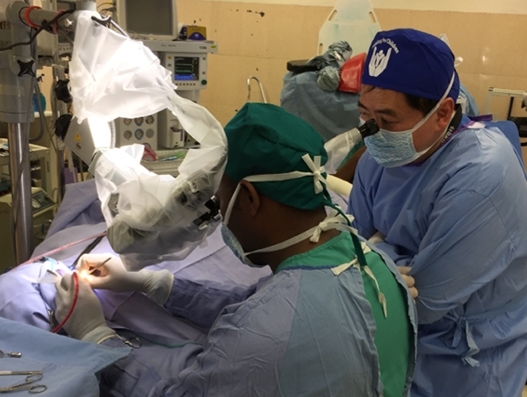 Jan 18, 2019: Humanitarian aid group Airlink partnered with Ethiopian Airlines, Boeing, and New York-based Afya Foundation to transport specialty microscopes to treat hundreds of patients awaiting ear surgery in Adama, Ethiopia.
Airlink coordinated transportation of two decommissioned surgical microscopes weighing a combined 500 pounds.
The equipment, donated by the Greater Philadelphia branch of Healing the Children (HTC) through the Afya Foundation to doctors at the Adama Hospital and Medical College, flew aboard an Ethiopian Airlines' Boeing 777 aircraft.
According to Dr. Glenn Isaacson, HTC volunteer and professor of otolaryngology at Temple University's Lewis Katz School of Medicine, there is a high prevalence of hearing loss and chronic ear disease among children in Ethiopia.
The arrival of the microscopes means doctors at the Adama Hospital and Medical College can alleviate the backlog of hundreds of children identified with infected ears and hearing loss who have long gone untreated.
This shipment represents the eighth time Airlink partnered with the Afya Foundation, which recovers surplus medical supplies, hospital equipment and humanitarian provisions from healthcare, corporate, and private communities like HTC to support health initiatives around the world.
In addition to its response to medical needs in Ethiopia, Airlink transported 834 relief personnel and 24,000 pounds of emergency supplies for some of its 80 relief organization partners responding to hurricanes, earthquakes, volcanoes and other crises in 2018.