FROM MAGAZINE: Ensuring healthcare cargo is in safe hands
Until a few years ago, the pharmaceutical cold chain just meant transporting healthcare products in the range of 2-8°C. But with newer products and increasing consumer demands, requirements for different temperature ranges continue to expand. With new solutions undergoing testing and IATA CEIV Pharma accreditation gaining ground across the globe, pharmaceutical manufacturers are positive about […]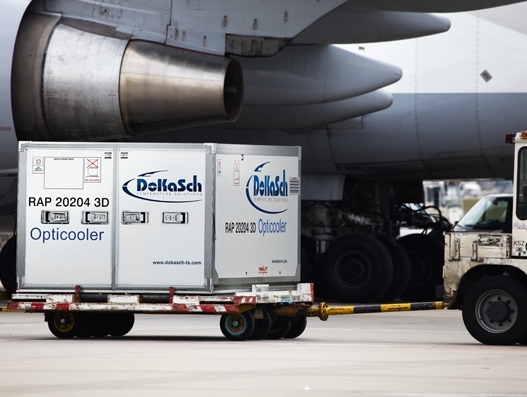 Until a few years ago, the pharmaceutical cold chain just meant transporting healthcare products in the range of 2-8°C. But with newer products and increasing consumer demands, requirements for different temperature ranges continue to expand. With new solutions undergoing testing and IATA CEIV Pharma accreditation gaining ground across the globe, pharmaceutical manufacturers are positive about achieving their temperature-controlled shipping goals.
Surya Kannoth
From shipping pharma products in the 2-8°C range, to shipping them at ''body temperature' (around +37°C), 'controlled ambient temperature' (15-25°C), or at extremely cold temperatures such as -20°C, and in even lower cryogenic temperatures (-80°C and -192°C) – pharma logistics has come a long way.
An impetus for the latest generation of high-performing packaging products comes as the pharma industry continues to grow at a significant rate with an estimated global worth of $400 billion by 2020, according to the World Heath Organization. What's more, as temperature-sensitive pharmaceutical products are increasingly being shipped globally to more remote regions, there is an even greater demand for innovative solutions being placed on the temperature-control packaging industry.
"There is an ongoing increasing global demand for temperature controlled packaging solutions, in particular in the high end segment like active/electric containers or passive PCM (phase change material) boxes. This is mainly driven by stronger global regulations and by the fact that almost all new pharmaceuticals are biotech and temperature sensitive. There are more and more PAD (pallet accepting devices) solutions available with a global coverage, and pharmaceutical shippers and their forwarders have today a better choice between the different solutions, according to the individual lane risk assessment," observes Andreas Seitz, managing director, DoKaSch Temperature Solutions, which runs a fleet of the well-recognized active cool containers Opticooler RAP (5 pallet) and RKN (1 pallet).
"The requirements to become a supplier in this industry are increasing significantly as pharma clients are looking for smart solutions – combining thermal protection but also the data to make faster decisions for product clearance, reducing total cost and CO2 is becoming more and more important," believes Richard Ettl, CEO of temperature-controlled container provider SkyCell.
Also, the advancement of new drug development includes the increase in more fragile and temperature sensitive pharmaceutical products. As Steve Brabbs, global technology leader for cold chain, Dupont Safety & Construction puts it, "More sophisticated medicines would require more cold chain protection. These large molecular therapies will be stable only if they are stored and transported at a controlled temperature range. So there is a lot of opportunity and there is going to be more opportunity going into the future." DuPont is the manufacturer of Tyvek® Cargo Covers, an innovative pallet blanket for the pharmaceutical industry. Tyvek® Cargo Covers have helped protect the health of millions of patients worldwide by providing proven protection against temperature excursions, rain, dust, pollen, bird droppings, insects and other sources of contamination for pharmaceutical shipments.
Temperature restrictions when transporting such pharma payloads bring in their own challenges. Apart from this, pharma being shipped to emerging markets, where extreme temperature ranges need to be dealt with, pose another concern. Various pharmaceutical compounds, utilised within the sector, are developed under certain temperature control conditions or designed to be stored at specific temperatures to maintain their stability.
"With the increased performance of passive containers, it has given pharmaceutical manufacturers a number of more options which is good for the market and for the end consumer. However, biological products with complex tradelanes and high risk profiles still need a very tight and strong engineered product," said Stephen Maietta, head of market development, Envirotainer.
Now again with the advancement of some of the passives, there is more capacity and more options in packaging for the pharmaceuticals and logistics companies to choose from, observes Maietta. "That's why you see an expanded portfolio of products from some of the airline carriers through to the freight forwarders," he added.
Here are some of the recent offerings from airlines in collaboration with temperature-sensitive service providers for its pharmaceutical customers:
Recently, AirBridgeCargo Airlines (ABC) inked a leasing agreement with Sonoco ThermoSafe for the PharmaPort 360 temperature-controlled container. This move is expected to boost ABC's delivery options for temperature-sensitive shipments and guarantee a broader choice of containers available for various pharmaceutical consignments.
Sonoco's PharmaPort 360 maintains the required temperature in various ambient temperatures from 60C to -40C and can be easily loaded onto standard NAS Series air cargo pallets. Its built-in GPS tracking and GPS Monitoring systems allow for transparent and accurate information to be available in real-time mode.
This, combined with ABC's Control Tower 24/7, is expected to eliminate the possibility for any deviations from the set point and will give customers extra reassurance of safety and integrity of their shipments.
"We have been consistently developing and upgrading our 'abc pharma' product, offering our customers dedicated airlift for both passive and active ways of transportation. With PharmaPort 360 being available for lease, we can guarantee another much-needed air freight solution for pharmaceutical goods with precise temperature mode conditions and requirements to maintain an internal environment of 5C. This is a quantum leap for our dedicated product, and we expect it to ramp up our volumes, as well as to gain interest in our services from new customers," stated Fedor Novikov, deputy director, products of AirBridgeCargo Airlines.
For the first three months of 2019, the abc pharma team managed to achieve a more than 15 percent upsurge of volumes for temperature-sensitive pharmaceutical and other medical products.
Turkish Cargo signed a master rental agreement with DoKaSch Temperature Solutions for lease of the latter's Opticooler containers, designed for the shipment of temperature-sensitive products such as vaccines and other pharmaceuticals by air.
Frankfurt, Germany-headquartered DoKaSch has begun supplying its active temperature-controlled Opticooler to the Turkish freight carrier from February 2019. Fatih Cigal, Turkish Cargo's senior vice president, marketing, remarked, "The Opticooler is one of the natural choices and the master rental agreement confirms that we have all the necessary procedures in place."
Meanwhile, American Airlines Cargo recently approved the latest innovation in temperature-controlled active containers, the CSafe RAP, launched by CSafe Global. This solution works well even in the most extreme ambient conditions (-30C to 54C), with proprietary VIP insulation, an innovative air recirculation technology, and a unique, autonomous temperature management system.
Jeff Pepperworth, chief executive officer of CSafe Global said in a statement, "We certainly look forward to further partnering with American to serve our joint pharma customers and to continue the expansion of our global reach with this new active temperature management offering."
Tom Grubb, global head of pharmaceuticals and healthcare for American Airlines Cargo said, "For many years, American and CSafe have worked together to provide high-quality, temperature-controlled Active RKNs to pharmaceutical and healthcare shippers who depend on these containers for safe air transport of their products. American's goal is to ensure ExpediteTC continues to accommodate customer requirements in order to meet future demand for increasingly complex medicines around the world."
Many of the same leasing options currently available for the proven CSafe RKN are also available for the new CSafe RAP container. CSafe through a statement said that customers can lease the CSafe RAP container directly from CSafe Global, American Airlines, or through one of CSafe's other logistics partners. CSafe Global offers active and passive temperature-controlled packaging solutions for pharmaceutical products.?Lately, Swiss-based manufacturer of temperature-controlled containers SkyCell and French airline group Air France KLM Martinair Cargo announced a global collaboration to work more closely together on existing and future business in logistics of pharmaceuticals.
"With a shared vision of innovation in the supply chain of temperature-sensitive products, our collaboration will ensure that consumers are guaranteed a safe and sustainable service. We will also further improve our services through SkyCell's data-driven approach," said SkyCell's Richard Ettl. Air France KLM Martinair Cargo recently utilized two SkyCell containers, one SkyCell 1500c and one SkyCell 2500c, set at a temperature of 5 Celsius, to transport temperature-sensitive vaccines. "Twelve of the twenty largest pharmaceutical manufacturers globally have independently validated the service offering of SkyCell and implemented its usage into their supply chain," said Ettl.
Shaping tomorrow's cold chain market with data
While newer and improved temperature-sensitive products will continue to remain in focus, the future for the cold chain pharmaceutical market will be data driven, believe industry experts.
"Good and fast data enables better planning, reducing costs, acting on outside influence (storms, wars etc.). The technology exists – it needs to be implemented on a global scale now. Some pharma companies are further along than others, but all companies we talk to, want our data to help them make better decisions. Today data is an addon – I think tomorrow it will be part of the package," forecasts SkyCell's Ettl.
DoKaSch's Seitz agrees that the missing link in the pharmaceutical supply chain is the overall shipment data and availability to everybody involved. "Probably, IATA's 'one record' project may help to solve this. This will be a key issue for the air cargo industry at all, but for the cool chain in particular with its very strict process compliance requirement," he said.
There is a lot of "data sharing" discussion ongoing, but when it comes to the point every stakeholder try to protect his data. Seitz believes "the handling of process irregularities and immediate corrective actions to prevent temperature deviations during shipments" must improve significantly, which also requires data sharing up-to-date shipment monitoring systems.
He further adds that the demand for either packaging solutions as well as appropriate infrastructure will grow, in particular in markets where there is already an existing pharmaceutical production on a lower level like India, Korea, China and Brasil.
With the huge range of variables involved – different products, shipping lanes, climatic conditions, storage infrastructures, handling competencies etc. there is no single or perfect solution to the safe shipment of temperature sensitive medicines. But the air cargo industry, with the help of its service providers, is doing all it takes to address risks through a highly synchronised approach, to ensure that the integrity of pharma products is maintained throughout their, often long and punishing, journey to market. And, in the face of ever more complex transportation challenges, the pharma shipper is getting exactly what it needs - choice.