Energy projects in Uganda on track with the help of Bolloré Logistics East Africa teams
Apr 01, 2017: Bolloré Logistics teams in Uganda and Kenya have helped to provide comprehensive services of customs brokerage for Out-of-Gauge and heavy-lift transport for construction equipment to be used in two major energy projects in Uganda. Those two projects are currently under construction, the Karuma Hydroelectric Power Station and the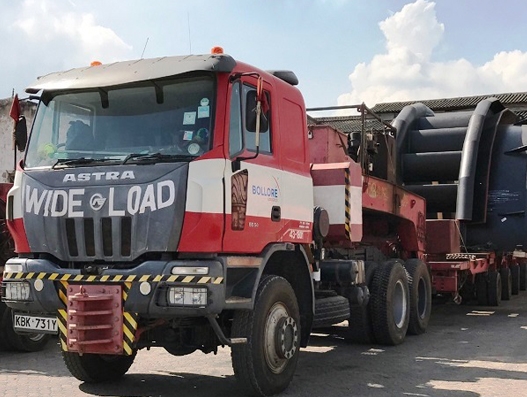 Apr 01, 2017: Bolloré Logistics teams in Uganda and Kenya have helped to provide comprehensive services of customs brokerage for Out-of-Gauge and heavy-lift transport for construction equipment to be used in two major energy projects in Uganda.
Those two projects are currently under construction, the Karuma Hydroelectric Power Station and the Isimba Hydroelectric Power Station, both located along the Victoria Nile.
When completed, the Karuma Power station will be the largest power-generating installation in Uganda producing 600 megawatts of electricity to the grid. The power station is located nearly 1,300 kilometres from Mombasa, at Karuma Falls on the Victoria Nile. So far, Bolloré Logistics has transported 12 TEUs (twenty foot equivalent units), 1,600 MT of steel bundles, and 9,500 CBM of breakbulk equipment to the project site from Mombasa Port. The cargo was loaded directly from the vessel at quayside onto 66 flat bed trailers, 37 low loaders trailers, and three specific modular trailers.
The Isimba Hydroelectric Power Station is another construction project. China International Water & Electric Corporation (CWE), the lead contractor, awarded Bolloré Logistics a contract to provide clearance and forwarding services for the construction equipment to be used on site, including out of gauge cargo such the turbine shells, two Turbine runners of 85MT each.
Bolloré Logistics has handled 312 TEUs, 1,400 MT of steels, 8,647 CBM of cargo, under the contract scope which includes customs clearance and delivery from Mombasa port to the site, a distance of over 1,100 kilometres. A total of 122 flat beds trailers, 45 low loaders, and 15 modular trailers have been used.
Photo: One of the two 40-tonne turbine shells that were transported to the Karuma Hydroelectric Power Plant Project transported in December. The turbine shells were abnormally wide sensitive loads that required specialised trailers for transportation.