Emirates to deploy its latest Boeing 777-300ER to Riyadh and Kuwait
April 17, 2019: Dubai-based airline Emirates will deploy its latest Boeing 777-300ER aircraft on its Dubai-Riyadh route starting April 16, 2019 and Kuwait starting June 1, 2019. From First Class through to the Business and Economy Class cabins, the latest Emirates 777 aircraft features ergonomically designed seats and the latest version of the ice inflight […]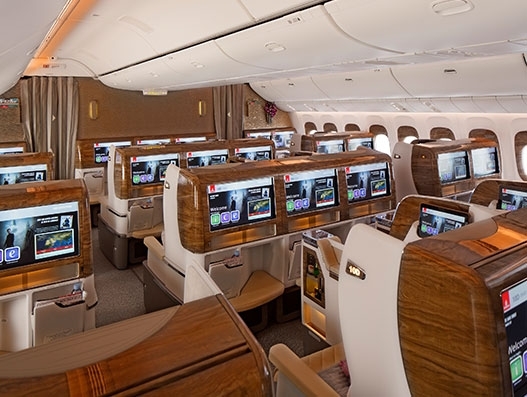 April 17, 2019: Dubai-based airline Emirates will deploy its latest Boeing 777-300ER aircraft on its Dubai-Riyadh route starting April 16, 2019 and Kuwait starting June 1, 2019.
From First Class through to the Business and Economy Class cabins, the latest Emirates 777 aircraft features ergonomically designed seats and the latest version of the ice inflight entertainment system across all cabins.
The private suites in the aircraft has been designed keeping in mind comfort and privacy of the passenger. Therefore, it features floor-to-ceiling sliding doors and ultra-modern design features against cool grey colourscapes. Offering up to 40 square feet of personal space each, the spacious, fully-enclosed private suites are laid out in a 1-1-1 configuration, for a total of six suites.
The Business Class seats are inspired by the interior of a modern sports car, and feature an ergonomically designed headrest with a sleek look and feel. Business Class passengers can also customise their experience with touchscreen controls for their seat and inflight entertainment system and adjust their personal lighting options. The cabin also includes privacy panels between seats, a shoe stowage area, footrest, and a personal mini-bar.
The Economy Class cabin features a colour palette of soft greys and blues. The ergonomic seats come with full leather flexible headrests with side panels that can be adjusted vertically for optimum support.
Adil Al Ghaith, senior vice president Commercial Operations Gulf, Middle East & Iran said: "The Kingdom of Saudi Arabia and Kuwait will be the first countries in the Middle East and GCC to be served by the latest Emirates Boeing 777 aircraft featuring fully -enclosed private suites inspired by luxury automaker Mercedes-Benz. The unique First Class suites onboard the Boeing 777 will offer our premium passengers unparalleled privacy, comfort and luxury, with experiences tailored to their individual needs."
The new Boeing 777 aircraft will begin operating on the Saudi Arabia route five times a week, and from 1 June 2019 will begin flying on a daily basis. Customers flying on the latest Emirates Boeing 777 are then able to enjoy seamless connections via Dubai to London Heathrow, Paris, Madrid, New York JFK, Hyderabad, Barcelona, Los Angeles, Geneva and Amsterdam.
Emirates' service to Kuwait will be operated daily.
Emirates operates to Riyadh with four flights a day and to Kuwait with six daily flights.
Currently, the airline operates its latest Boeing 777-300ER aircraft fitted with the 'Game Changer' First Class suites to Brussels, Geneva, Vienna and London Stansted.