Emirates SkyCargo transports first car designed and built in the UAE
<p style="text-align: justify;">Jun 15, 2017: <a title="Emirates SkyCargo" href="http://www.skycargo.com/english/" target="_blank">Emirates SkyCargo</a> has transported the first car designed and built entirely in the UAE to France where it will be exhibited during the prestigious '24 hours of Le Mans' endurance race.</p> <p style="text-align: justify;">Design-1 is a sports car designed and built entirely in the UAE by […]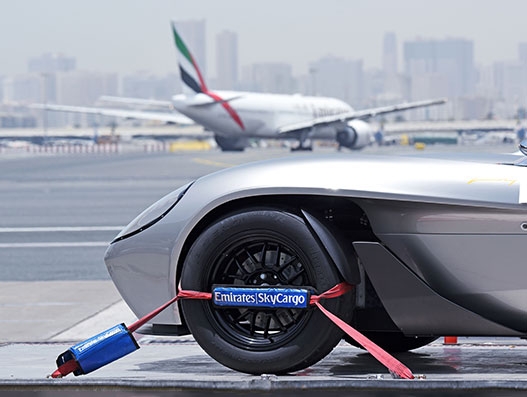 Jun 15, 2017: Emirates SkyCargo has transported the first car designed and built entirely in the UAE to France where it will be exhibited during the prestigious '24 hours of Le Mans' endurance race.
Design-1 is a sports car designed and built entirely in the UAE by Jannarelly Automotive with Equation Composites LLC – the first company to have acquired a car manufacturing license in the country. Inspired by the classic sports cars of the 1960s, the Jannarelly Design-1 is a lightweight retro-futuristic car built using hi-tech composite materials. Equation Composites uses a small team of specialists to build each car, valued anywhere between $70,000 and $90,000, allowing for a high degree of customisation according to the specific requirements of customers.
The freight division of the airline has worked with Prodex worldwide, a specialist freight forwarding company providing specialist transport, logistics and warehousing services across a number of domains including the aerospace and automotive industry, to transport the Jannarelly Design-1 from Dubai to Lyon.
Emirates SkyCargo offers a specialised transportation solution - Emirates SkyWheels – to transport high value and premium automobiles. Emirates SkyCargo regularly transports high value premium and luxury automobiles on both its passenger aircraft and freighters across its global network of over 155 destinations. The transportation of these vehicles is managed by experienced staff who are specifically trained on loading and unloading vehicles from aircraft with utmost attention to care and safety.
Emirates SkyCargo works with leading car manufacturers as well as car collectors to facilitate movement of cars across continents. Recently the air cargo carrier provided a bespoke Emirates SkyWheels solution to Jaguar Land Rover in order to transport cars from the UK to Chicago for testing.