Emirates SkyCargo says it's been a busy summer season transporting perishables, pharma
Aug 28, 2019: Emirates SkyCargo announced that it has transported a large volume of temperature sensitive pharmaceuticals and perishables, this summer. The freight division of Emirates moved over 150,000 tonnes of perishables and 27,000 tonnes of pharmaceuticals through Dubai between the beginning of April and mid-August 2019. The carrier recorded 7 percent year-on-year increase in […]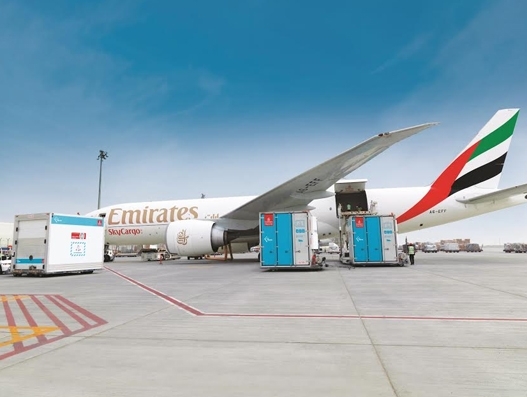 Aug 28, 2019: Emirates SkyCargo announced that it has transported a large volume of temperature sensitive pharmaceuticals and perishables, this summer.
The freight division of Emirates moved over 150,000 tonnes of perishables and 27,000 tonnes of pharmaceuticals through Dubai between the beginning of April and mid-August 2019.
The carrier recorded 7 percent year-on-year increase in the volume of pharma cargo transported during the summer months.
While, the perishables product saw an increase of close to 6,000 tonnes, compared to summer of 2017.
Emirates SkyCargo has invested in developing modern and 'fit for purpose' infrastructure at its Emirates SkyCentral DXB and DWC cargo terminals, due to which, according to the carrier, 'Dubai has become an efficient and rapid transit point for cargo originating from and destined to a variety of cities across six continents'.
It has also transformed the perception of Dubai in the minds of global cargo customers from a transit stop to be avoided in summer because of high temperatures to a preferred state of the art point of connection to markets around the world.
Emirates SkyCargo received its first GDP certification for its Dubai operations in 2016 and has successfully managed to get its recertification every year since.
Every day, around 1,100 tonnes of food and other perishable products originating from different parts of the world move through Emirates SkyCargo's terminals in Dubai.
Close to 35 percent of perishables arriving at Dubai are destined for the UAE with the rest travelling on to reach global consumers.
For example, the carrier uplifts specialty food produce from Italy including Parmigiano Reggiano and Bufalo Mozzarella cheese from Rome and Naples, Vignola cherries and kiwi fruit from Bologna and Modena, strawberries, fish and clam from the Venice area.
In 2018, Emirates SkyCargo flew close to 3,000 tonnes of perishables just from Italy to the Middle East, Australia, New Zealand and other destinations in East Asia.
Emirates SkyCargo also helps local economies through the facilitation of exports of sea food. Since the start of its service to Santiago, Chile, Emirates SkyCargo carried over 4,000 tonnes of Chilean salmon equating about 20 percent of the total volume of salmon exports to Asian destinations.
One of the points of origin for perishables for Emirates SkyCargo is India. Every month, around 4,000 tonnes of fruits, vegetables and other perishables are moved from India on Emirates SkyCargo aircraft. Produce exported include summer fruits such as mangoes and guavas and vegetables such as okra, drumstick and chillies helping bring a taste of home to Indian expat communities in various markets.
Since 2016, Emirates SkyCargo has also introduced specialised transportation solutions - Emirates Pharma and Emirates Fresh. Innovative equipment such as the air cargo carrier's fleet of over 40 Cool Dollies for pharma and 17 Cool Dollies for perishables at the hub make sure that cargo is not exposed to temperature changes when being loaded or unloaded from the aircraft or being transported to and from the terminal.