Emirates SkyCargo partners with Dubai start-up Seafood Souq
Sep 19, 2019: Emirates SkyCargo has partnered with creator of an online B2B marketplace application that helps seafood buyers procure products from all over the world, Seafood Souq. The Dubai-startup company has partnered with Emirates SkyCargo for transporting their seafood shipments rapidly from source markets to customers. Although the initial focus is on delivering fresh […]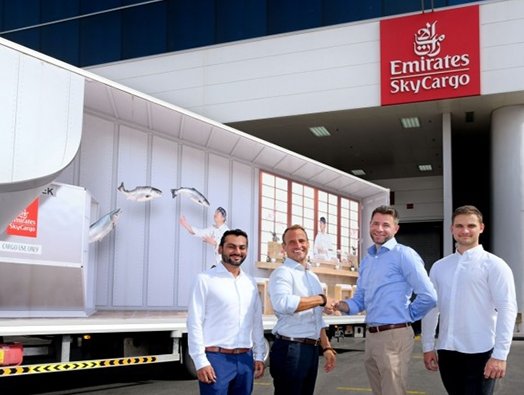 Sep 19, 2019: Emirates SkyCargo has partnered with creator of an online B2B marketplace application that helps seafood buyers procure products from all over the world, Seafood Souq.
The Dubai-startup company has partnered with Emirates SkyCargo for transporting their seafood shipments rapidly from source markets to customers.
Although the initial focus is on delivering fresh seafood from markets such as Norway, Cyprus, Chile, USA and Scotland to customers in the UAE and the Middle East, the start-up has plans to harness the potential of Emirates SkyCargo's global network to reach a global clientele.
Sean Dennis, CEO and co-founder of Seafood Souq said: "Not only does Emirates SkyCargo have a good frequency of flights into all the key global origin and destination markets for seafood but they also have the cool chain infrastructure and capabilities that allows seafood to retain its freshness during the journey."
The freight division of Emirates said through a statement: "In addition to streamlining the traditional model of sourcing seafood, the application also allows for improved quality and traceability of the produce being transported. Better information sharing facilitated by the platform means that there are likely to be fewer instances of mis-labelling and expiry of seafood."
On September 6, a batch of salmon arrived in Dubai in the cargo hold of Emirates flight EK 28 from Glasgow.
The shipment of Scottish salmon, destined for restaurants and consumers in the UAE, was the first that was being transported for Seafood Souq.
Dennis Lister, Emirates VP Cargo Commercial Development said: "Our Emirates Fresh product is designed for the rapid and efficient transport of seafood and other perishables. With our modern aircraft and other equipment including dedicated Emirates Fresh Cool Dollies, Emirates White Covers and a state of the art hub in Dubai with extensive cool chain facilities, we are well positioned to support Seafood Souq as they continue to grow."
Emirates SkyCargo transported over 400,000 tonnes of perishables across the world in 2018 out of which more than 70,000 tonnes was seafood. Some of the major origin markets for seafood on Emirates SkyCargo in 2018 included Norway, India, Sri Lanka, Uganda and the UK.