Emirates SkyCargo moves medical supplies, perishables across the globe
Emirates SkyCargo carries relief material, Covid-19 testing kits, perishables and critical medical supplies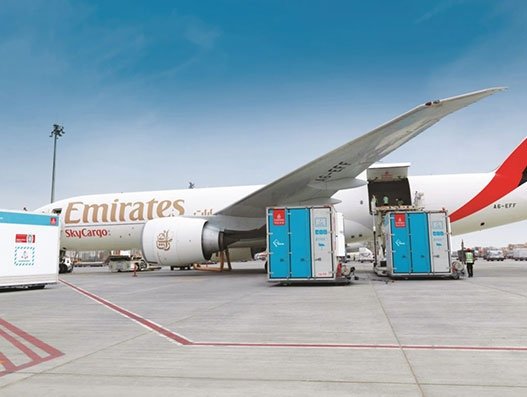 Emirates SkyCargo transported 500,000 Covid-19 testing kits from Guangzhou via Dubai destined for Sao Paulo in Brazil. In the same week, the carrier also carried out two special charters carrying nearly 200 tonnes of medical supplies like hand sanitisers and protective face masks from Hong Kong to Sydney while another flight transported pharmaceutical supplies to Karachi.
In another special charter operation, Emirates transported nearly 100 tonnes of relief material including hospital equipment to Milan and over 55 tonnes of highly temperature sensitive pharmaceuticals were flown to New York from Mumbai aboard a Boeing 777 freighter. Between March and April, the air cargo carrier will also be operating nine freighter flights to Budapest as part of a charter operation to transport face masks and other equipment to Hungary.
In addition to transporting critical medical supplies around the world, Emirates SkyCargo is also moving food materials into the UAE and the Middle East. During the last week of March, the carrier operated special flights from Pakistan and India to bring in more than 150 tonnes of perishables to Dubai. The carrier is operating dedicated cargo flights from Cairo and Nairobi to carry perishables to Dubai and onwards to other destinations within the Middle East.
"In these trying times, we more than ever stand by our commitment for Emirates SkyCargo to act as a global conveyor belt for the transport of much needed commodities such as food and medicines and also for flying in equipment, machinery and other components which are vital for business continuity across essential industries," said Nabil Sultan, Emirates divisional senior vice president, Cargo. "As an extremely agile and customer-focused business, we have been able to establish a new network and schedule for our cargo operations within a very short period of time, utilising lower deck capacity on our widebody Boeing 777 passenger aircraft which supplement the cargo capacity we offer on our freighter aircraft.
"Additionally, in order to consolidate operations and reduce costs in this new scenario, we have also temporarily shifted all our cargo handling operations to Dubai International Airport (DXB). Taken together we are making sure that we react more quickly to requests coming in from every part of the globe from our customers," Sultan added.