Emirates SkyCargo marks 15 years of flying cargo to Vietnam
Over the last 15 years, Emirates SkyCargo has scaled up its operations from being an offline carrier to multiple daily cargo flights from Hanoi and Ho Chi Minh City.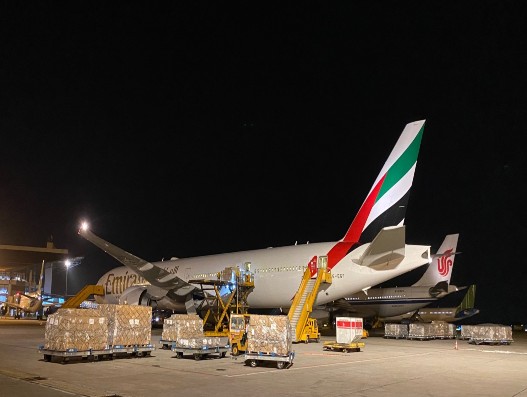 Emirates SkyCargo, the freight division of Emirates, has facilitated trade between Vietnam and the rest of the world through its cargo flights to the country. Over the last 15 years, the air cargo carrier has gradually scaled up its operations from modest beginnings as an offline carrier to its current position with multiple daily cargo flights from Hanoi and Ho Chi Minh City.
The air cargo carrier has helped Vietnamese exporters of commodities such as fruits and vegetables identify and reach out to new export markets and customers around the world through its global destination network spanning six continents. With the growth of the manufacturing industry in the country over the past decade, Emirates SkyCargo has also played an important role in the rapid uplift and global distribution of high-tech consumer items, fashion and sportswear manufactured in the country. More recently, during the Covid-19 pandemic, Emirates SkyCargo has been helping transport medical supplies manufactured in Vietnam.
Emirates SkyCargo made its entry into Vietnam in October 2005, setting up its offline presence first in Ho Chi Minh City and Hanoi. Exports from these gateways were carried to other points in Asia including Bangkok, Singapore and Kuala Lumpur and then uplifted on Emirates flights to Dubai and other markets. In tandem with the rapid growth of Vietnam's manufacturing and perishables export sectors, Emirates SkyCargo also progressively increased its support to the market with the introduction of direct flights to the market in 2012. Over the years, the air cargo carrier has contributed to the thriving exports of perishables from Vietnam including mangoes, rambutans, passion fruit, dragon fruit and lychees to markets in the Middle East and other global markets.
Also Read: Emirates SkyCargo marks 18 years of cargo flights to Shanghai
For more than a decade and a half, Emirates SkyCargo has continued to be a strong and reliable partner for Vietnamese exporters, helping fly commodities more rapidly not only to existing customer bases around the world, but also assisting in introducing local products to new markets such as bringing the best of Vietnamese fruits to the Middle East.
During the current pandemic, Emirates SkyCargo has stepped up connectivity to Vietnam, deploying additional scheduled and charter flights to both Hanoi and Ho Chi Minh City, to transport not just agricultural produce exports but also medical supplies including face masks. Additionally with most of the world switching to remote working and e-learning, there has been an additional demand for electronic devices which is being met by the manufacturing sector in Vietnam. Emirates is also playing a key role in the success of these new product launches transporting goods in a secure manner ensuring speed to market.
Currently the air cargo carrier operates 10 scheduled flights per week to Hanoi and 6 flights per week to Ho Chi Minh City in addition to charter flights to support the export needs of the market. Emirates SkyCargo offers a variety of capacity options to suit the requirements of its customers – from full freighters to belly hold and cabin loading capacity on its flights to and from Vietnam.