Emirates SkyCargo gets Cargo iQ certification
March 15, 2018: In a latest development, Emirates SkyCargo, the freight division of Emirates, received its first certification from Cargo iQ, at the World Cargo Symposium held in Dallas, USA. SGS, Cargo iQ's nominated external audit company, audited Emirates SkyCargo's internal processes, based on measures taken by the carrier to minimise or eliminate shipment errors, […]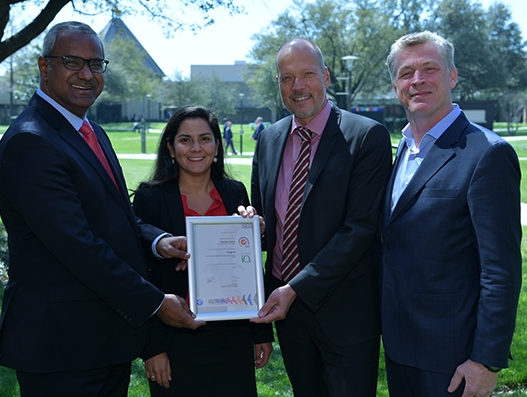 March 15, 2018: In a latest development, Emirates SkyCargo, the freight division of Emirates, received its first certification from Cargo iQ, at the World Cargo Symposium held in Dallas, USA.
SGS, Cargo iQ's nominated external audit company, audited Emirates SkyCargo's internal processes, based on measures taken by the carrier to minimise or eliminate shipment errors, to offer more visibility to its customers on the status of their shipments.
Emirates SkyCargo became a member of Cargo iQ in 2016 to further reinforce its service standards, which included its 'Delivered as Promised' commitment. Barely in two years, Emirates SkyCargo integrated the Cargo iQ shipment cycle management standards as the basis for its live shipment planning and cargo tracking.
"With every Cargo iQ member getting accredited, we are another step towards a supply chain that is transparent and in control of its shipments," said Ariaen Zimmerman, executive director, Cargo iQ.
"The way Emirates SkyCargo has integrated the Cargo iQ master operating plan with its internal procedures, which clearly shows how the implementation of our standards offer much more than a mere monthly report, and can actually lead to better process and shipment control," said Zimmerman.
Emirates SkyCargo has invested in setting up a dedicated Cargo Operations Control Centre (COCC), which monitors the status of shipments in real time.
The COCC uses live shipment data, and Cargo iQ metrics to track the progress of the shipment's journey against its routemap, and the delivery commitment created at the time of booking.
Alerts are automatically generated when there is a deviation in milestones along the routemap, thereby allowing the COCC to intervene proactively in real time, and take corrective measures at any point from origin to destination.
The COCC, which operates round-the-clock, constantly monitor shipments across Emirates SkyCargo's global network of over 155 destinations.
"In the last two years, we have worked on integrating the vision of Cargo iQ into our processes and our 'Delivered as Promised' commitment to our customers," said Nabil Sultan, divisional senior vice president, cargo, Emirates SkyCargo.
"Getting the Cargo iQ certification and the commencement of our 24/7 Cargo Operations Control Centre is the first step in a journey where we can be more transparent, and at the same time proactively support our customer promises."
The Cargo iQ Routemap is integrated into the framework of the COCC, which ensures that the service promise and journey updates are exchanged between Emirates SkyCargo and the customer, thereby improving transparency and allows customers to effectively plan their logistics value chain.
Unique to the air cargo industry, Cargo iQ brings over 80 stakeholders from all aspects of the air cargo supply chain, including airlines, forwarders, ground handling agents, technology providers, and airports to collaborate on developing and implementing service standards in the air cargo industry.