Emirates SkyCargo among 16 airlines to join UNICEF's Humanitarian Airfreight Initiative
Emirates SkyCargo is among 16 airlines that have joined UNICEF's Humanitarian Airfreight Initiative to deliver Covid-19 vaccines and medical supplies around the world.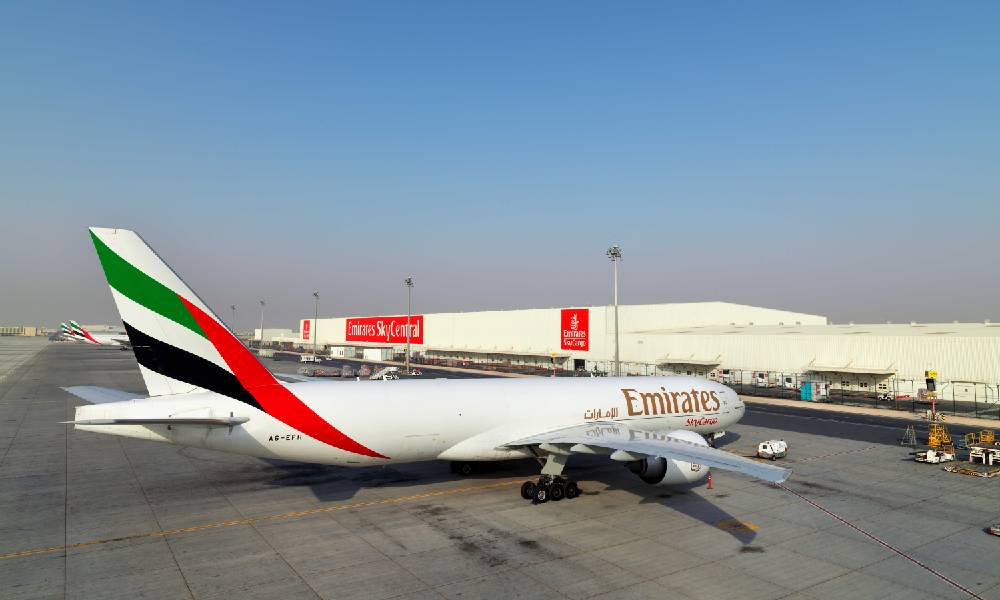 Emirates SkyCargo is among 16 airlines that have signed an agreement with UNICEF to prioritise the transport of Covid-19 vaccines, essential medicines, medical devices and other critical supplies to help fight the Covid-19 pandemic.
The other airlines part of this initiative include AirBridgeCargo, Air France/KLM, Astral Aviation, Brussels Airlines, Cargolux, Cathay Pacific, Ethiopian Airlines, Etihad Airways, IAG Cargo, Korean Air, Lufthansa Cargo, Qatar Airways, Saudia, Singapore Airlines and United Airlines.
Under UNICEF's Humanitarian Airfreight Initiative, Emirates and other airlines will prioritise transport and delivery of Covid-19 vaccines and related supplies. This initiative, announced today (February 16), is in support of the COVAX facility for equitable distribution of Covid-19 vaccines. The Initiative will also act as a global logistics preparedness mechanism for other humanitarian and health crises over the longer term.
The UNICEF Humanitarian Airfreight Initiative brings together the airlines covering routes to over 100 countries, in support of the COVAX Facility – the global effort aimed at equitable access to Covid-19 vaccines. Based on the COVAX Facility's indicative distribution and first round allocation plan, 145 countries will receive doses to immunize around three percent of their population, on average, starting in the first half of 2021, subject to all requirements being met and final allocation plans.
"Delivery of these life-saving vaccines is a monumental and complex undertaking, considering the sheer volumes that need to be transported, the cold chain requirements, the number of expected deliveries and the diversity of routes," said Etleva Kadilli, director of UNICEF Supply Division.
For Emirates SkyCargo, the announcement is the latest in a series of measures undertaken by the freight division of Emirates to support global communities in recovering from the devastating impact of Covid-19.
"Every single day counts in the fight against Covid-19 and the sooner that communities can have access to Covid-19 vaccines, the sooner they can curb the spread of the virus and get back on their feet. As a global player flying to more than 130 destinations, Emirates SkyCargo has been committed to the fight against the pandemic from the very early stages and we have rolled out a number of initiatives to expedite the distribution of Covid-19 vaccines through Dubai, starting with our GDP certified dedicated airside hub. Through our partnership with UNICEF, we will be taking yet another step to prioritise and facilitate the rapid and secure movement of Covid-19 vaccines particularly to communities hard hit by the disease," said Nabil Sultan, Emirates divisional senior vice president, Cargo.
In January 2021, under the directives of vice president and prime minister of the UAE and ruler of Dubai Sheikh Mohammed bin Rashid Al Maktoum, Emirates SkyCargo joined hands with three other Dubai-based entities like DP World, International Humanitarian City and Dubai Airports to form a Covid-19 vaccine alliance for rapid transport of the vaccines to the developing world through Dubai.
According to UNICEF, in addition to prioritising shipments of these life-saving supplies, the airlines will take measures such as temperature control and security, while also adding freight capacity to routes where needed. Their commitments are critical to the timely and secure delivery of vaccines and critical supplies.
"Etihad Cargo had no hesitation in supporting UNICEF's far-reaching humanitarian initiative to aid children most at risk worldwide," explained Martin Drew, senior vice president Sales and Cargo, Etihad Aviation Group.
Speaking about the partnership with UNICEF, Drew said that it is in line with Etihad Aviation Group's commitment to improve the wellbeing of people everywhere and underpins Abu Dhabi's international role in providing humanitarian aid to build a safer world.
"With extensive experience and expertise in safe and efficient pharmaceutical logistics, Etihad Cargo will leverage its IATA CEIV-certified PharmaLife specialised pharmaceutical and healthcare product for the transportation of pharmaceuticals under temperature control which, under the membership of Abu Dhabi's The HOPE Consortium, is already offering a complete supply chain solution to aid global Covid-19 vaccine distribution," Drew added.
IAG Cargo, the cargo division of International Airlines Group (IAG), which is also part of the initiative, intends to use its highly specialised Constant Climate offering to ensure safety and integrity of millions of Covid-19 vaccines that it will transport in the months ahead. Constant Climate has three main hubs at London-Heathrow, Madrid-Barajas and Dublin Airport and an extensive global network of over 100 approved stations, supported by constant climate specialists.
"We've already transported over one million doses of the Covid-19 vaccines across the world, alongside transporting medical equipment, other types of vaccines, Covid-19 testing kits and PPE, as well as continuing to transport everyday products the world needs," said John Cheetham, chief commercial officer at IAG Cargo.
Speaking about the partnership, GertJan Roelands, senior vice president for sales and distribution at Air France KLM Martinair Cargo, said that the airline has been working together for a long time and it is confidently looking forward to participating in the Humanitarian Airfreight Initiative by UNICEF. "Our extensive global freight network, expertise, dedicated people and services will play an important role in ensuring the successful shipment of Covid-19 vaccines with the highest priority and under the required strict conditions," Roelands added.
Besides Ethiopian Airlines, Astral Aviation is the only other African carrier among the 16 airlines that have signed up with UNICEF. "We will be placing our entire fleet of B747F, B767F, B727F, DC9F, CRJ-200, Fokker 50 and Fokker 27 on high priority, which is critical to the timely and secure delivery of vaccines and critical supplies, as we consider it our moral-obligation to ensure that no person in Africa is left-behind due to lack of aircraft capacity," said Sanjeev Gadhia, CEO of Astral Aviation, Africa's only all-cargo carrier.
Watch the full interview with Nabil Sultan, Emirates divisional senior vice president, Cargo from Cargo Masterminds series here.