Emirates Global Aluminium, K Line celebrate long-term voyage contract
July 5, 2019: Emirates Global Aluminium (EGA) announced the arrival of the first fully-laden Capesize vessel to call at any GCC port at its quay at Khalifa Port in Abu Dhabi, inaugurating the import of bauxite for EGA's new Al Taweelah alumina refinery using these huge bulk cargo vessels. A long-term voyage contract has materialised […]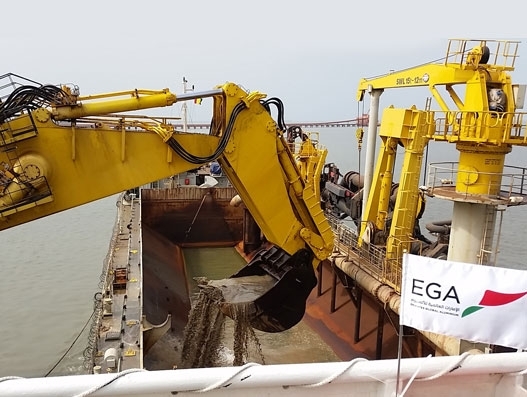 July 5, 2019: Emirates Global Aluminium (EGA) announced the arrival of the first fully-laden Capesize vessel to call at any GCC port at its quay at Khalifa Port in Abu Dhabi, inaugurating the import of bauxite for EGA's new Al Taweelah alumina refinery using these huge bulk cargo vessels. A long-term voyage contract has materialised between K Line Group and EGA with the arrival of the vessel, MV Cape Taweelah, at Port Khalifa, UAE on June 23. The vessel came from loading port at Kamsar, Guinea.
The contract is to carry bauxite in bulk by Capesize vessels. With a draft of 18.2 metres fully-laden, Capesize vessels are amongst the largest bulk cargo ships in the world.
EGA held an inaugural ceremony upon MV Cape Taweelah's arrival where Abdulla Kalban, managing director & CEO of EGA, Abdullah Humaid Al Hameli, executive vice president of corporate and acting CEO of Abu Dhabi Ports, Atsuo Asano, representative director of K Line and many concerned parties celebrated the first memorable arrival of this fully-laden capesize vessel at GCC port.
Kalban said, "The arrival of Cape Taweelah is a landmark moment for EGA, but these huge ships will become a familiar sight at Khalifa Port over the years ahead. We are glad Abu Dhabi Ports addressed our need to bring Capesize vessels to our quay and decided to further develop the capabilities of Khalifa Port, also benefitting trade in Abu Dhabi and the UAE more broadly."
EGA imports bauxite ore from the Republic of Guinea to supply Al Taweelah alumina refinery, and using Capesize vessels reduces shipping costs per tonne. EGA began production at its new Al Taweelah Alumina refinery in April. Alumina refineries process Bauxite ore into Alumina, the feedstock for Aluminium smelters.
Captain Mohamed Juma Al Shamisi, chief executive officer of Abu Dhabi Ports said, "Welcoming this Capesize ship at EGA marks another first for Abu Dhabi's maritime and trade industry, and demonstrates our commitment to ongoing innovation and expansion in response to market and tenant demands. Our investment in deepening and widening the channel has created better business opportunities for all partners, including CSP Abu Dhabi, which recently received one of the largest container vessels at Khalifa Port with a capacity of 21,000 TEU."