Emirates' cargo division flies 67 horses for World Equestrian Games
Sep 03, 2018: Emirates SkyCargo has operated the first of the nineteen air horse charter flights for the FEI World Equestrian Games Tryon 2018.
The first charter flight with a group of 67 horses was flown from Liege, Belgium to Greenville-Spartanburg, USA in an Emirates SkyCargo Boeing 777 freighter aircraft.
With over 500 horses being flown for the Games, this is the largest air horse charter that has been undertaken for a single sporting event.
The cargo division of the airline worked with Peden Bloodstock, a leading international horse transportation specialist to execute the charter.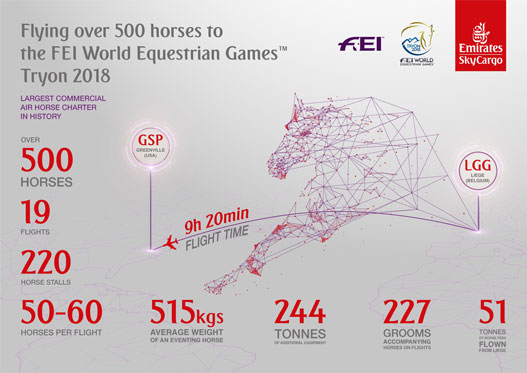 Emirates SkyCargo is no stranger to equine transportation and regularly flies horses for leading racing and other equestrian events across the globe.
The air cargo carrier provides a calm and comfortable environment for the horses which also complies with regulations set out by national and international authorities on live animal transport including IATA Live Animals regulations (LAR).