Emirates announcesthird daily Boeing 777 service to Nairobi
<p style="text-align: justify;">Jan 20, 2017: Emirates has announced the introduction of a third daily flight between Dubai and Nairobi from 1 June 2017.</p> <p style="text-align: justify;">The additional flight will increase the number of scheduled <a title="Emirates" href="https://www.emirates.com/in/English/" target="_blank" rel="noopener noreferrer">Emirates</a> flights between the two cities to 21 a week, thus highlighting the carrier's commitment to […]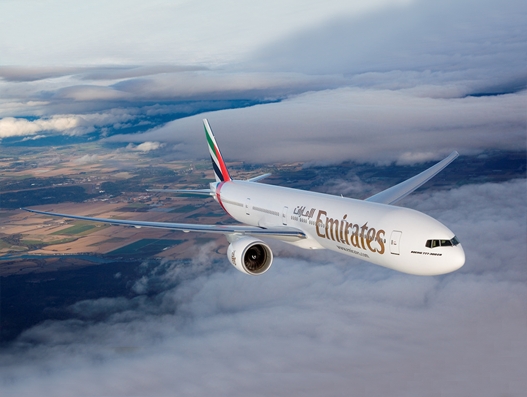 Jan 20, 2017: Emirates has announced the introduction of a third daily flight between Dubai and Nairobi from 1 June 2017.
The additional flight will increase the number of scheduled Emirates flights between the two cities to 21 a week, thus highlighting the carrier's commitment to Kenya and confidence in the route. The carrier noted that Kenya has grown to become one of the airline's busiest routes in Africa since the launch of its services to the country in October 1995.
Apart from the other two daily flights between Dubai and Nairobi, Emirates will operate a Boeing 777-300ER in a three-class configuration. The aircraft will have eight private suites in first class, 42 lie-flat seats in business class and 304 seats in economy class.
The new Emirates flight EK717 will become the first of the three daily departures to Nairobi, a city with a population of about 3.9 million people, from Dubai and leave at 01.40hrs and arrive in the Kenyan capital at 05.40hrs, enabling customers arriving on Emirates' flights from India, the UK and many European countries such as France, the Czech Republic, Ireland, Netherlands and Italy to connect to the Nairobi flight within three hours. The return flight EK718 will depart Nairobi at 07.10hrs and land in Dubai at 13.15hrs, ahead of Emirates' afternoon European flights and its fourth daily flight to New York, a popular destination for Kenyan travellers.
The flight will also provide 16 tonnes of additional cargo capacity on the route for Kenya's main export products such as flowers, fresh fruit and vegetables, as well as key imports such as mobile phones, pharmaceuticals and readymade garments, among others.