EMEA sees cargo crimes double to 8,548 incidents in a year as losses toll €137 million
Cargo thefts from supply chains in Europe, the Middle East and Africa (EMEA) more than doubled to 8,548 incidents in 2019 and product loss totaled over €137 million, according to the Transported Asset Protection Association (TAPA). The incident rate is the highest recorded in TAPA's 23-year history as the leading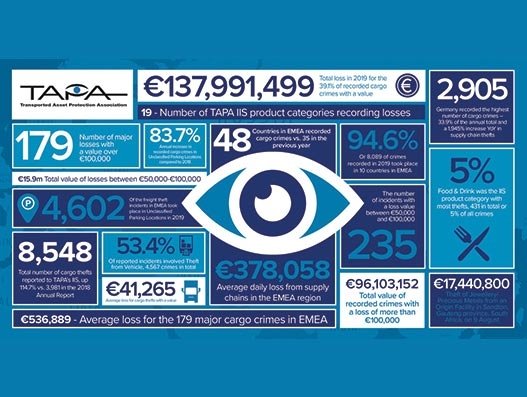 Cargo thefts from supply chains in Europe, the Middle East and Africa (EMEA) more than doubled to 8,548 incidents in 2019 and product loss totaled over €137 million, according to the Transported Asset Protection Association (TAPA).
The incident rate is the highest recorded in TAPA's 23-year history as the leading Security Expert Network for everyone in the supply chain and reflects criminal attacks on all modes of transport; air cargo, ocean freight, road freight and rail freight. In its Incident Information Service (IIS) Annual Report 2019, the Association also reveals average losses for major cargo crimes of €536,889 and an average daily loss in the EMEA region last year of €378,058.
In 2019, the number of incidents rose 114.7 percent to 8,548 versus 3,981 in 2018. Of these, only 39.1 percent of reports provided any financial value for the goods stolen, which accounted for a combined €137,991,499. The Association also recorded thefts from supply chains in more countries in the EMEA region than ever before – 48 in total compared to 35 in the previous year.
Of this total, 10 countries accounted for 94.6 percent of the cargo crimes reported in 2019 with Germany reporting 2,905 cases, up 1,945 percent year-on-year; France seeing 1,542 cases, up 817.8 percent. While the UK was the only country to report fewer incidents to TAPA's incident database in 2019, the UK police have information on more than 4,000 cargo crimes across the country over the course of the year.
Higher incident rates were also recorded in many other countries in the region, including: Czech Republic (up 421 percent), Romania (up 165.3 percent) and Denmark (up 1,150 percent). In terms of major losses, the top five countries – based on crimes reporting a value - were heavily influenced by a small number of very high value thefts, notably in Albania and South Africa.
The biggest single loss reported to TAPA's IIS in 2019 was the theft of €17,440,800 of jewellery/precious metals stolen from an Origin Facility in Gauteng province in South Africa. This was one of 19 crimes with 7- and 8-figure loss values. Overall, the 179 major cargo thefts last year – classified as incidents with a loss of €100,000 or more – represented a total loss of €96,103,152.
Trucks continued to be the biggest target for cargo thieves, featuring in some 95% of all freight losses in the EMEA region. The lack of secure truck parking remained one of the most significant contributors to these crimes, with drivers forced to park their vehicles at service stations, in laybys and on industrial estates while taking mandatory rest breaks. TAPA's Parking Security Requirements (PSR) industry standard is working to identify and encourage a network of truck parking places which meet its members' requirements. Already, this has gained the support of Parking Place Operators in 10 countries across the region, with more in the pipeline. In total, 4,602 of the crimes reported in 2019 occurred in unclassified parking places. Smaller vans involved in Last Mile deliveries also faced a high level of risk.
During 2019, only 220 Theft from Facility crimes were recorded, reflecting the growing reluctance of cargo thieves to take the risk of targeting warehouses and distribution centres where security systems and on-site personnel increase their chances of getting caught.
Commenting on the 2019 data, TAPA EMEA's President & CEO, Thorsten Neumann, said: "Cargo crime has been growing at a record rate in the EMEA region since 2014 and previous analysis by the European Parliament and industry associations put the total cost at more than €8 billion a year in Europe alone. Our statistics only show the incidents reported directly to our IIS database but they are the best possible indicator of the growing risks companies are facing and, naturally, a significant cause of concern for supply chain security, loss prevention and risk management professionals.
"There is no doubt that the supply chains of TAPA members globally are among the most resilient in the industry because of the steps they are taking to protect goods in transit or being stored in facilities. This includes adopting our industry standards for facilities and trucking operations. However, for the industry-at-large, the risks are now greater than at any time this century."
He also advised companies to consider the 'bigger picture' of TAPA's cargo crime data, adding: "Some countries stand out simply because of their high rates of crime reported to our IIS database. This, however, does not mean they are bigger crime hotspots than anywhere else in EMEA. It just means our sources of intelligence in these countries are more willing to use the information they have at their disposal to reduce cargo crime in the most effective ways possible. Frankly, we need more partners with this positive approach. When supply chain security professionals in our Manufacturing and Logistics Service Provider members need to determine the level of risk on a particular route or in a specific country, our IIS database gives them high quality, credible intelligence on which to base their decisions. So, the greatest risk is often in countries where we have little information on the activities of cargo thieves, making it harder to manage these risks."